A variation of a publication in Adventure Motorcycle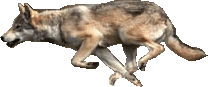 Upcountry Touring
I feel blessed to have moved from "The Great Flat" (more commonly known as south Florida) to the Piedmont region abutting the southern Appalachians. In fact — I would say that I feel something akin to a born-again biker. Hallelujah, Brother! Let's ride!
This ride begins near Greer—in local jargon we're in the South Carolina 'upcountry', a region that in earlier decades labored under the oligarchy of the textile industry. But times have changed; the population has been forced, often painfully, to redefine the basis of its economy. There are plenty of old brick textile mills standing vacant and in some stage of decay, their tall smokestacks blackened but silent—a mute testament to the industry's demise. Perhaps it's just as well, as I understand that the 'mill towns' of earlier decades were little more than feudal fiefdoms, providing scant hope of betterment for the common man.
One positive sign of the changing economy is the nearby BMW manufacturing plant, home of the Z4 roadster and the X5 SUV. This represents a major economic force in the region—the basis for the introduction of numerous support industries. Also at that location BMW hosts the impressive Zentrum museum. While mostly focused on automobiles (Bimmers), there is also a very nice collection of motorcycles (Beemers), as well as a seriously cool robotic production-line video.
To start our ride, we begin northbound on Highway 101. We roll sedately through rural countryside, and the distant rise of the mountains is clearly visible from the hill-crests.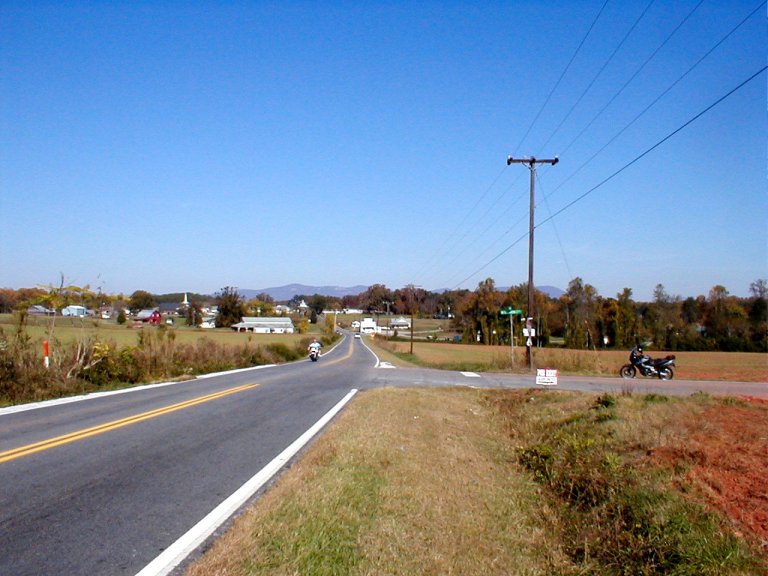 'Come, play with us'— the ridges and peaks beseech, and before long we've joined with Highway 11 at the foot of the Blue Ridge Mountains. East of the small crossroads is a rolling meadow with a windsock blowing in the breeze—the landing zone for frequent gatherings of hang-gliders that launch themselves from the summit of nearby Glassy Mountain. The brightly colored airfoils are seen gracefully riding the wind currents as they soar away from that great stony face.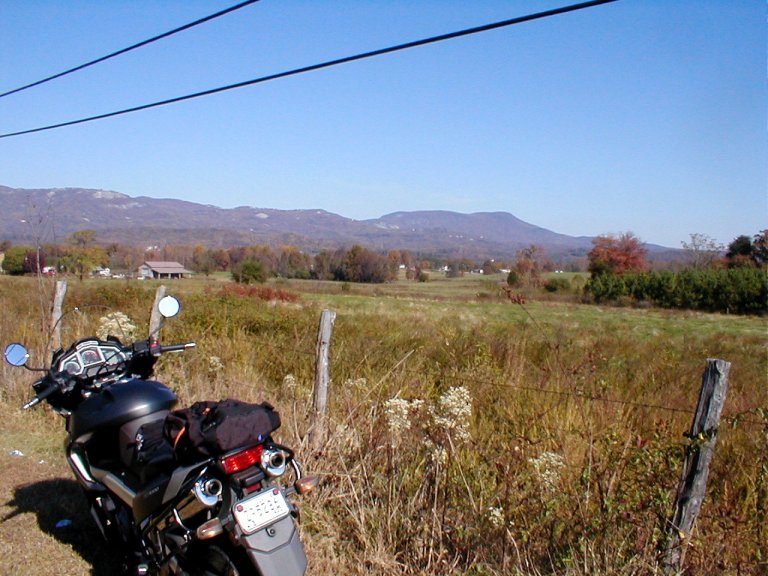 Turning west onto Highway 11 we ride parallel to the Blue Ridge Escarpment. This is the Cherokee Foothills Scenic Byway - historic route of Cherokee Indians and of English and French fur traders. I'm told the Cherokee called the Blue Ridge 'The Great Blue Hills of God'—the mountains rise dramatically above the rolling foothills.
Shortly after stopping to delight in a small roadside waterfall, we take the right fork off of Hwy 11 onto Hwy 276.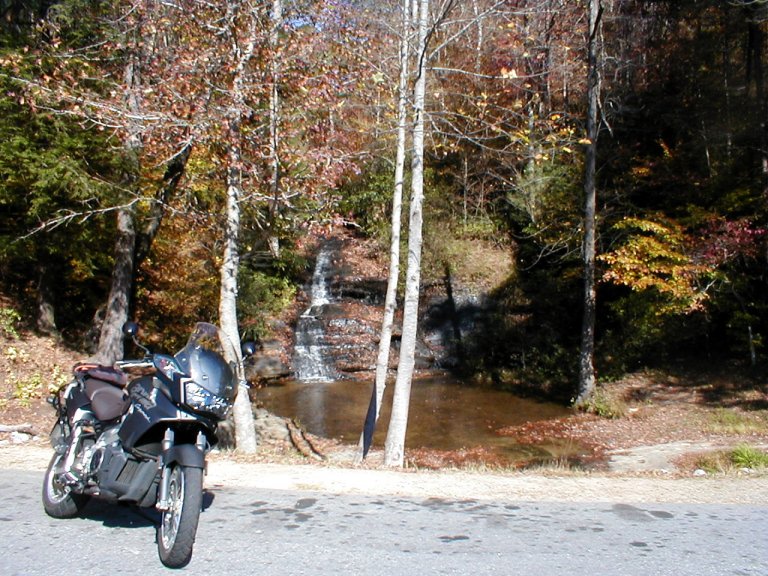 This is where we begin our climb, and the route soon becomes fairly, shall we say… curvaceous. After just a couple of miles there is a popular pullover spot to the right, where one can scamper across a large rock outcropping and exult in the panoramic view of the countryside below.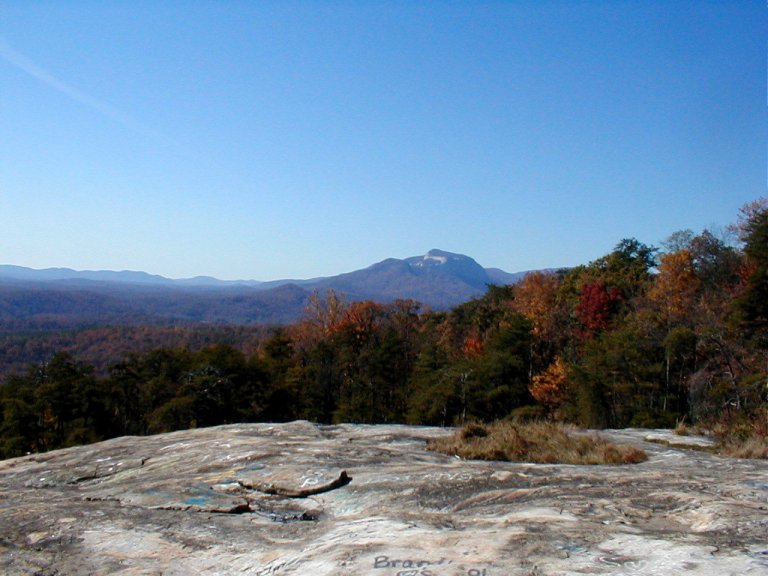 Beyond this spot the roadway continues to tighten - I prefer to take this ride on a weekday; not much traffic, less likelihood of getting stopped up behind a boggling cager. Alas, it's a Sunday, unseasonably mild for early November, and there are still the changing leaves to be seen. The cagers are out in force, I must…be… patient…
Dad-Blamed gawker! Is that a Florida tag I'm following?
Near the summit of this climb is situated the Visitor's Center for Caesar's Head State Park. Nobody's yet been able to offer me a credible explanation of the name Caesar's Head—I see no familial resemblance. But it is nonetheless a very nice location, offering a gift shop, some three-dimensional displays of the local topography, some very scenic overlooks, and numerous hiking trails.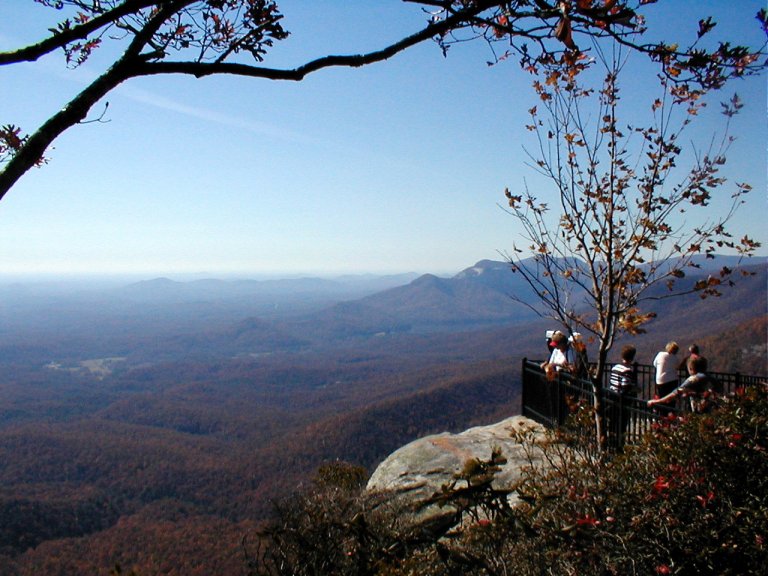 A few miles further along 276 we pass the trailhead for the spectacular Raven Cliff Falls. If you've got your hiking boots and a few hours to spare, the reward is a secure platform from which to view the cascading 400' waterfall.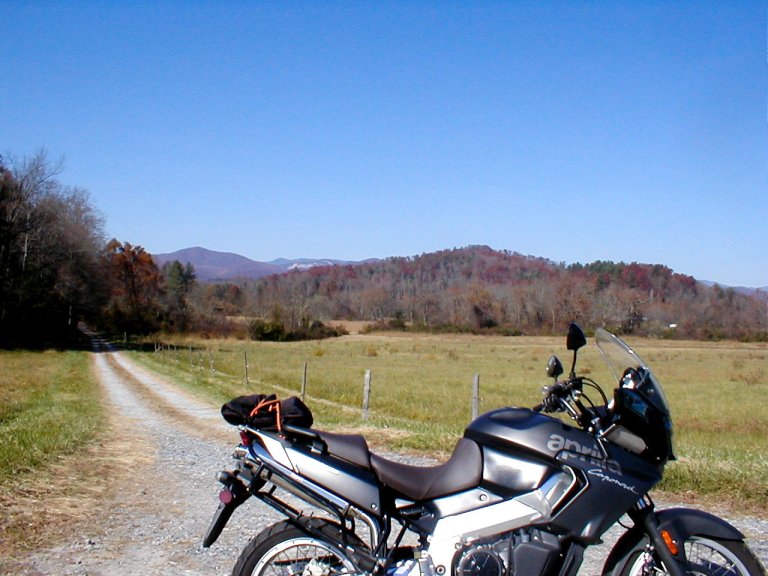 We cross the Eastern Continental Divide as we enter North Carolina; you'd never know it if not for the sign. In picturesque small-town Brevard we turn right onto Hwy 64 and head east a few miles before again picking up 276 splitting off to the north. This left turn enters Pisgah National Forest, and we now begin the 2nd serious ascent of the ride. Hwy 276 follows a tumbling mountain stream as we wind our way past any number of possible stopovers, including picnic/rest areas, Looking Glass Falls, Sliding Rock Falls, and the Cradle of Forestry historic/exhibition site.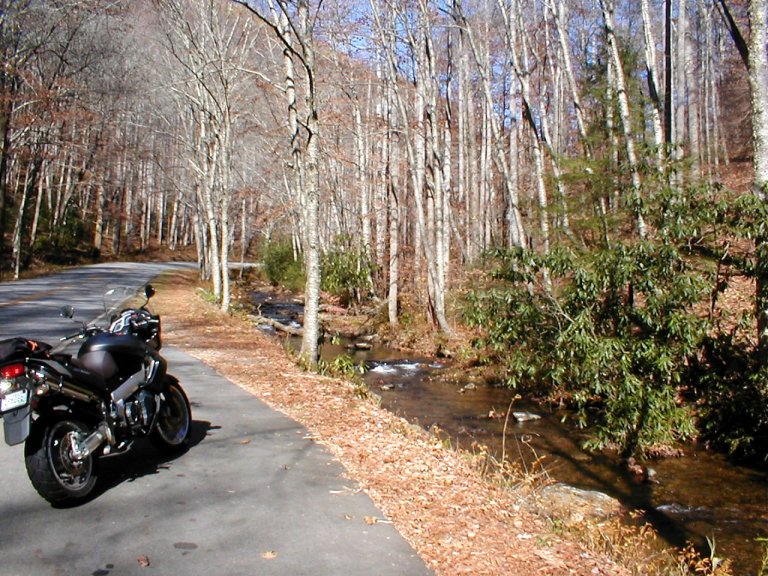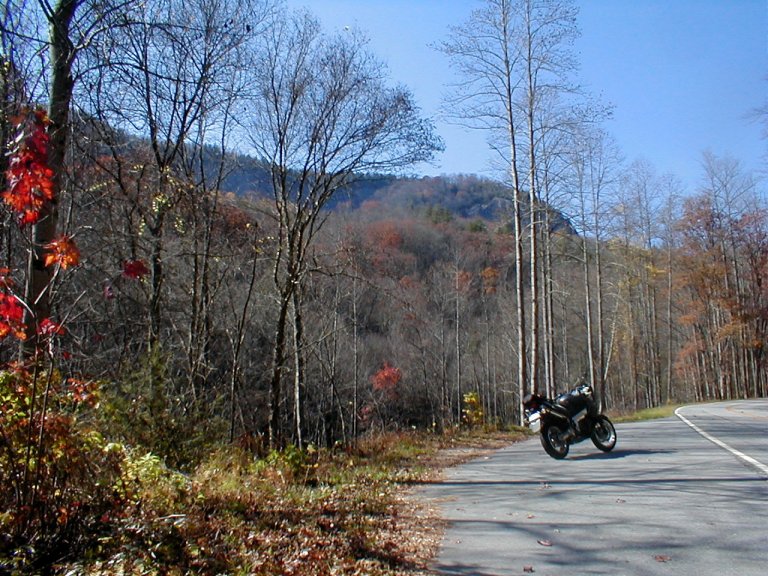 Further on the climb steepens noticeably, and we begin negotiating seriously mountainous terrain. I mean, I really, really don't want to put a tire off the roadway here. Do you like heights? On a clear day the innumerous peaks march off into the far distance in grandiose succession, and I feel quite small…
Soon we turn up the entrance ramp to the Blue Ridge Parkway, for a short stop at the overlook situated there.
It's a nice spot to stretch your legs and take in the sights, and it's not at all uncommon to strike up a conversation with the often-numerous like-minded bikers who are out and about. At this spot we consider the option of riding west a short distance on the Parkway, enjoying a somewhat more relaxed pace. We're not too far from the 6,000+ foot crest of the BRP, and the visuals are indeed quite spectacular. Unlike normal roads, which typically seek the path of least resistance between points A and B, the Parkway was built purely as a touring route and so it attempts to follow the highest ridges between two National Parks—Shenandoah and Great Smokey Mountains. It was a depression-era public works project—a truly amazing feat.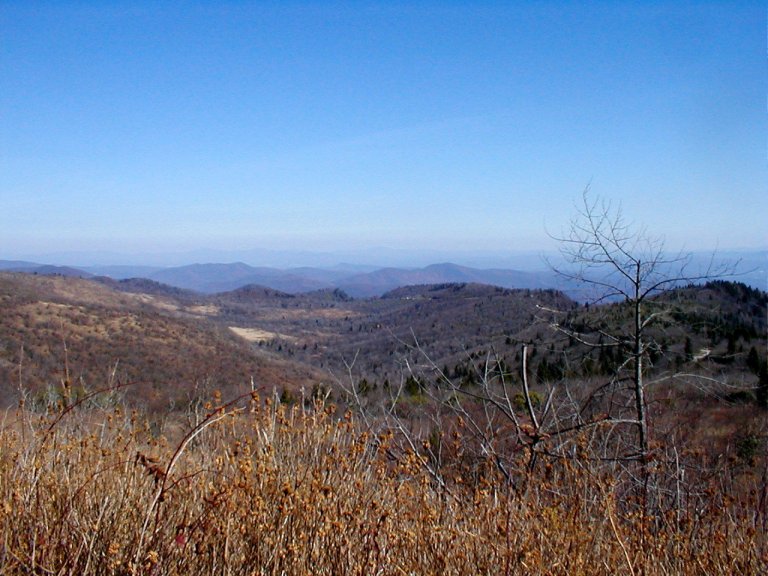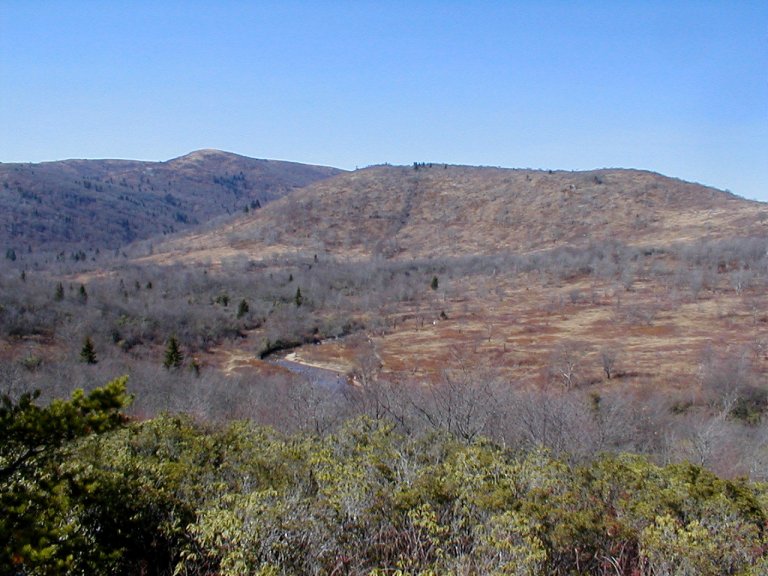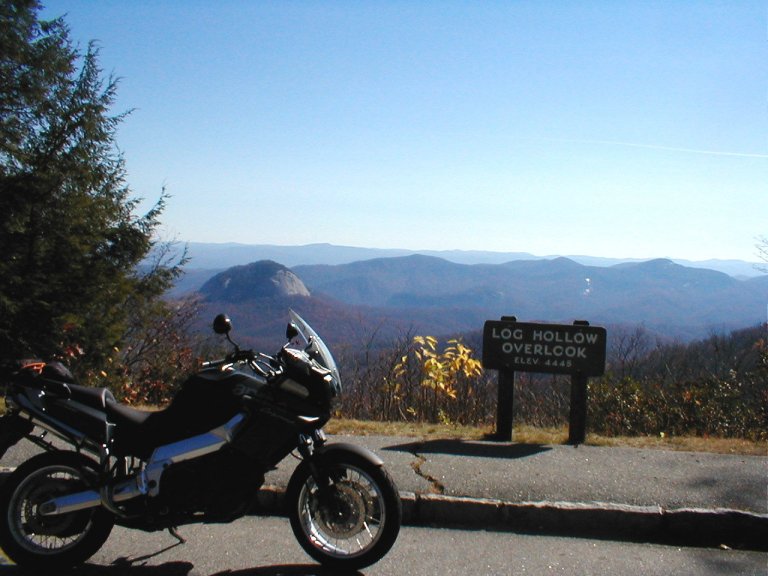 For this ride we elect to extend our twisty-road convolutions. We leave the Parkway and resume our banzai route north on 276—there's dramatic scenery to be seen, if we dare divert our attention from the course as we writhe our way north. We're descending now, and the frantic swervery (if that's not a word, then Webster didn't ride this road) gradually lessens in intensity. Though you wouldn't guess it from the look of the minor crossroads in the mountains, at the junction of Hwy 276 and Hwy 215 we're not so far from the eclectic city of Asheville – oftentimes called 'The Paris of the South'. But we turn left turn onto 215, assuring ourselves of many more miles of torturous flailing as we climb back towards the Parkway.
We cross back under the Parkway and begin our descent to the south. This route can become treacherous in cold weather—switchbacks harbor their snow and their ice—they snicker at the approach of the foolhardy adventurer. At Hwy 64 we turn east, for a short, relatively flat section, and then in the vicinity of Rosman we jog right on 178 to resume our careen south. I say to you now—I have to believe that Highways 215 and 178 were created especially for motorcyclists who love riding the mountains; they are challenging, low traffic routes.
When Hwy 178 ends at the Cherokee Foothills Scenic Byway, back in South Carolina, a convenience store at the intersection is a favorite weekend gathering spot for enthusiasts how have either just ridden 178 southbound, or who are about to ride it to the north. I have a feeling that some of these riders come here for the sole purpose of repeating that section again and again. For our ride today one option at this point would be to turn east and reverse our outbound path. But this time we wander off to find some unknown back-roads and become lost for some time before eventually regaining our bearings.
Bummer. heh, heh…
The temperature normally varies at least 5 to 10 degrees throughout this ride, sometimes much more so in cooler weather. During this 4+ hour outing we've climbed from a starting altitude near 1000' to peak out well over 5,000'—not bad for a reformed flatlander, eh?