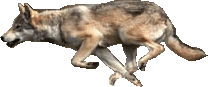 An Easterner's Sampler of the West
(printed in
RVCompanion
magazine)
Our goal – to cross the large expanse of the Great Plains separating the east from the west, and to explore the Colorado Plateau region of New Mexico, Arizona, Utah, and Colorado.
The first four days we bobbed and weaved through the chaotic weather systems that were hammering the central sections of the U.S. – flooding to the north, severe thunderstorms, hail and tornados just about everywhere else. We ad-libbed our route (to our advantage, thankfully), and the skies cleared as we entered New Mexico. Early the next morning we wheeled the Aprilia CapoNord, an "Adventure Tourer" style motorcycle, down the tailgate ramp of our "toy-hauler" – a 35' KZ Sportster 5th wheel.
Just east of Albuquerque begins the Turquoise Trail, a National Scenic Byway beginning near the Sandia Mountains. Near its start there is a spur that branches off toward Sandia Crest – a 13 mile road that climbs nearly 4,000 feet toward the 10,678' summit. The view from the summit is one of those rare sights that remind a person how truly small he is.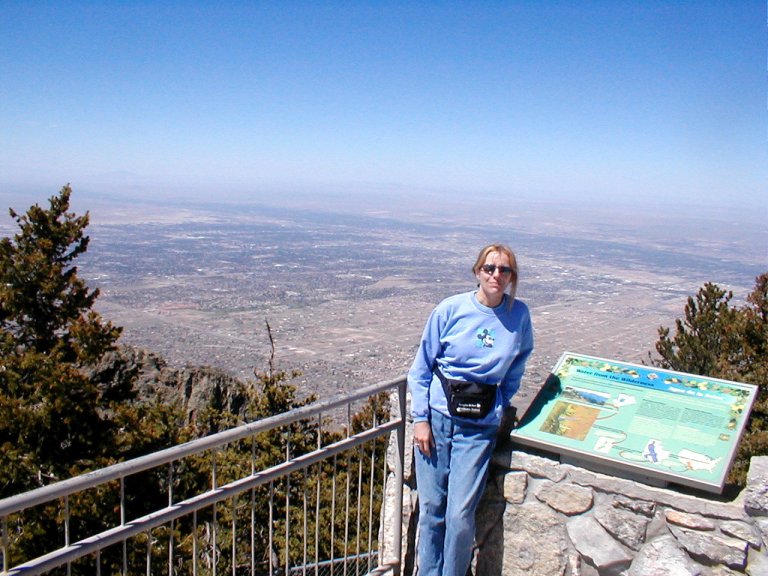 It was a clear day, and the Rio Grande could be seen snaking its way through Albuquerque in the middle distance, some 5,000' below our vantage. We looked down upon an immense, fairly level terrain - with volcanic domes and sprawling cities visible in the distance. From that altitude the terrain below had a strangely dry, wrinkled appearance – like the hide of a lizard.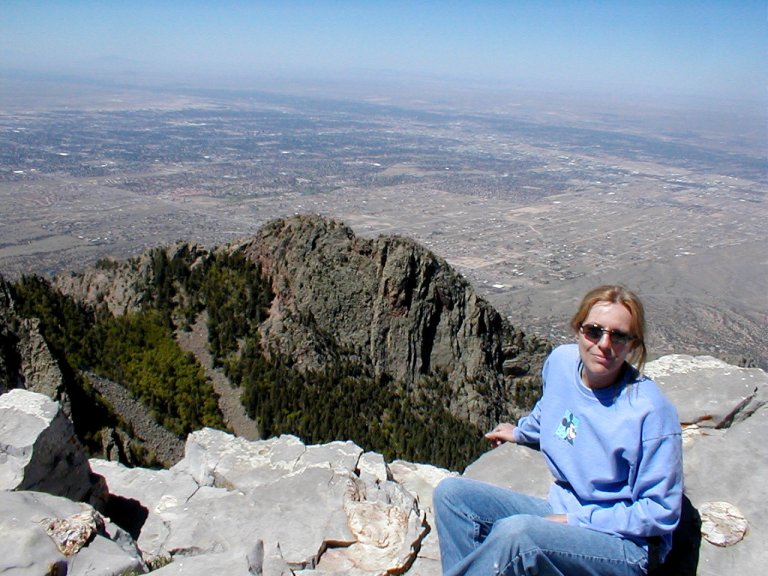 Further along the Turquoise Trail there's an odd town known as Madrid. It was a ramshackle, fall-down town that was taken under the wing by a community of artists, and now it's an eccentric, freshly-painted, ramshackle village of craft and artwork. At one stop we met a pair of bicyclists, and we learned they were part of a bicycle tour (Crossroads) pedaling from LA to Boston over the course of seven weeks. Amazing! And I'd been complaining about my sore tail!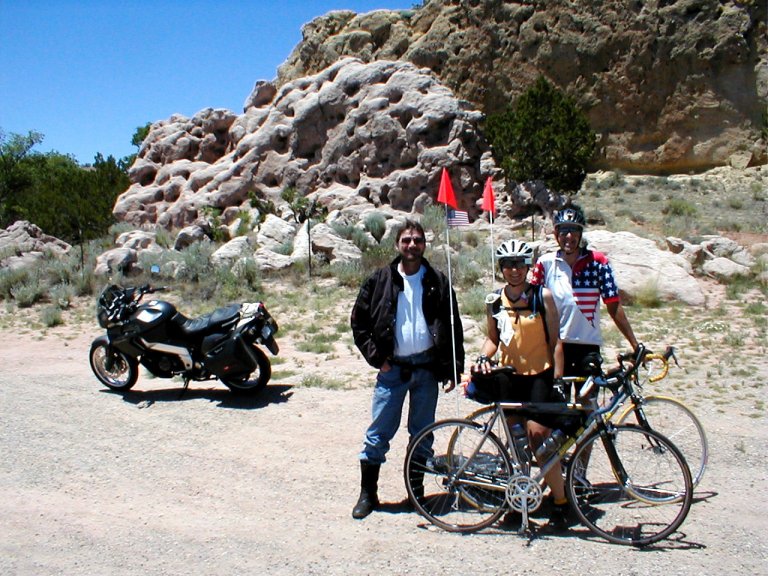 Other sights in the Albuquerque area are the "Old Town" shopping district, where we failed to find a geegaw that we just couldn't do without; the Rio Grande Nature Center, which features pleasant hikes along the famous waterway; and Petroglyph National Monument, featuring stone etchings of American Indians possibly as old as 3,000 years.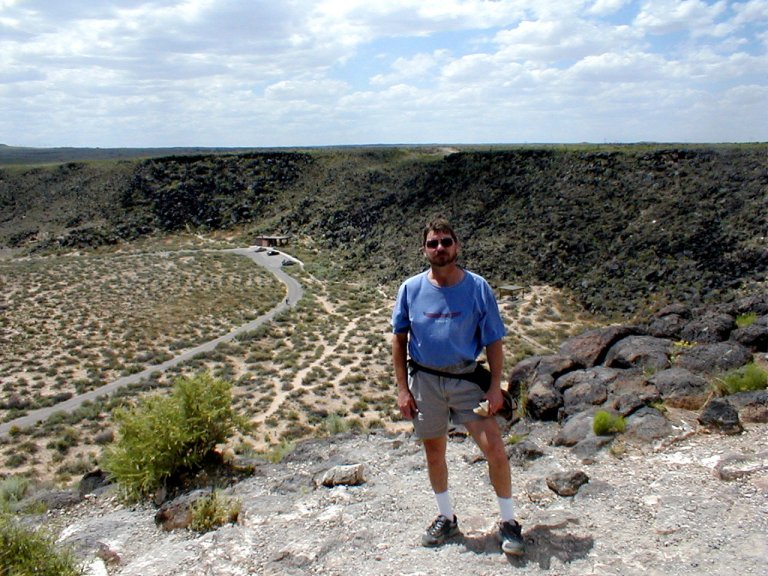 Continuing west, we take a side trip into Petrified Forest National Park, a tour that begins with the Painted Desert.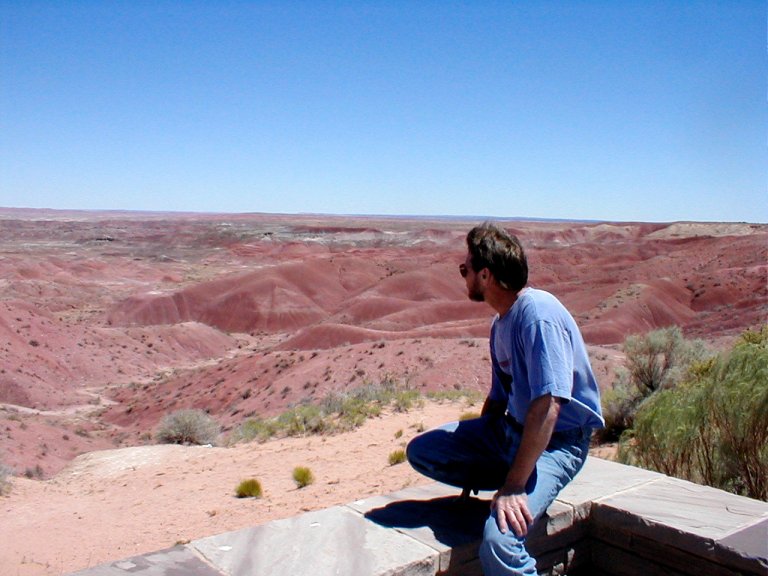 I have a preconceived notion of the concept of "desert" – I picture a flat, desolate expanse of dry bleakness, with the occasional cactus or scrub brush. That does not aptly describe the Painted Desert.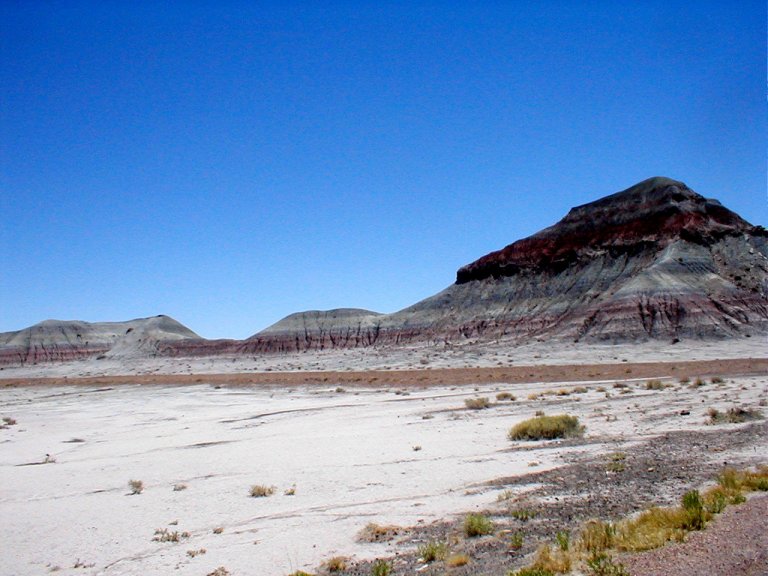 The approach drops abruptly away from a rim, and the landscape below is an amazing variety of buttes and spires, knobs and flats – any variety of muted colors. And 'tee-pees'!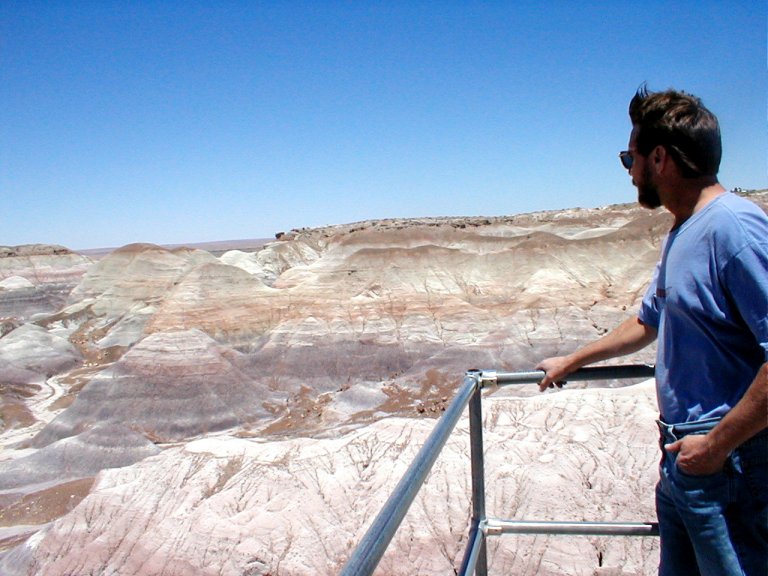 A favorite spot was the Blue Mesa turnout – a walkway descends through that most remarkable landscape. Here we began to see petrified trees, and those continue in the further overlooks. It's not a standing forest of petrified stumps, as I had naively expected, but rather a jumbled pattern of the fallen trees revealed as the burying landscape erodes from around them.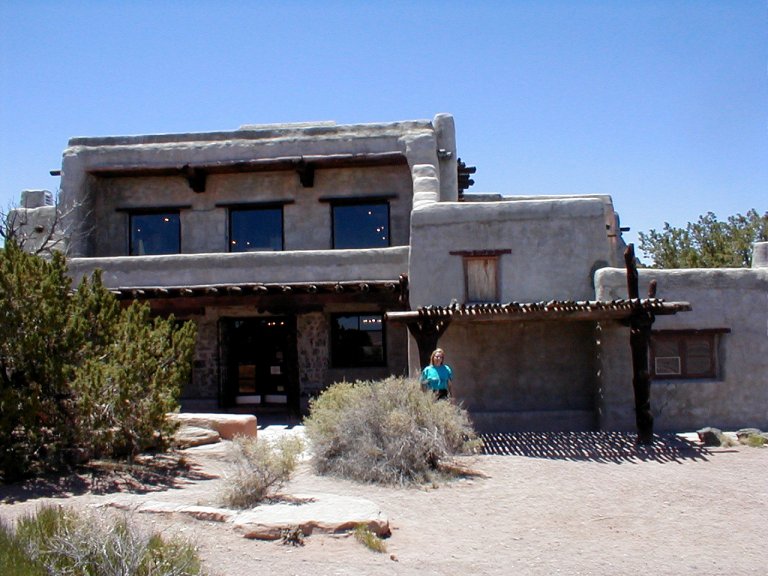 The next morning we turn north, and take a side trip through Wupatki/Sunset Crater Volcano National Monuments. It's a strange place – jagged lava flows, blankets of cinders covering the landscape, vegetative growth appearing most improbable in the coarse black soil. In 1064 the settlers of the area were displaced by volcanic mayhem – that being the most recent eruption in the Colorado Plateau region. All morning we had been observing an inordinate number of "toy hauler" RV's, similar to ours, which is very unusual. Occasionally we'd see an open trailer on which was tied down a dune buggy, or sand rail, or whatever the proper term is. When we saw from a distance a number of clouds of black dust careening down the steep cinder slopes of the terrain we were driving through, we deduced that we must be witnessing a rally or competition of some type.
Further on we walked among the ancient Wuptaki ruins, elegant structures of stone and mud that are built upon and around the stone outcroppings on which they stand. The thin layer of ash deposited by Sunset Volcano had, for a time, turned this region into a productive agricultural center. When the ash was gone, so departed the population.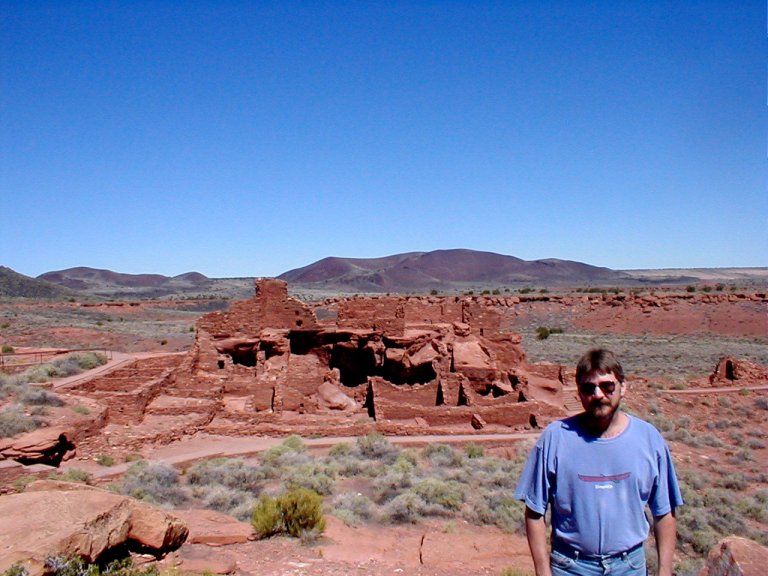 One ruin in particular I found fascinating. We climbed to the second story of the structure and gazed, from our high overlook, across the rich red landscape—dotted with green sage and the occasional desert-flower. In the distance the slopes of a snow-capped mountain range stood tall under a clear blue sky. Sue and I stood there alone, not another creature, human or otherwise, in evidence. I found it difficult to imagine living in that remote desert environment, but my perceptions would differ from those who walked the planet nearly a thousand years ago.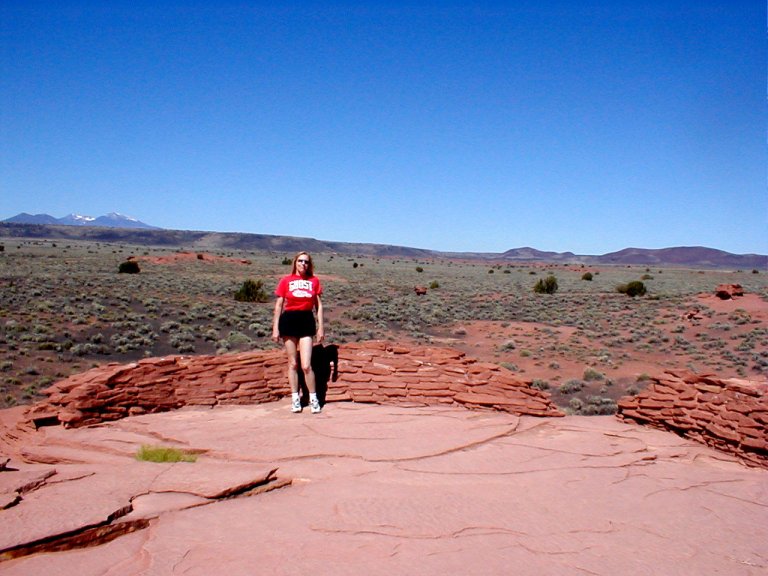 Continuing north on Highway 89, I wondered why this stretch was not an official Scenic Byway. Another cliche, "otherworldly" came to mind. The strange combinations of colors and shapes, the result of selective erosion revealing the layers of sedimentary deposits of those formations that remain standing, were awesome. The nuances of color gave textures to the forms – some of the coarse mounds or slopes almost appeared to have a velvety texture to them – by virtue of the subtly changing tones of color. Approaching Page, Arizona, the road started a serious climb – the mighty turbo-diesel had to work hard to pull the heavy 5th wheel up that long, long slope. Near the top we looked out over the flatlands far below us – those "flats" being rent by a jagged canyon that plummeted yet another dramatic level. Amazing!
We crossed the 710' bridge beside the Glen Canyon dam - now the brilliant blue of the deep water sparkling under a clear sky was paired with the rich red of the wind-contoured canyon walls. Vacationers frolicked below on Lake Powell, leaving trails of white wake in the crystal blue water. This tremendous structure, backing the Colorado River up for 186 miles, is 2nd in size only to the Hoover Dam (as a concrete-arch dam).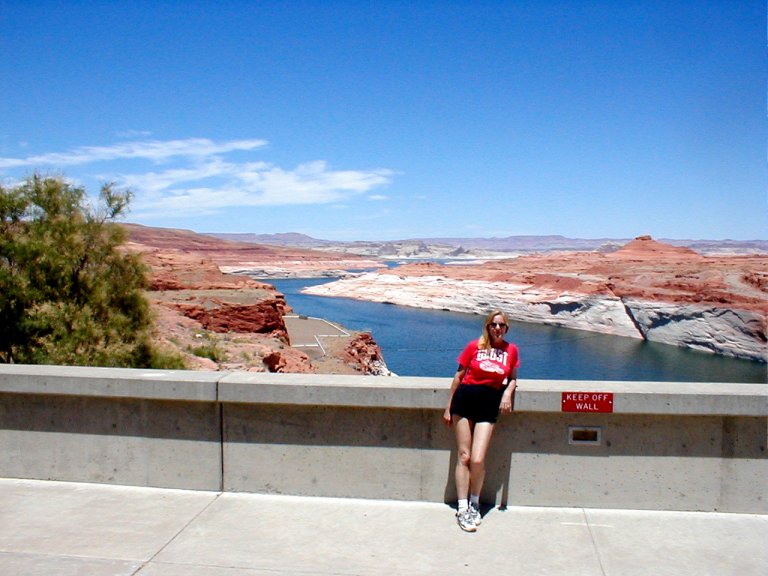 In Utah we passed through a mile-plus tunnel as we approached Zion National Park.
The long dark passage has viewports cut through at intervals, providing brief glimpses of the colorful rock-scapes of Zion from a bird's-eye view. You'd need a coffee-table quality book to attempt to capture the grandeur of Zion, but in truth even that could not do justice – you simply must be there to grasp the scale of these spectacular landforms.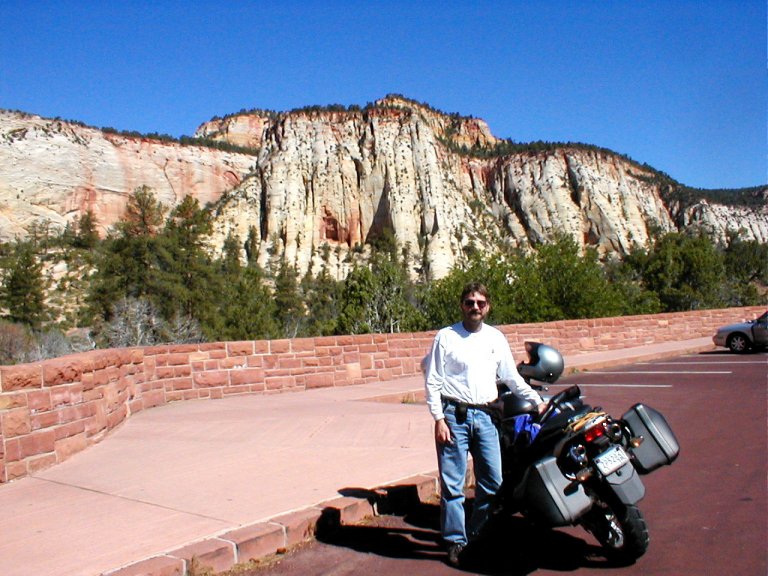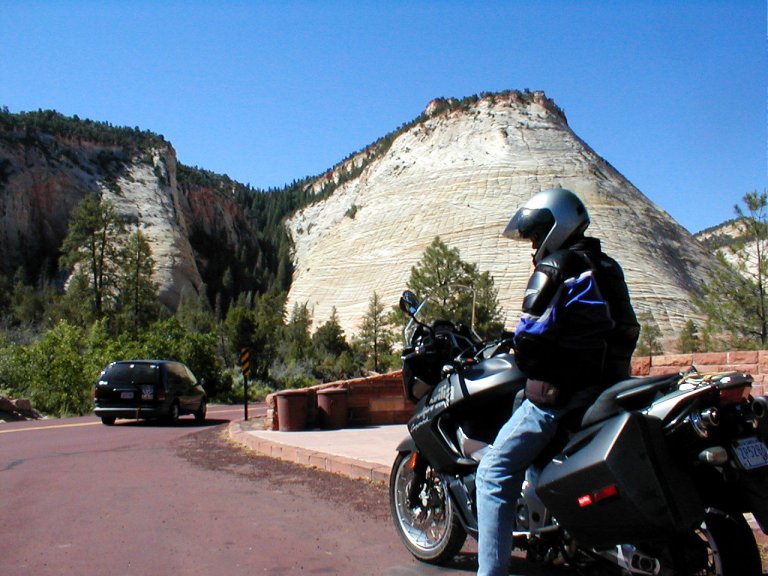 Touring by shuttle bus, we did a number of short hikes, including one that progressed up the valley floor to the spot known as "the narrows", where the high cliff sides close in tight over the Virgin River. We dipped our feet in the blessedly cold water. Another favorite was the short, steep hike to Weeping Rock. With the outdoor temperatures flirting with triple digits, it was very pleasant to walk under the cool misty water that drips constantly from above the entry to the stony alcove.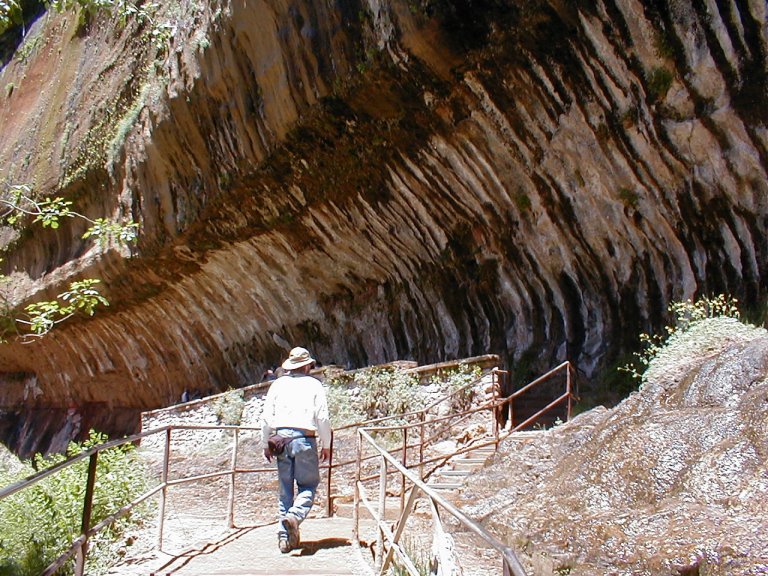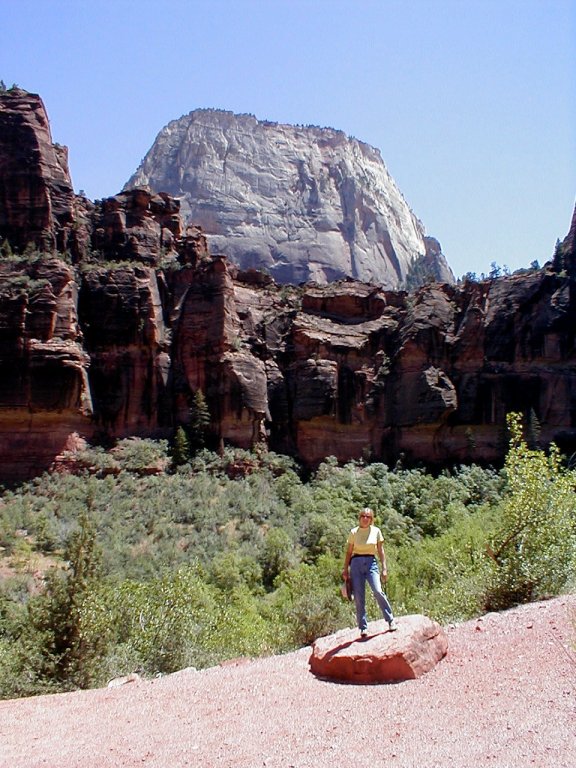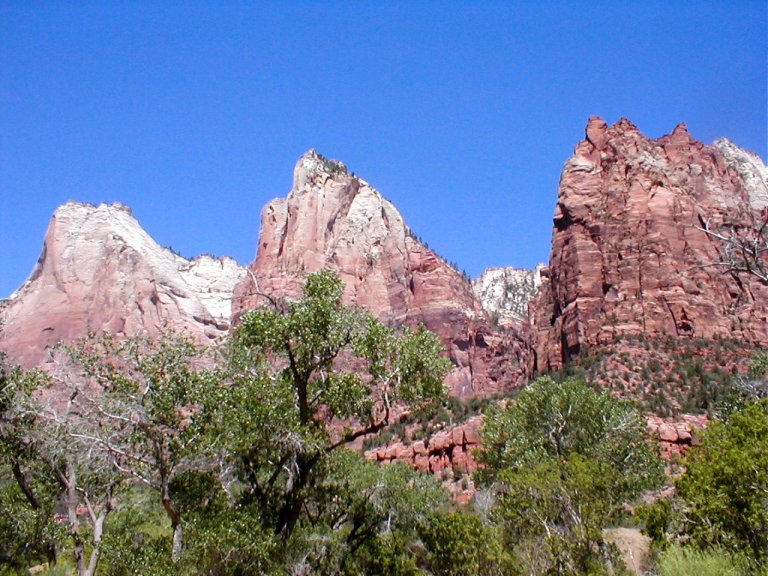 Next up: Bryce Canyon National Park. We enter through Red Canyon State Park – it is, well… quite red.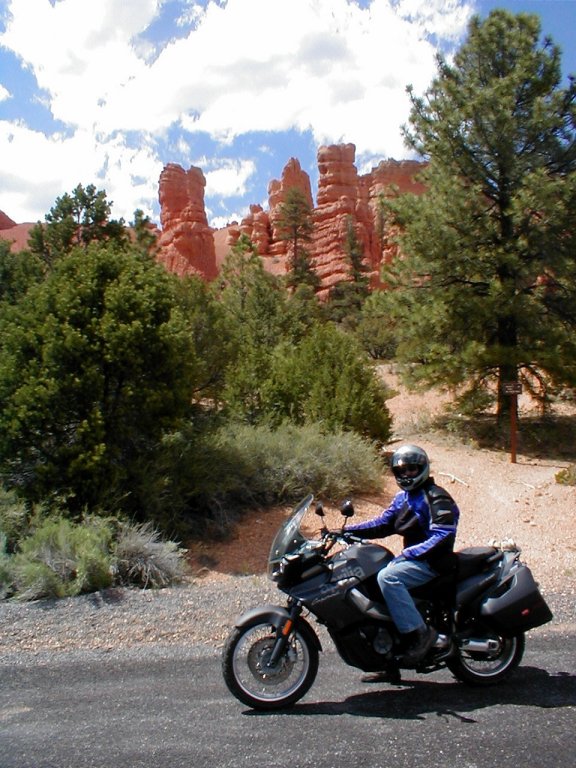 Considerably higher in altitude than Zion, Bryce is a markedly different experience. Whereas in Zion we walked on the valley floor, striving to not topple backwards as we craned to peer up at the massive formations looming above, in Bryce it was more a matter of looking down upon the unique landforms from a high vantage.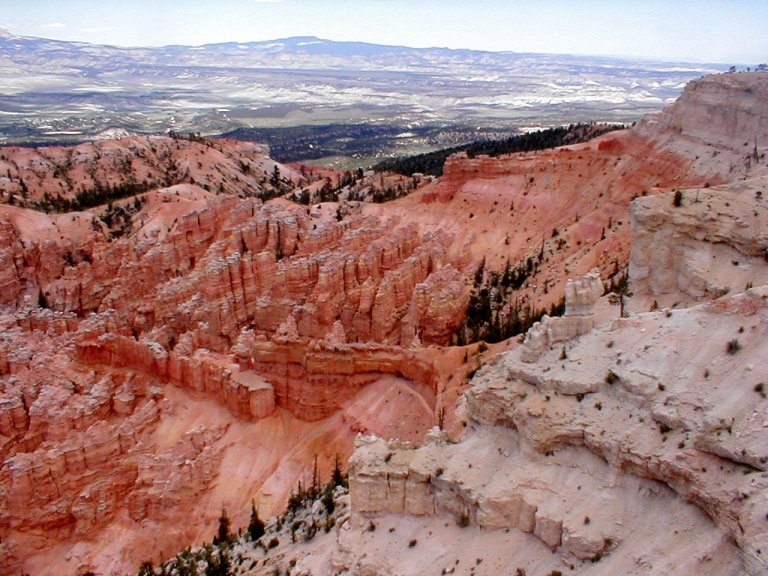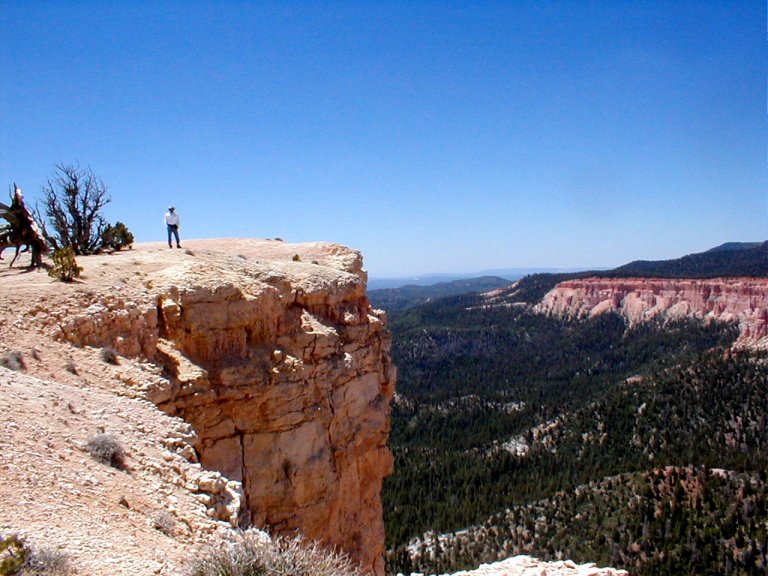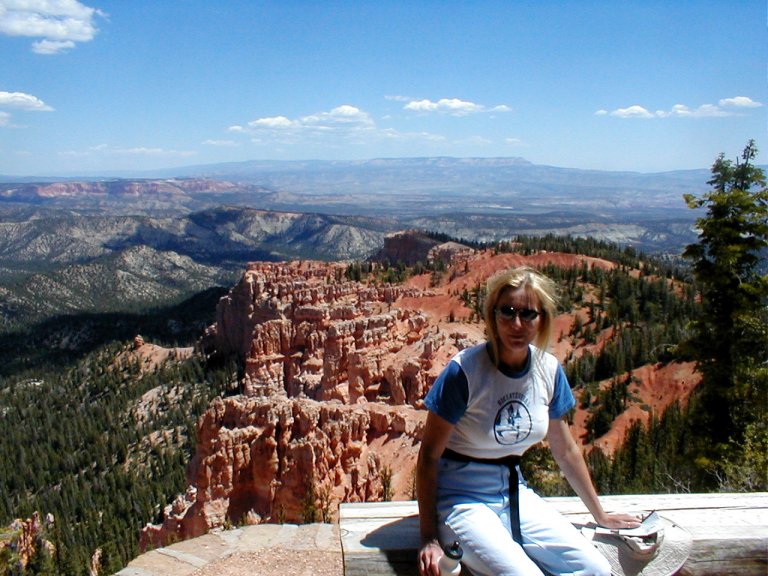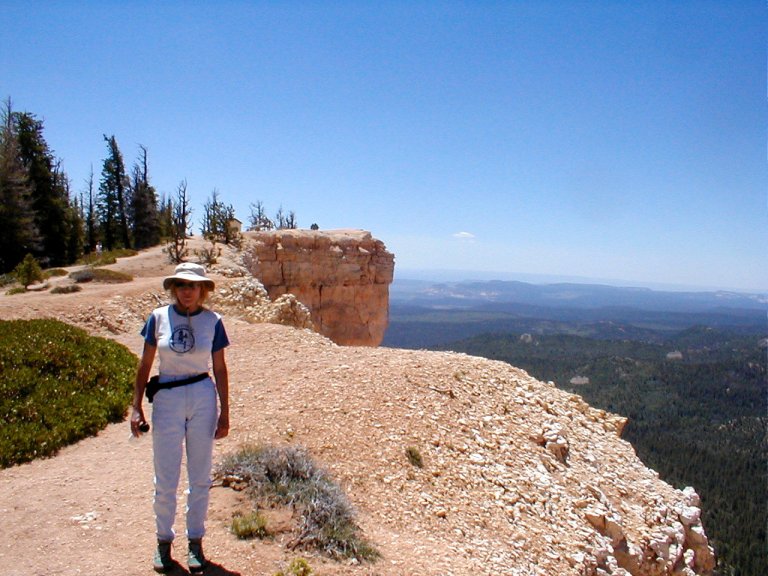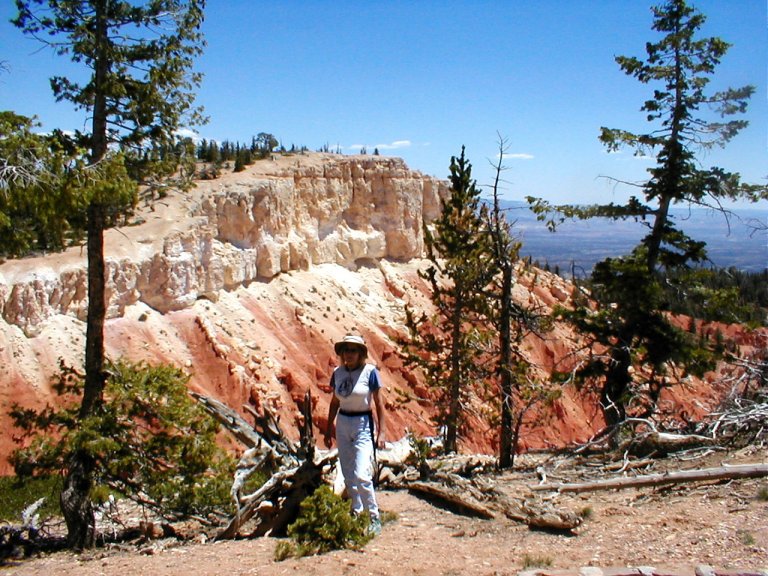 HooDoo!
I love that word, and I love the stone spires that it describes. Created via erosion over a period of, uh… I'm not sure how many millennia, hoodoos are improbable pillars of stone jutting skyward in any number of unlikely shapes. At Inspiration Point Overlook, one of the more amazing spots, the hoodoos are arrayed in a seemingly ordered pattern, phalanx upon phalanx standing proud and forbidding. It reminded me a little of a forgotten sci-fi story - where an army of aliens stood immobile for eternity, forever awaiting the signal that never comes.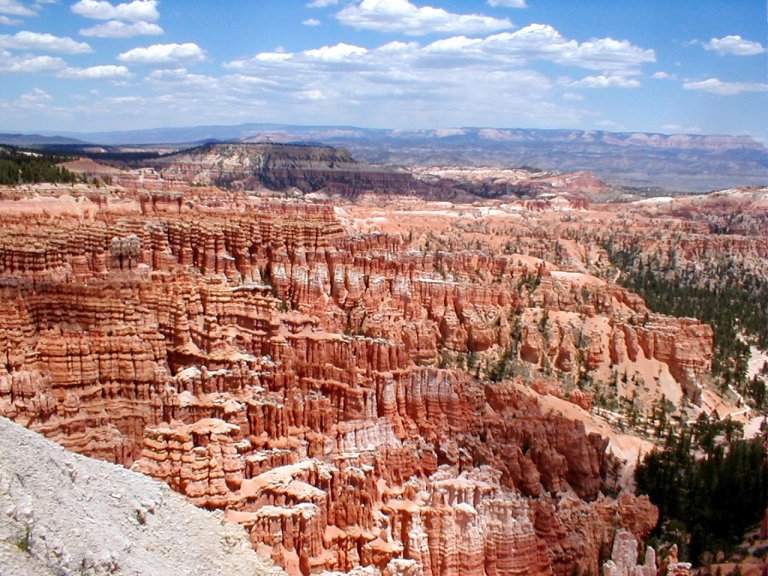 On the return trip we took a side route to Cedar Breaks National Monument. I had no idea what it was, but Highway 14 was marked as a "Scenic Byway", and that sounded good to me. We passed a high overlook over sparkling blue Lake Navajo, and as we continued to climb patches of snowfall became common. At the monument we came upon a broad overlook of a landscape not unlike a smaller version of Bryce – but at an altitude over 10,000 feet.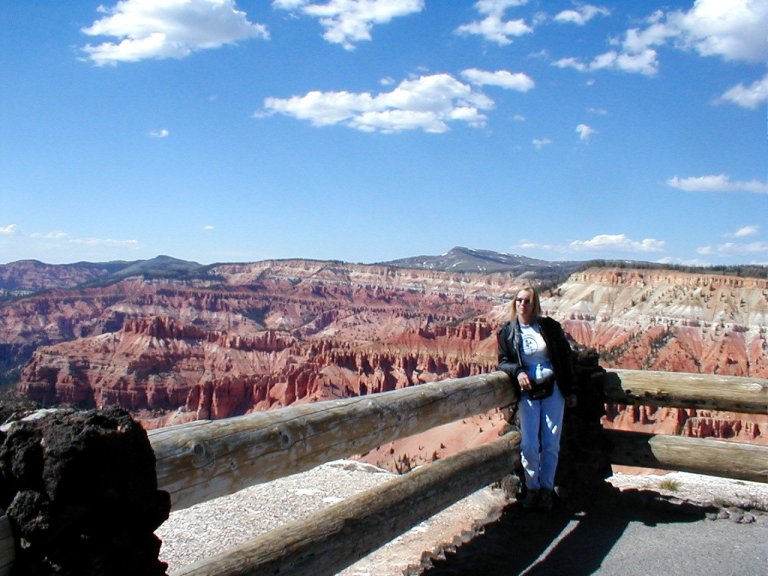 Continuing our trek, we turned east on I-70 and continued to pass through diverse regions that are both strange and wonderful. Climbing and descending through micro-regions, each seems to bear little resemblance to those just passed by and those yet to come. We set up camp in Moab, Utah – a location well known not only for two nearby National Parks, but also for the challenging mountain bike and dual-sport motorcycle course laid out nearby. "Slick Rock" is, I understand, a course pioneered by a dual-sport rider, and now a premier mountain biking scene. We saw lots of bicyclists, and a much larger congregation of dual sport thumpers than I've ever before seen. I gaze upon them wistfully, but my Aprilia Caponord is too big to join in their off-road horseplay.
In our campsite just south of Moab the snowcapped La Sal mountains tower to one side, jagged red rock bluffs stand guard to the other. We started our trip into Arches National Park early in the AM – the colors and scenery are better at that time of day and the temperature is still moderate. In Arches our ride climbs the terrain as we pass among huge vertical slabs of red stone – standing in parallel arrays, or singly, or in some stage of improbable erosion.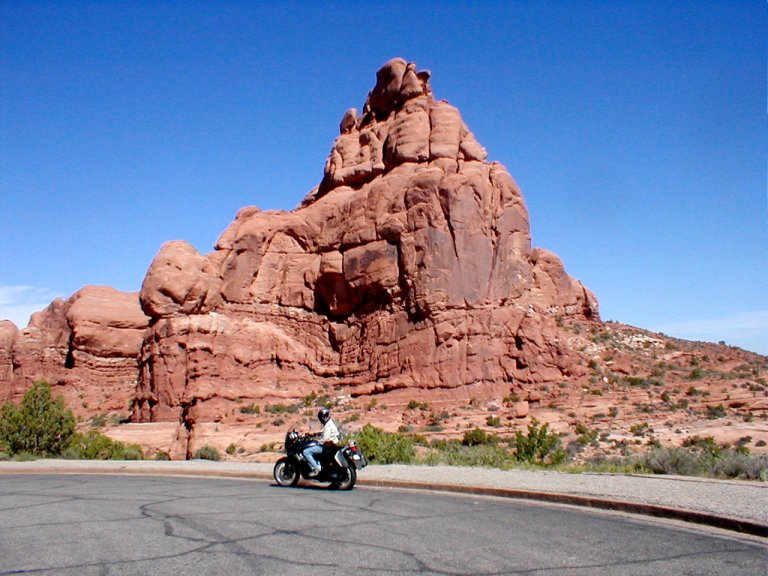 It is my understanding that the hundreds of arches that exist throughout the park at one time stood as solid slabs of stone. Former arches have collapsed, as will the existing arches eventually fall, and new arches will come into being from the erosion of the massive slabs that now stand. I'll not embarrass myself (or amuse you) by attempting a rigorous explanation of these landforms, I'll just tell you that we spent many enjoyable hours riding and hiking through these colorful, astonishing stone formations that towered over us.  We started with a two mile hike up and back the trail named Park Avenue (a bit misleading, I'd say),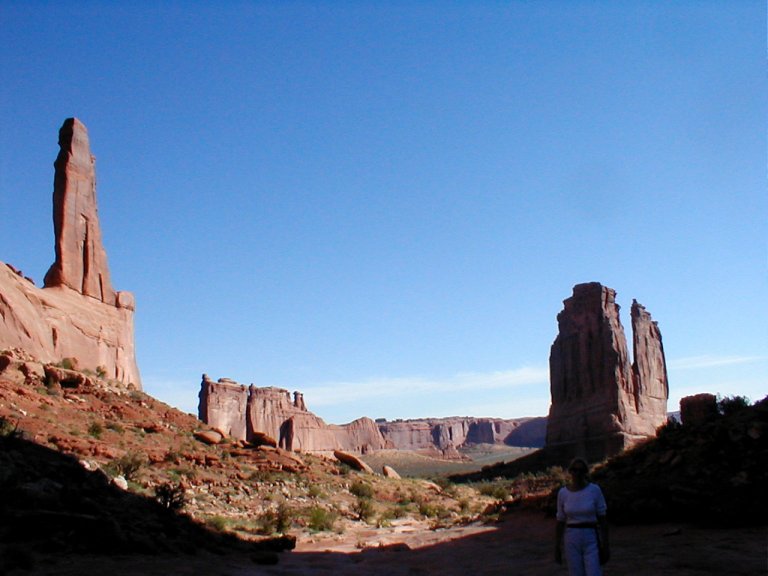 and came to the end in Devils Garden.
I could not help but wonder, while gazing upon all those precarious formations, if that one looming over us just now might choose this very moment to succumb to gravity and come crashing down.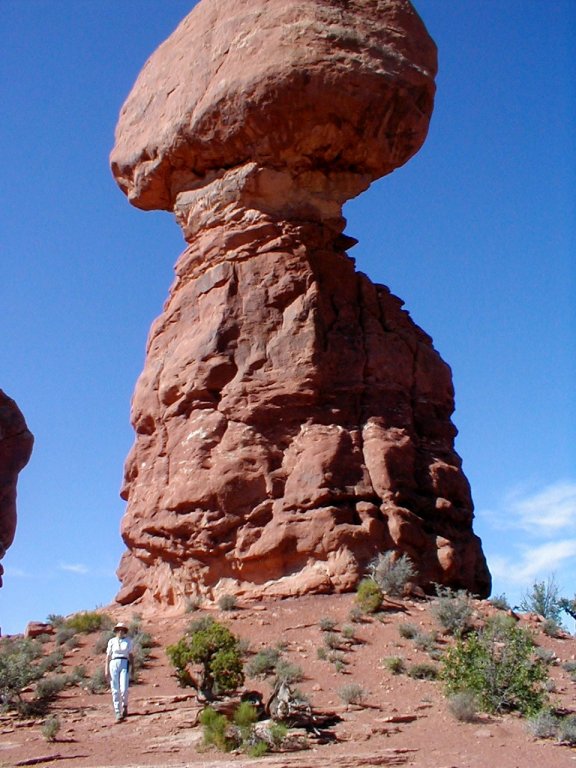 Whew! Not to worry, we came through it in one piece. As the sun climbed past its apex and we fled the park for our air conditioned refuge, the temperature had again exceeded 100 degrees.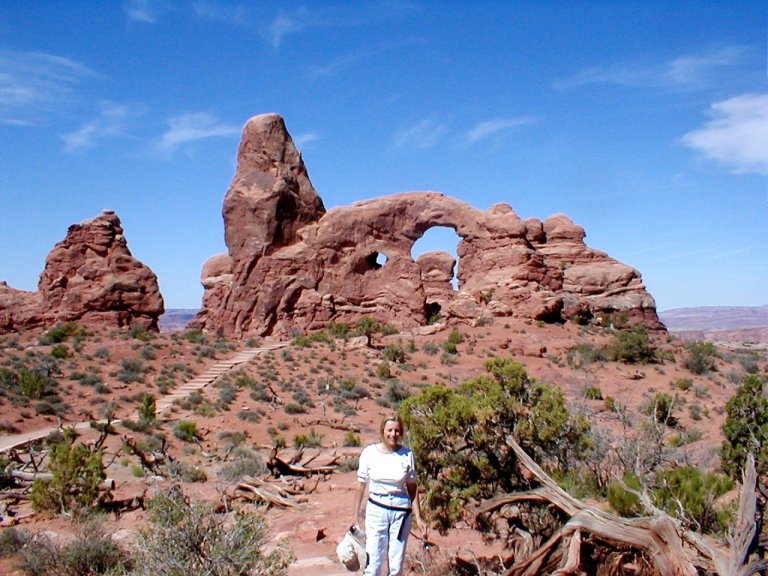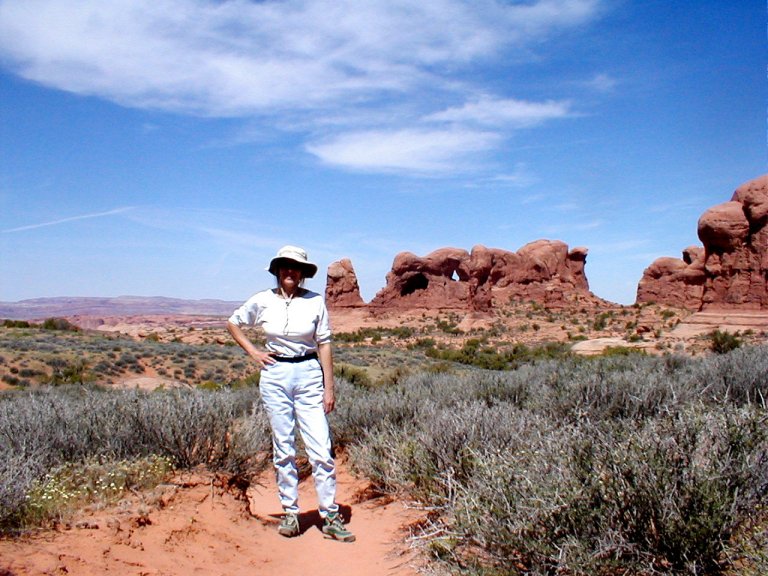 Another morning ride finds us off toward Canyonlands National Park. Canyonlands feels more remote than Arches – more open and widespread. We visited the northernmost section of the Park – Island in the Sky. We soon shed the sweats we'd worn under our mesh jackets, the overnight coolness disappears quickly under the intense sun.
Island in the Sky is bracketed by the Green and Colorado Rivers as they merge together. We looked out from highlands that stood well above expansive flatlands – those flats being carved with canyons by the Green River. The flats were traced with numerous dirt roads that began as ranching routes for herding cattle from highlands to lowlands with the change of the seasons, and were later improved when uranium mining thrived in the 50's. Those activities are now gone - the only traffic on the wandering dirt roads now are the intrepid 4-wheeler or dual-sport rider crossing the desolate expanses for recreational purposes.
My favorite stop in Island in the Sky was the short hike to Mesa Arch. As we approached the arch we were surprised to realize that we'd most definitely not be walking around to peruse its reverse side. The arch opens atop a high cliff looking out over a very scenic vista far beyond and below. Birds darted in the open space of the plummet beyond the arch – they seemed to experience none of my problem with vertigo.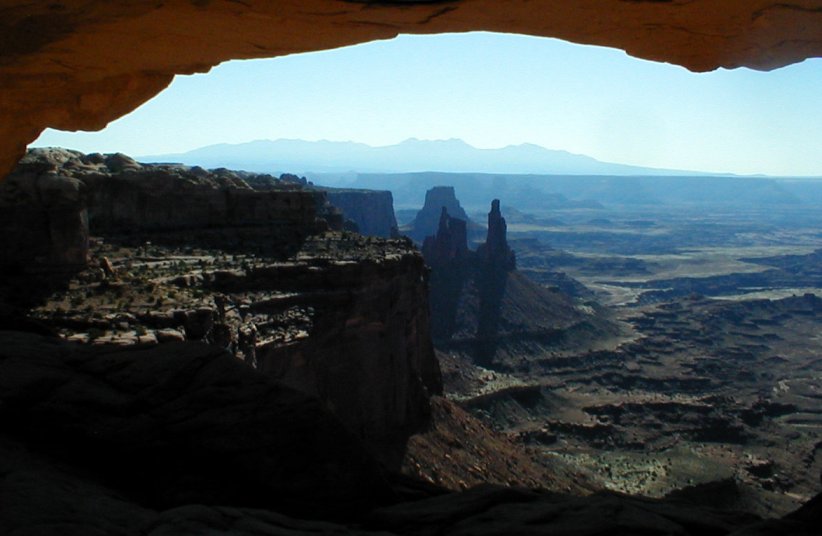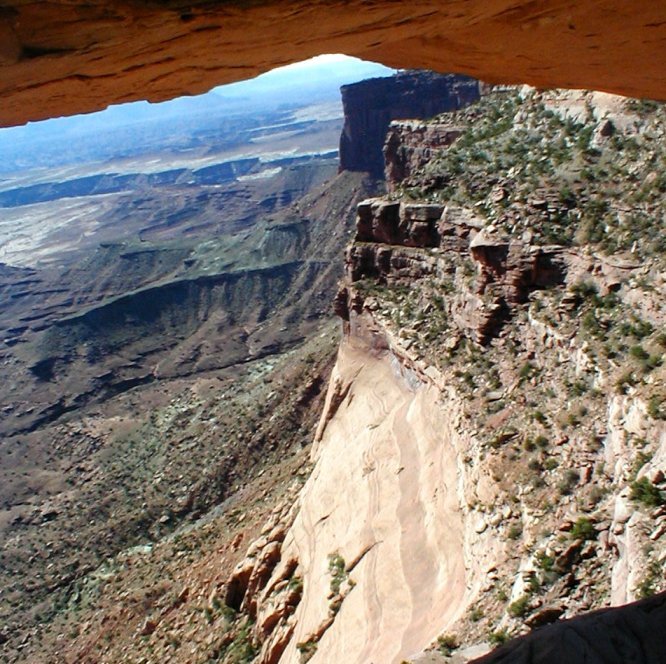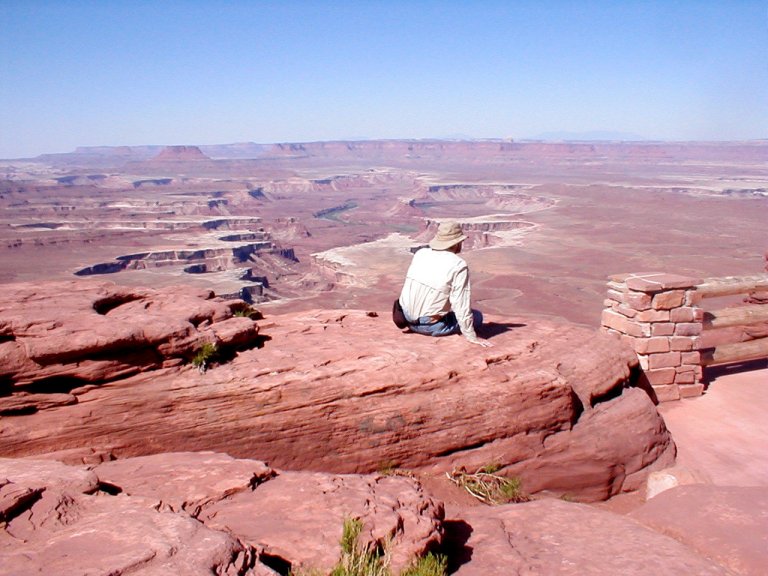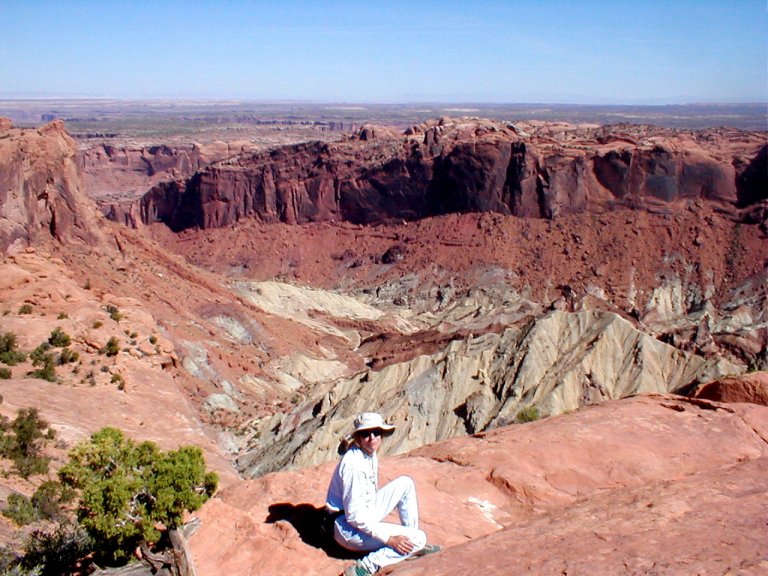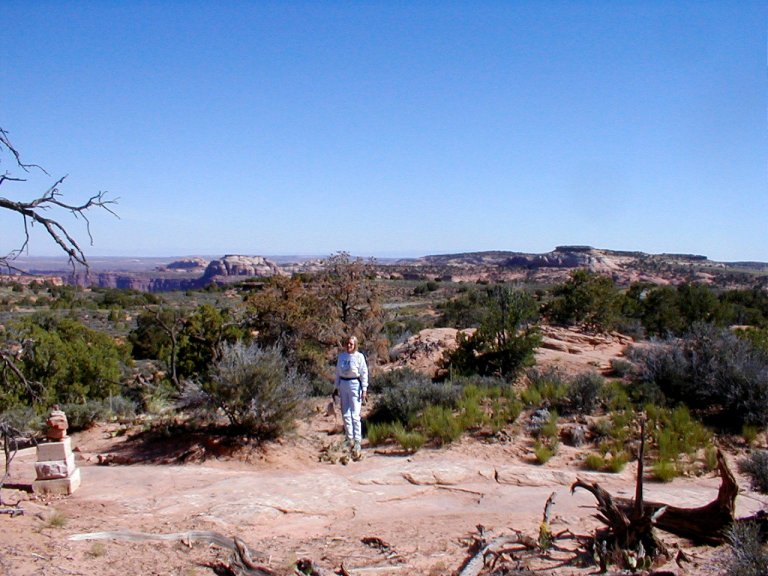 An interesting side-note here is that we continued to encounter more foreign tourists in the National Parks than we did Americans. The truth is – I believe the Europeans have a healthier perspective with regard to leisure time. They seem to have more of it!
We knew our drive from Moab to western Colorado would take only a couple of hours, so we got up early and threw the recumbent bicycles in the back of the truck. We motored into Moab to check out the bicycle trail we'd spotted the previous day. A nice, wide, concrete trail roughly follows Mill Creek – it wound a rural-feeling route through the heart of small-town Moab. A fine way to get the blood circulating early!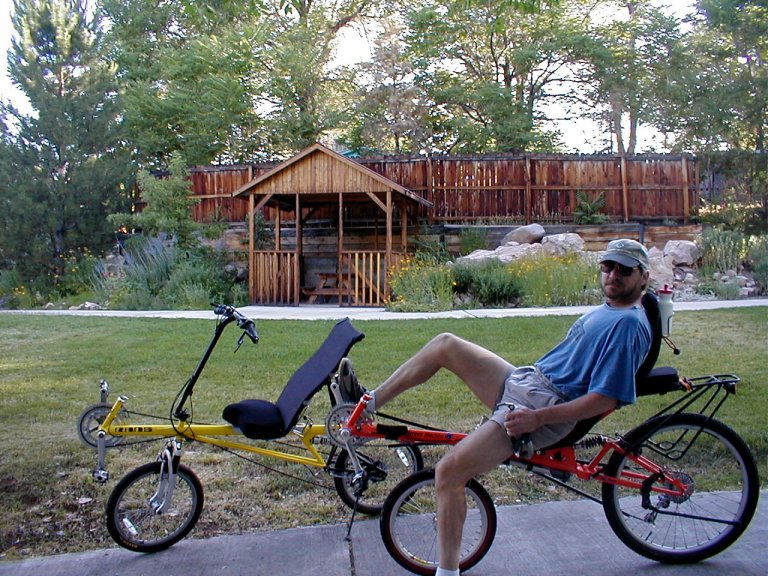 We'd set up camp in Fruita, Colorado, by . I expected this to be a Spanish pronunciation, as in Fruu-ee-ta, but the locals just looked at me strangely and asked "Do you mean Fruuta?" So named, I suppose, because it is a very favorable location for the cultivation of fruit. The wide Grand Valley of the Colorado is temperate and fertile – it is a growing region of award-winning vineyards, and prolific peach orchards abound.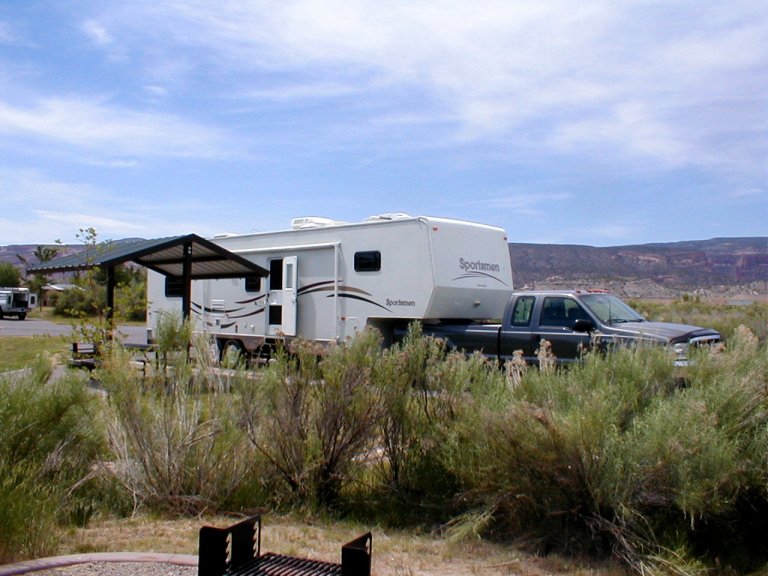 We had known that there was one good tour in the area, the Colorado National Monument, but upon our arrival we realized that there are many other opportunities nearby. We loaded the yaks into the truck and motored upstream to Grand Junction, where we launched on a 10 mile paddle down the Colorado River. The river was running fairly quick, by our standards, and we bobbed along at a spirited pace. Facing a stiff headwind toward the end, we were grateful to pull into the landing at our State Park campground. We then took the motorcycle back to retrieve our F250 – one of the many benefits of multiple modes of conveyance.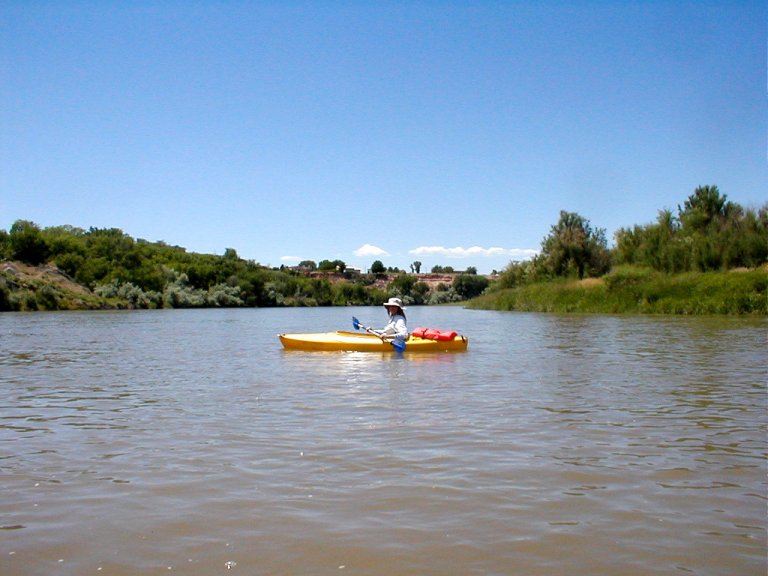 Just a short distance from our campground was the western entrance to Colorado National Monument. The air was already warming as we started our trip before . The roadway climbs the steep walls of the Uncompahgre Uplift, which rises above the Grand Valley of the Colorado River.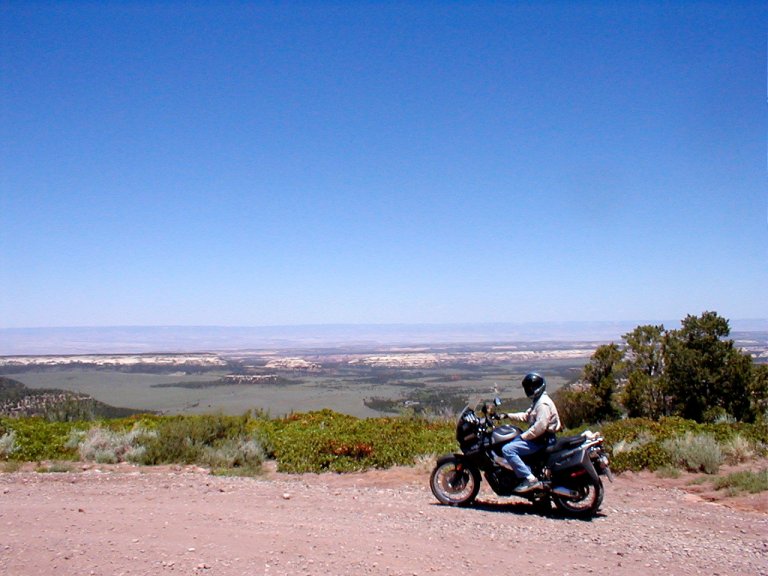 We're still in the realm of the Colorado Plateau, which includes the Parks we'd visited in Utah. This is semi-desert country, a bit more green than the territory to the west. The Rim Rock Drive climbs atop the plateau and curves along the rim for 23 miles, with numerous viewpoints from which to marvel at the rock formations and the more distant valley flatlands.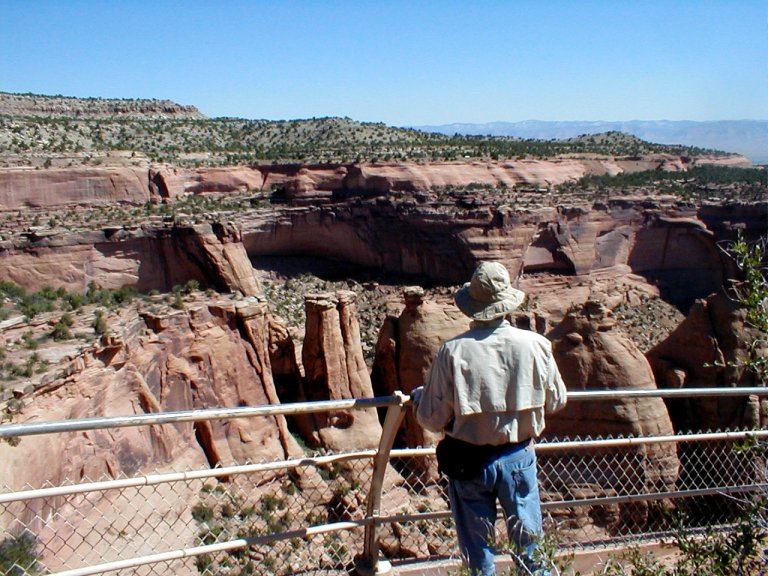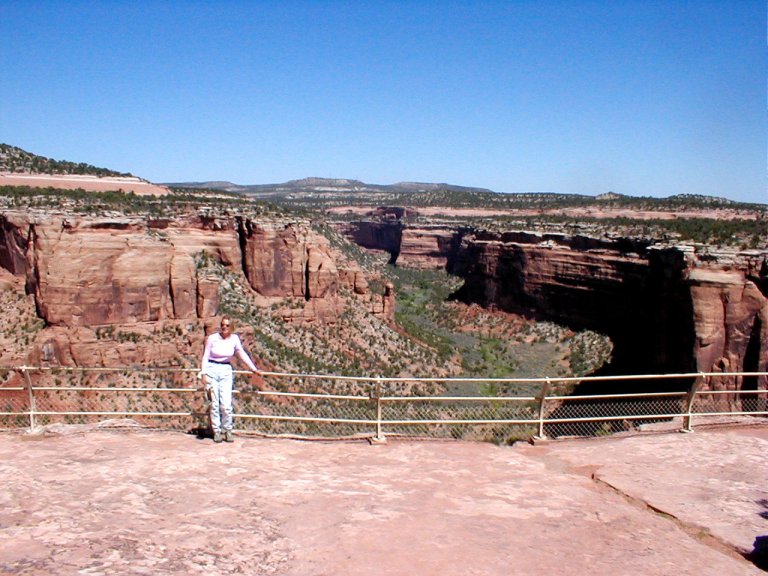 Toward the end of this ride we stumbled upon an unexpected highlight. On a whim I took a turn toward what was labeled "Glade Park Store", some 5 miles away. The landscape changed to more level, less dramatic ranchland-type territory, and it turned out our destination had been literally labeled – it was a country store at a rural crossroads, having made its place there nearly 100 years prior. We noticed a small billboard map on the otherwise vacant opposite corner, and we decided to follow the route described there.
We began to climb to the south, first moderately on a nicely paved road, and then more steeply on a dirt/gravel/rock road. We passed the Mud Springs Recreation Area (what looked to me a backcountry campground), and continued south to the Haypress camping area, now in the Grand Mesa National Forest. The open country had changed to profuse stands of beautiful Aspen, broken up by hilly green meadows. It seemed we'd passed into a very different realm—no desert-like semblance here.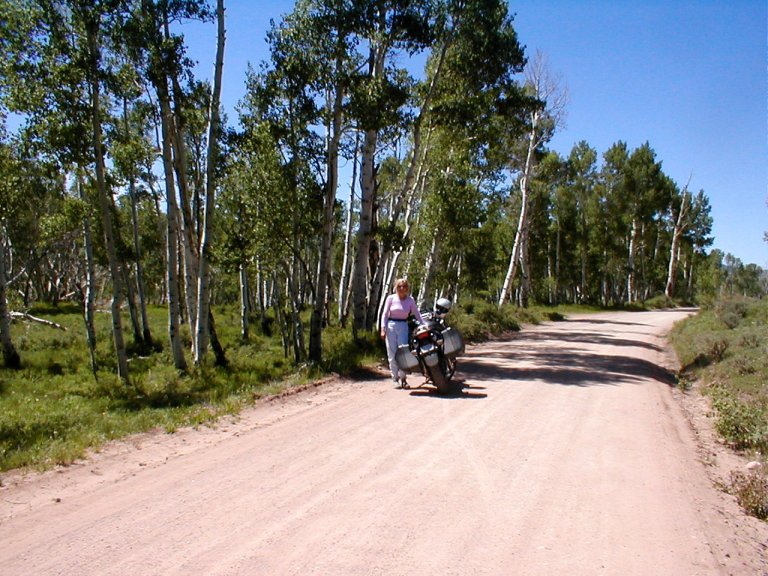 I believe this might have been one of my very favorite rides; we seemed to have the entire world to ourselves, wide vistas and nary another soul about. I later learned that the Grand Mesa Forest comprises, at 10,000 feet, the world's largest flat-topped mesa – it was so vast that I had no idea we were riding on a flat-topped mountain.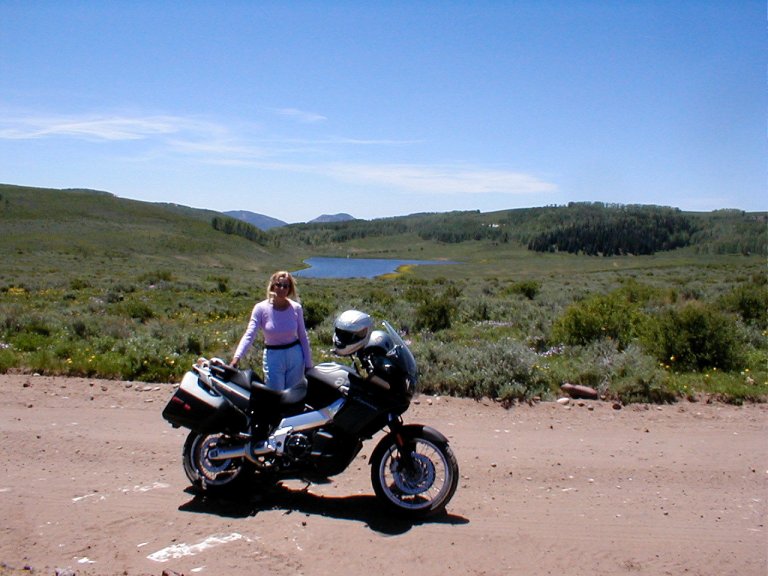 Turning back north from the southern apex, we marveled at the change in landscape. As we gradually descended from the Aspen forests, the landscape cleared to vast rolling countryside – beautiful greens interspersed with the blue-green sage look of the west, all sprinkled generously with yellows, purples, reds, and blues of the blankets of wildflowers spreading near and far. After spending many days flirting with the century-mark, it seemed odd to be probably only 20-some straight-line miles away from the heat, but now riding in 70ish temperatures with large pockets of snow still unmelted along the dirt roadway.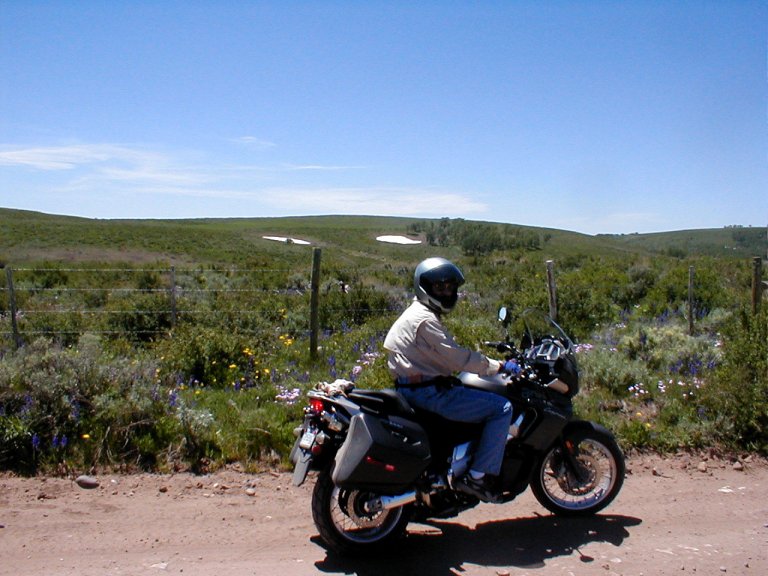 Finally we began a serious descent, and as we came down the steep slopes we looked out across the flats below – softly rolling in verdant green/blue. We came back out onto fairly level ground—back on fast rolling pavement running between softly contoured rock formations standing tall all around—and I marveled at the fact that we were still gradually descending toward the upper plateau of the Colorado National Monument. We finally descended steeply through switchbacks toward Grand Junction on the valley floor, and the temperature soared.
I was leery about our route from western to central Colorado, dragging the heavy 5th wheel across the Rockies on I-70, clearing passes on the order of 12,000 feet. I was surprised that the route was quite easy for some distance – thanks to the gentle Grand Valley of the Colorado River. Then came Vail Pass – a long climb and descent, and the Eisenhower tunnel summit was even more so. But I was careful to use lower gears as we descended, modulating the brakes as best I could, and it all went off smoothly.
We next set up camp in Central City. I remember coming through Central City as a child – at that time what I remember is a tourist town that banked on its gold mining history. I was picturing a restored ghost town theme.
Well.
The town of BlackHawk, which is just downhill from Central City, has become a most improbable casino town. You're driving steep 2-lane mountain roads with nothing else about, and all of a sudden you come upon this mini Las Vegas hanging tight to the steep mountainsides. To then proceed on to nearby Central City, one must turn uphill in the middle of BlackHawk. I should heavily stress the word uphill. We climbed an extremely steep incline in 1st gear, following the campground signs, dismayed that the route just kept turning up and up. With a great sigh of relief, we finally finished the climb up to our campground.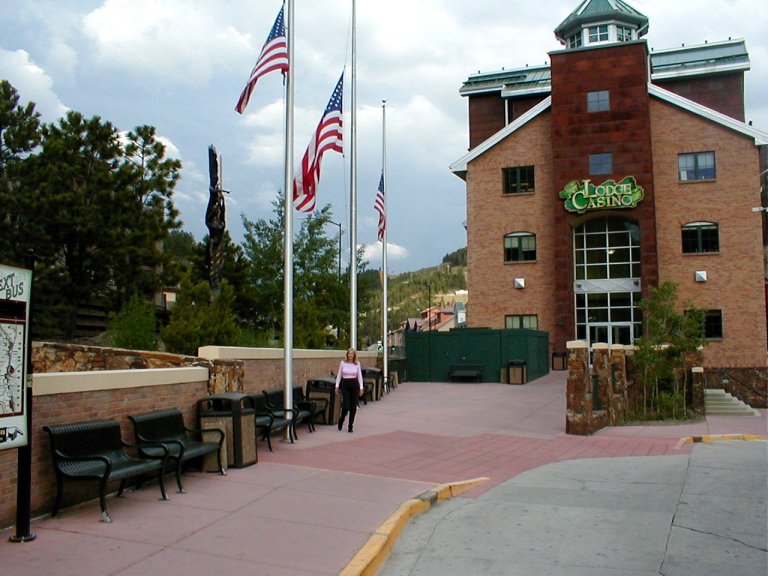 During the evening we had some pretty good thunderstorms, but nothing like what was happening in Denver – a short distance to the east of us. The following AM a weather broadcast told us that Denver had hail up to THREE FEET deep - they showed a video of men shoveling hail that rose to the top of the tires of a Hummer. Whoa.
Based on that, and the forecast of further violent thunderstorms, we decided, even though the AM dawned bright and clear, to take the truck rather than the bike on our trip through Rocky Mountain National Park (RMNP). I kicked myself regularly on that 6 hour trip, especially when I watched other riders pass blithely by in the early hours under cold, but spectacularly clear, skies. My opinion began to change later as the dark clouds closed over and the wind picked up, and big raindrops began to fall. Then we watched, from the heated comfort of the F250, bikers riding in cold rain, and I felt absolved. As I later sat to write these words on my laptop, the hail was drumming on the roof of our RV.
Passing through Estes Park, the town at the entry to the park, we passed a sight I remembered from my youth – the imposing Stanley Hotel. This hotel reportedly influenced Stephen King's writing of "The Shining".
RMNP is a locale to make you consider your place in the world, a premier alpine roadway.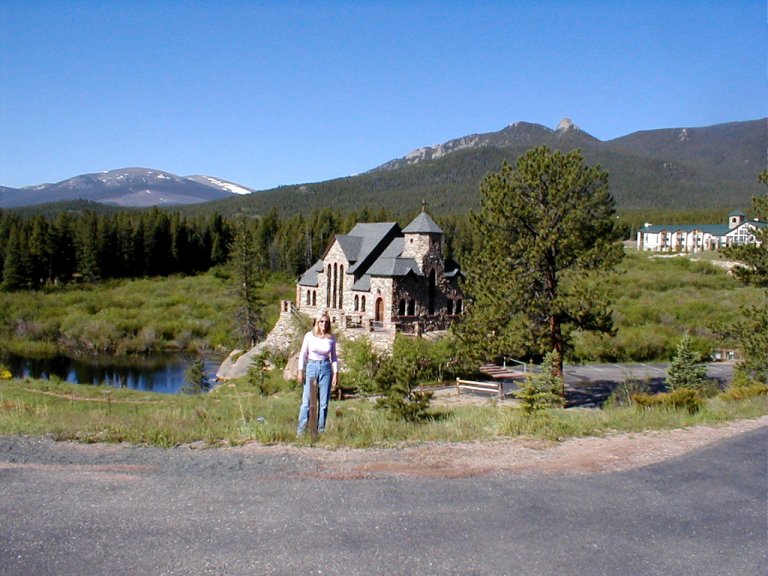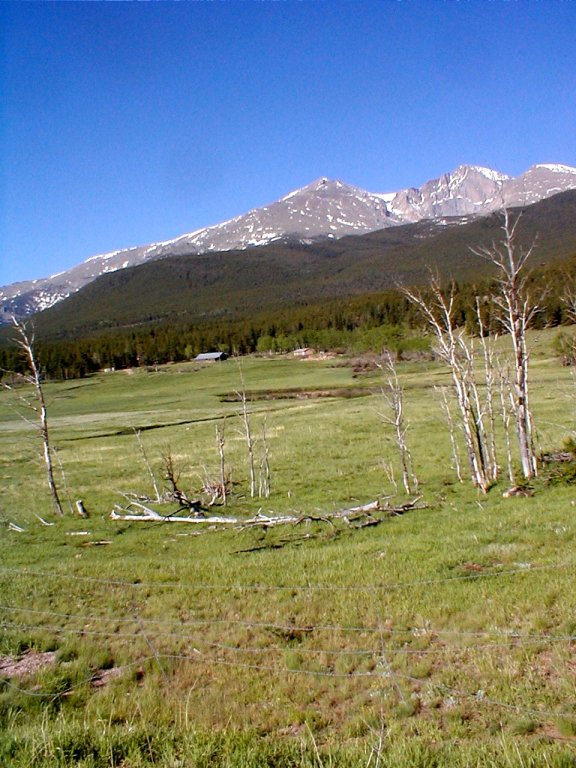 Closed during the winter season, with tall poles lining the roadway so they'd stick up above the snowpack and show the snowplow drivers where the road was (and wasn't), the roadway had been closed the prior week because of a late snowfall. Open again now, we climbed through various stages of forest growth, from pine and juniper to fir and spruce, and then we came above the treeline into an alpine region of tundra growth. We'd stop to look upon snowmelt waterfalls tumbling down the slopes, and narrow creeks snaking across the relatively flat surfaces of valley floors.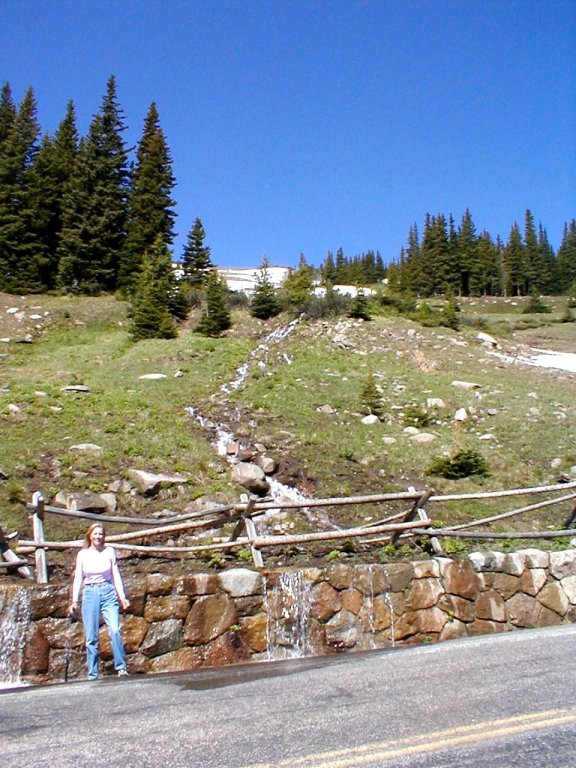 We hiked up designated paths (tundra is easily damaged and recovers very slowly) to look out across the great heights and far distances (we hiked slowly, because we're from the southeast, and we're now hiking at altitudes well over two miles high). It's awe-inspiring, and self-deprecating. I loved it.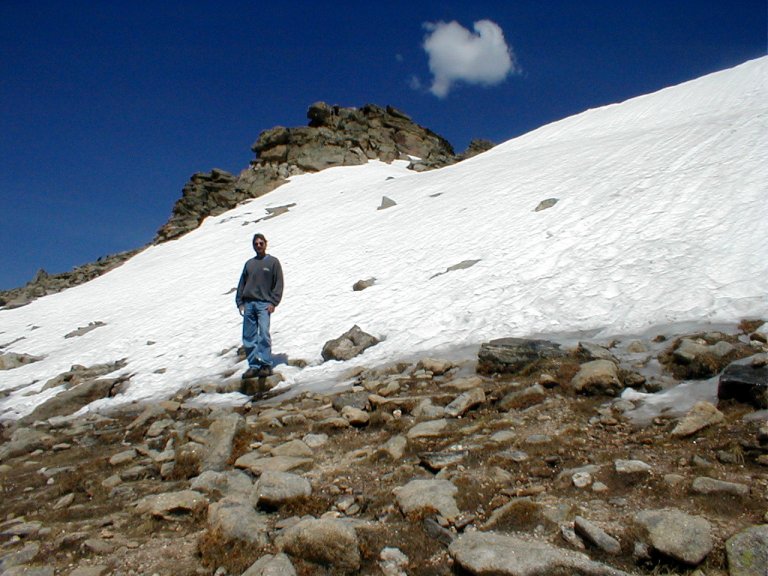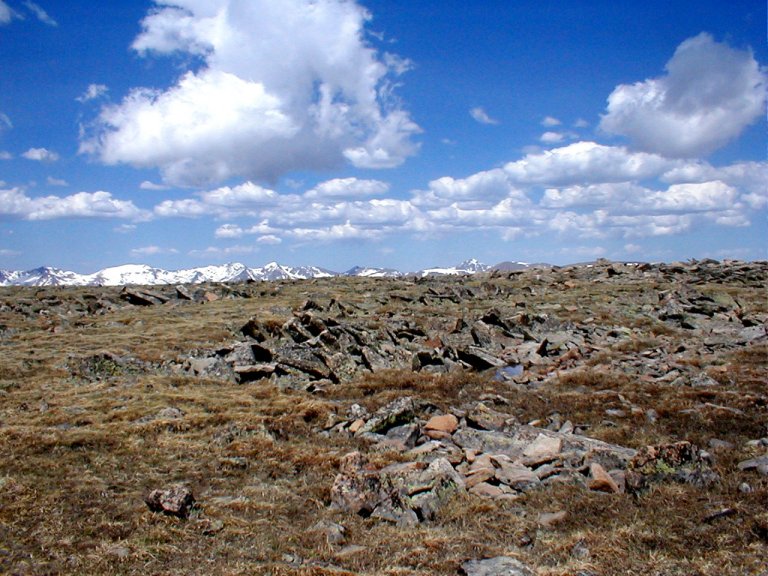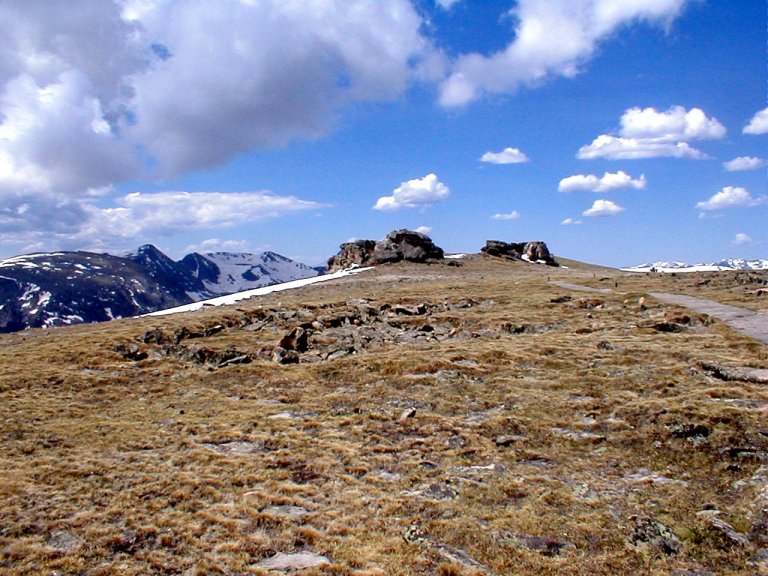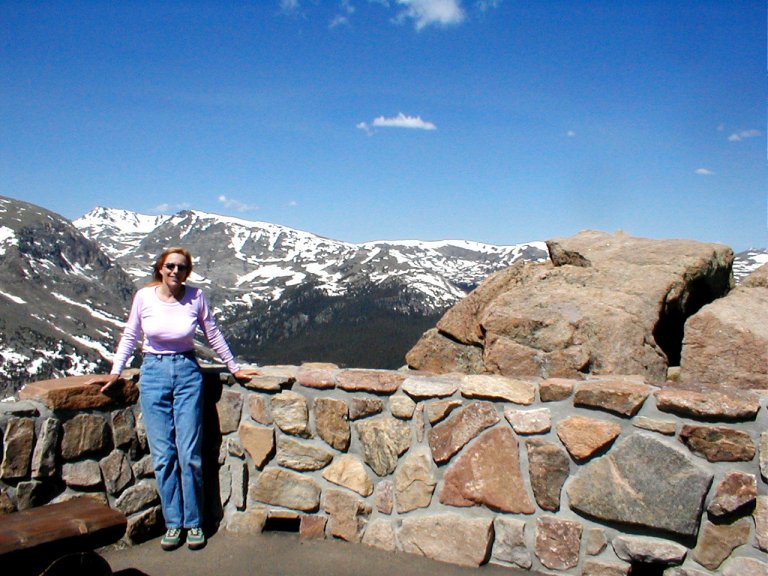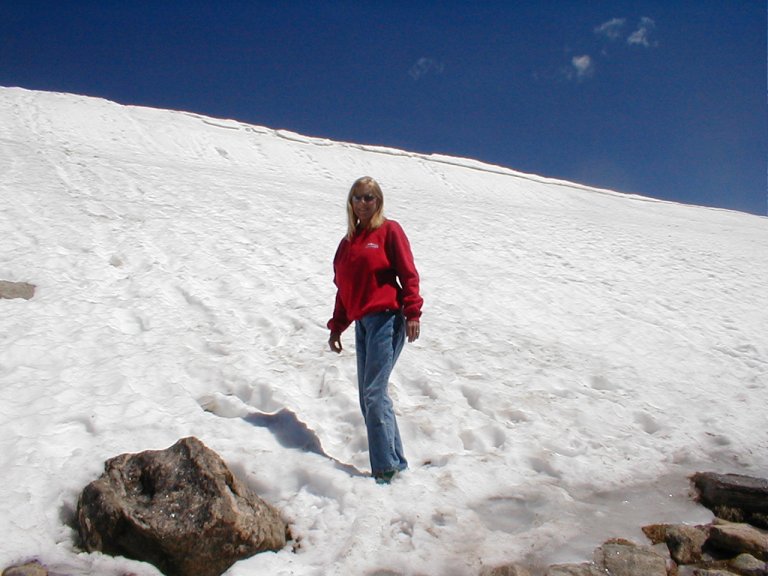 The next AM we layered with thermal clothing in anticipation of scaling nearby Mount Evans – the highest paved automobile route in North America. At the start of the ascent the temperature was 71 degrees, and it had dropped to the low sixties by the time we reached Echo Lake at 10,600 feet. Echo Lake is a beautiful body of blue water surrounded by towering mountains, with a walking trail encircling and picnic tables scattered about under the evergreens. Sooner than I expect we emerged from the lush forests above the tree line, and the climb became more serious.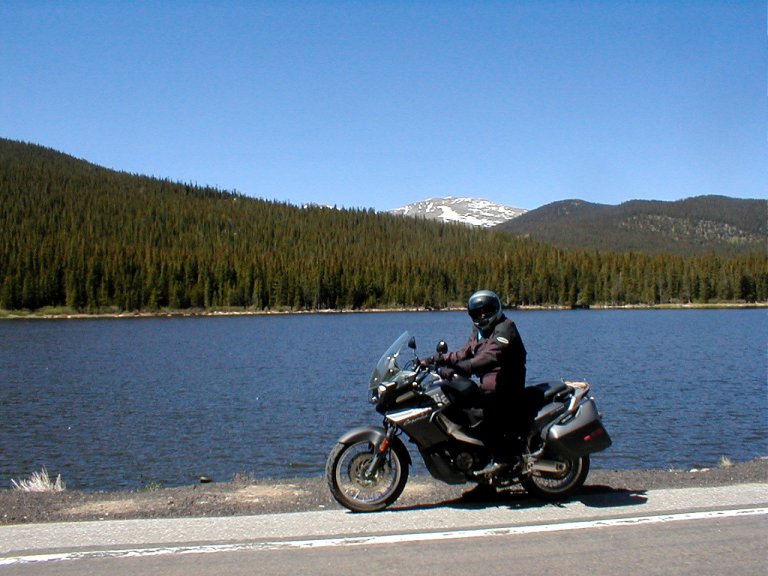 We came to a spot where the tundra is dotted with small, shallow bodies of clear water. There is a modest sized lake at the base of a steep slope – it is mostly frozen, but draining clear water at the lower end. The water ripples lively with the brisk surface winds. We watch as a small deer bounds across the completely open landscape.
The Ranger Station had warned us about some road damage ahead, and they weren't kidding. At one point the tarmac began to undulate like a great serpent – heaving, dipping, and twisting with abandon. Even on the long-suspension Caponord I had to proceed slowly, if I'd been piloting a low slung cruiser I'd have been grinding bits and pieces on the asphalt and slamming short-travel suspension pieces to their stops.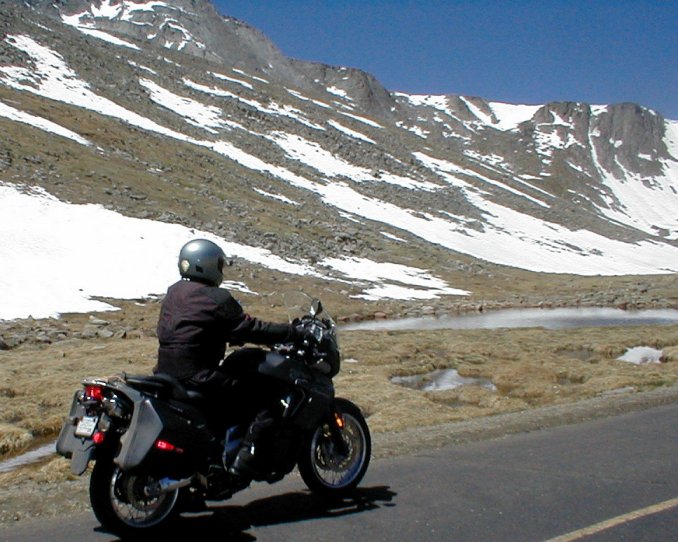 As the climb became even steeper and the road narrower, I must admit to some trepidation. There were lots of deep grooves carved in the pavement around the challenging 180 degree switchbacks – probably riven by RV-type vehicles that should not have been attempting the route. By the time we could actually see the summit, marked by a domed University of Denver observation dome (I believe I read it was the highest such dome in the world), I thought we'd made it.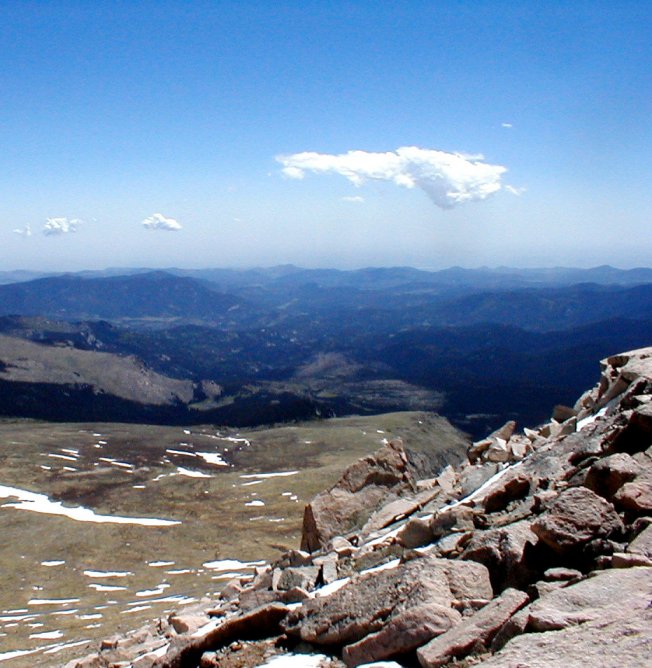 But that last section was the most extreme in terms of steep switchbacks. If you look at that last segment on the map, it looks like somebody just squiggled their pen back and forth in a tight pattern. To be honest, the last section is not that bad … so long as you don't falter. Precise throttle and brake control are good. Though traffic was light, as I approached the switchbacks I'd try to look beyond to see if a vehicle was coming the other way. If so, I'd stop before the curve and let it pass through first. A couple of large passenger vans traveling together used up most of the roadway around one such turn – I'm glad I wasn't trying to share the pavement at that point.
There is a structure at the apex parking area, built in 1940, that was once the highest (elevation) snack bar in the nation. It's now an open-air viewing platform. Its elegant arched stone walls stood out against the crystal blue sky. We clambered –slowly- around the Crest House structure. Now working at 14,130 feet, this low-altitude southerner didn't want to come up short of wind and impair his ability to pilot the bike down the long descent.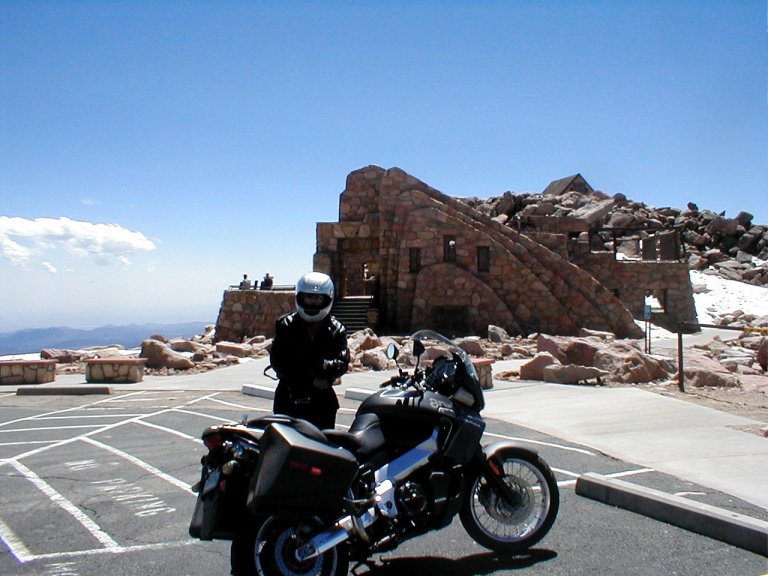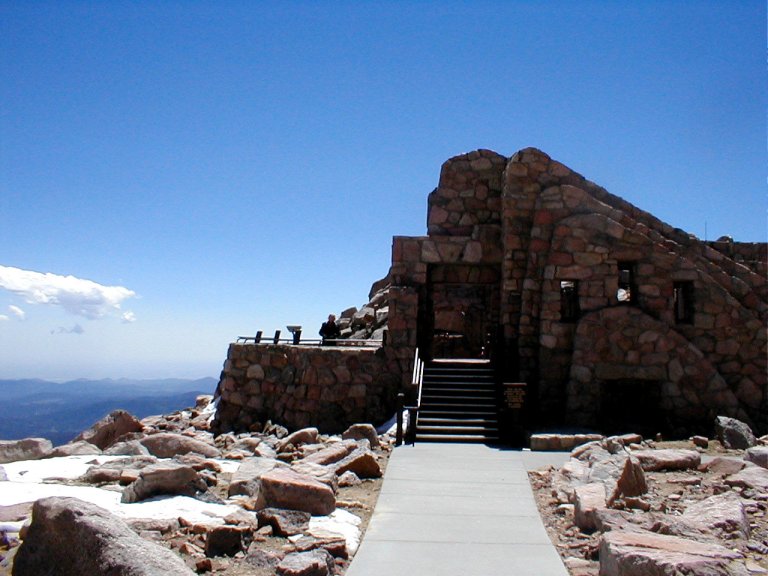 I believe that I mentioned it was windy on Mt. Evans. It was also COLD. Stepping around the mounded ice deposits on the stone floor to look at the thermometer, I saw 35 degrees Fahrenheit. I had no problem believing that, as my gloved fingers were tingling slightly numb.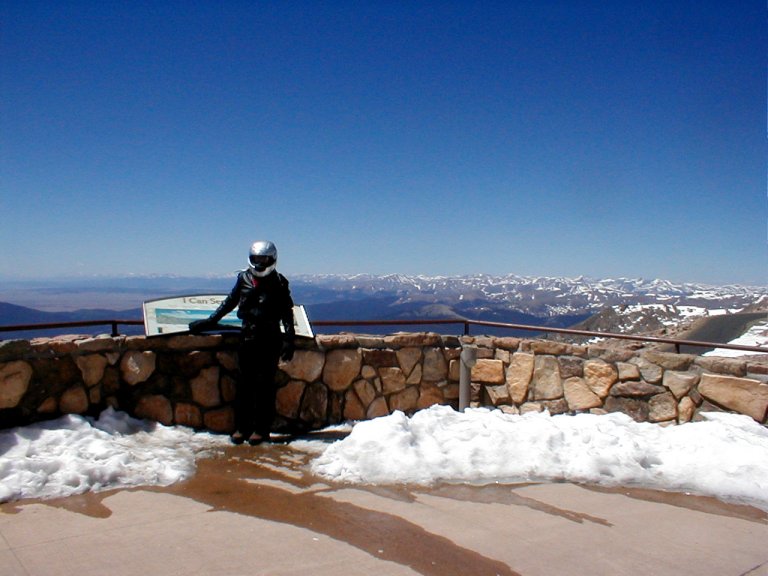 I'd watched in amazement while ascending Mt. Evans – we'd passed a substantial number of bicyclists climbing that punishing route. I was reluctant to walk quickly at 14,000+ feet, for crying out loud, and here these guys were climbing the whole distance under pedal power. While descending Mount Evans we came upon a trio of bicyclists running downhill, moving at a serious pace. I was impressed; I considered the fact that they were going around those not-insubstantial curves on tiny patches of rubber likely measured in millimeters of width, as compared to maybe a couple of inches width for the Caponord.  It was amusing to see them overtake a car that was driving timidly – I could tell they wanted to pass, but they didn't have the acceleration to do so in the very short straight stretches.
Back down out of the high mountains (to a mere 7,000 or so feet), the temperature was back up to the low 70's. We stripped some of our layers and picked a couple of canyon routes to finish off the day's ride. The wind picked up seriously – it seems to do such at its whim in these mountain environs. Sue doesn't much care for the high winds on a motorbike, can't say that I do either.
We finished the tourist portion of our trip the following day with some touring of my childhood hometown, Boulder, Colorado. We were even invited to a guided tour of the home I grew up in, but hadn't been back to since 1967. Shades of Déjà vu. I forget what my folks sold it for (I'm thinking probably $20,000-$30,000). It's now assessed at around $600,000. Ooops.
We had a second tornado scare as we returned through Kansas, and always the persistent cross-winds buffeting the RV. In just over 3 weeks we put a little more than 6,000 miles on the truck, and several hundred uncounted miles on the Aprilia as we explored the Colorado Plateau region of the west – a most memorable trip.