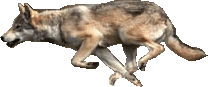 Trek North America
(partially printed in the May/June 2005
RVCompanion
magazine)
A bit of coddling, a bit of cajoling; some catering here, and some capering there.
Willful persistence and artful persuasion were required to pry a commitment from Sue, but in the end I wore her down. Or maybe she just wanted to concede all along? Concede to what would be, for us, our great once-in-a-lifetime adventure! I had long wanted to depart the ever-burgeoning chaos of south Florida, and I had long felt the lure of the open road. So many places we had never been, so many we might never see…
So why not combine these two desires into an open ended, unstructured "Tour of America"?
It began with a frenzy. We received an offer the first day we put our house on the market, and both of our widowed moms promptly decided to also relocate to more secure premises. Of a sudden we had a full three households to pack up and move—thirty-plus years worth of 'stuff' to be dealt with in less than two months.
Amazingly enough, come our closing date both mothers were properly situated, and, after a couple of last minute all-nighters, we were off! We put into storage our remaining material possessions, and that was when it finally sank in—we were now true wanderers. Vagabonds! No commitments other than to explore and enjoy!
The rear 10' section of our RV is a separate room, a 'garage', and it was set up so that I could strap down a motorcycle in the center, our bicycles on either side, with kayaks lashed to wall racks. A swinging kitty door provided access to the main quarters.
On the roof is mounted a 2-way self-seeking satellite dish, providing mobile internet access (it glows a very cool blue at night). I intended to continue to work as we traveled—broadband internet connectivity permitted me to do so (remember this was before wi-fi was prevalent). It was also very useful for monitoring weather patterns, and for searching out local points of interest. It provided a means of maintaining contact with family and friends while we wandered—I tried to provide a "traveling road show" commentary via our regular email progress reports.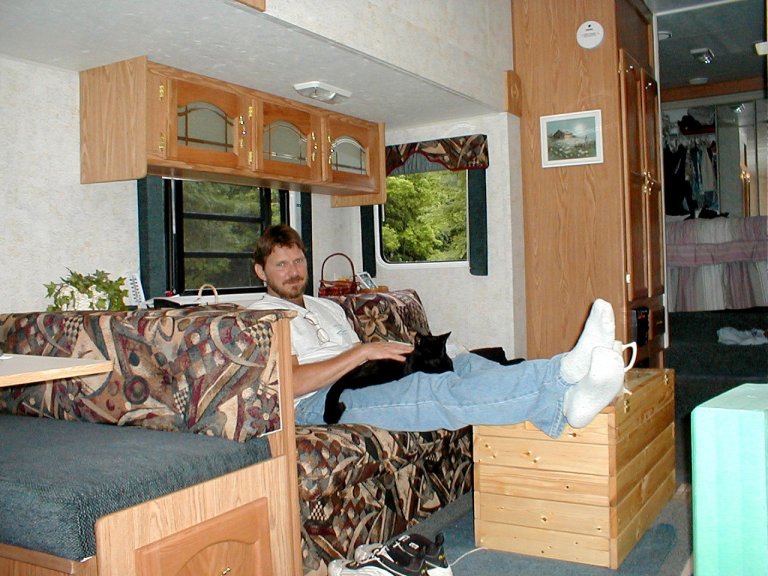 Our first destination was a bit to the west, in "upcountry" South Carolina. We've found that Corp of Engineers campgrounds always number among our favorites, by virtue of scenic locations (often situated at a water project—such as a dam), nicely maintained facilities, and modest rates. And so—the first stop on our tour became the Corp Coneross Campground on Lake Hartwell; a pleasantly forested spot abundant with serene coves, sandy beaches, and fine pickin's for the avid fisherman.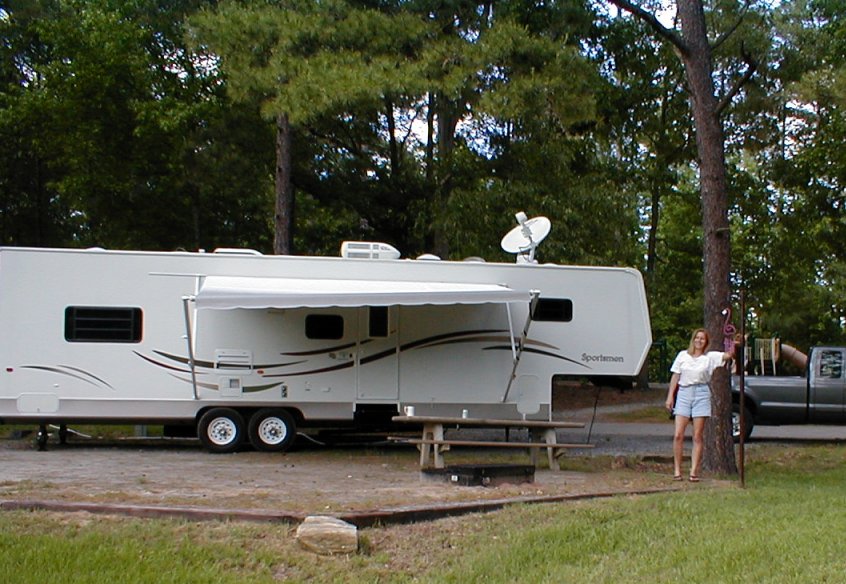 Because of our need for a clear "window" in the southeastern sky (for the satellite dish), I performed what would become a common exercise throughout our travels. Armed with my compass I tromped about on foot, assessing potential camping spots for suitability. We soon settled on a waterfront cove for a pleasant five day stay. There are plenty of opportunities for hiking and biking at Coneross, and the kayaks could be launched from our front yard. While there we were befriended by a mismatched pair of ducks—a large white quacker and a small mallard. They seemed great friends, those two—we named them Mutt and Jeff.
In far western South Carolina we were close to both Georgia and North Carolina, and the Cherokee Foothills Scenic Highway passes nearby. Also known as Hwy 11, this is a historic route used by the Cherokee Indians and by English and French fur traders. Highway 11 begins by running northward through rolling hill country, and then it gradually turns east to run parallel to the rise of the Blue Ridge escarpment. Very scenic countryside, the Cherokee called this section of the Blue Ridge "The Great Blue Hills of God".
When we next hooked up the 5th wheel, our destination was Franklin, North Carolina. We set up at the Cartoogechaye Campground (pronounced Car-Too-Gee-Chee, if I remember correctly). At that spot our campground friend became the dappled mare who seemed in charge.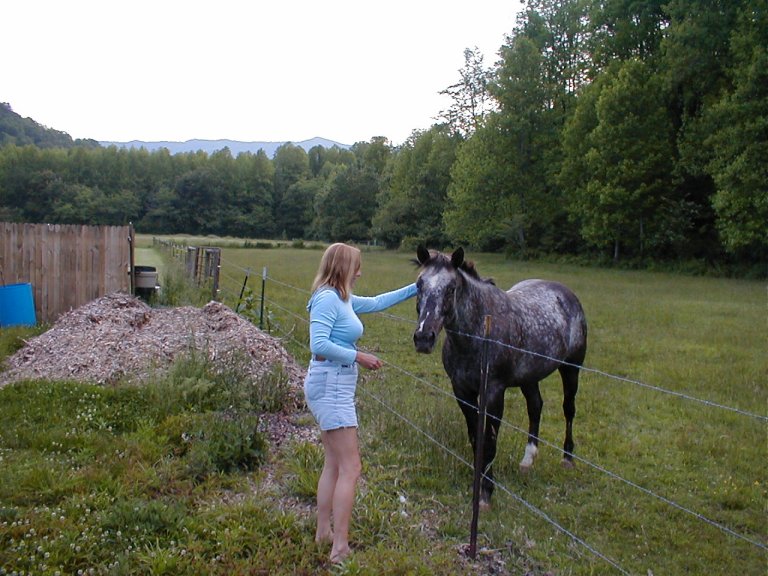 It's fine Appalachian territory. We toured the southern end of the Blue Ridge Parkway in the area of its' highest elevation—over 6,000 feet. We viewed numerous waterfalls throughout the area, and we climbed an old stone fire tower atop Wayah Bald for a panoramic vista of peaks as far away as Georgia, Tennessee and South Carolina. And of course we had to take a motorcycle blitz of the infamous Deals Gap route at the border of Tennessee (a 'Dragon's Lair' of 318 turns in 11 miles).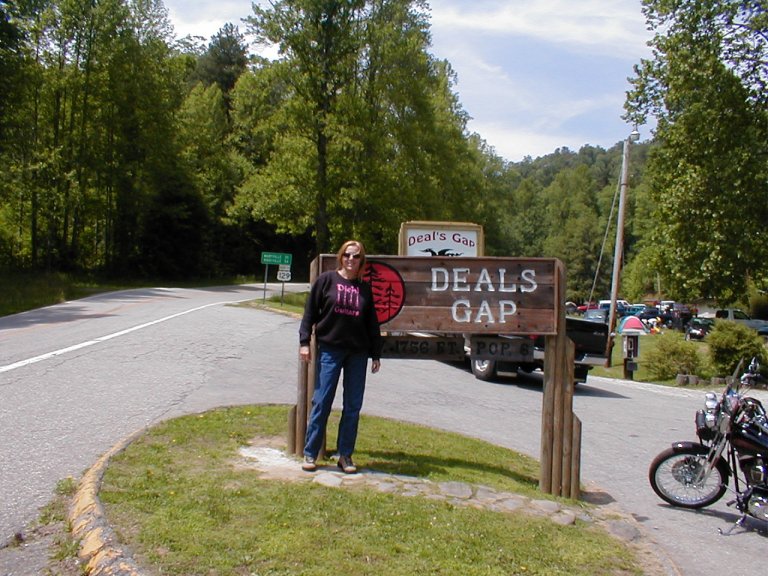 Our next stop was Natural Bridge, Virginia, on the banks of the James River. This location is the home of…. you guessed it, the Natural Bridge—a stone bridge formation over 100 million years old. At 215 feet tall and 90 feet wide, it claims to be one of the "Seven Natural Wonders of the World" (there is some contention as to which locations are indeed members of that elite group). Legend has it that the bridge was discovered in the 16th Century by Monacan Indians while fleeing Shawnee and Powhatans. Unfortunately, the location has become something of a tourist attraction, requiring the expenditure of funds (which we were no longer earning in any substantive quantity), so we elected to instead scout a motorbike route over the mountains for a brief visit to our cabin in southern West Virginia.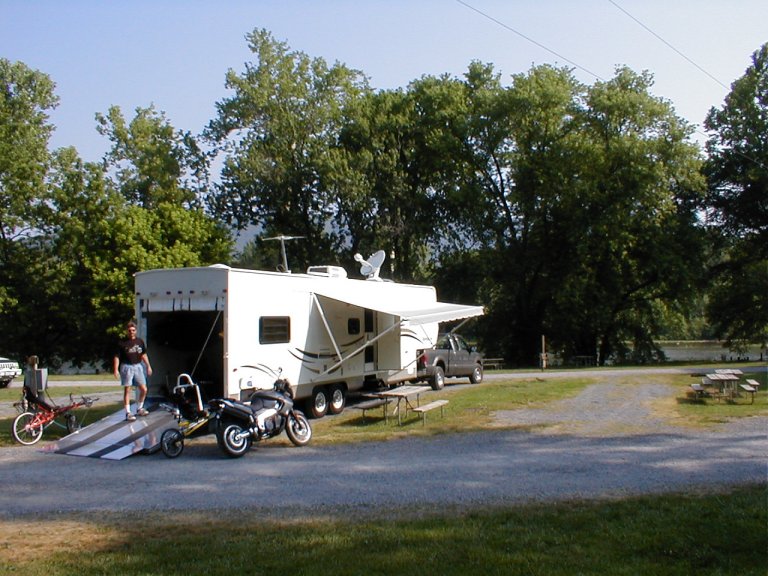 The environs of Washington DC were next on the agenda, for a family reunion with Sue's clan, and of course we included some sightseeing in the capital. After the family festivities came to an end we doubled back to our cabin. We embraced the time-honored tradition of parking the RV at the hilltop Wal-Mart because, well… because it was there, I guess.
Our cabin is quite modest, but it's located in spectacular mountain countryside on the banks of the unsullied Greenbrier River. Nearby Lewisburg is a very pleasant little city, steeped in history and charm, and the world-class Greenbrier Resort is just over the ridge. The Resort is home of the previously secret "Greenbrier Bunker", where DC's cold-war elite would have fled in the face of a nuclear conflagration. It's a wonderful area, but we knew we'd visit there time and again in the future, so we wasted no time in resuming our journey.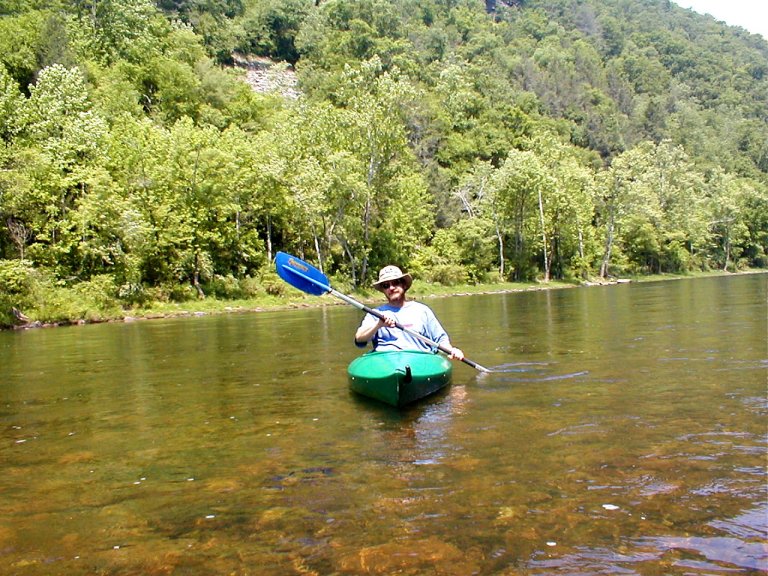 We stayed briefly at another Corp campground (Riffle Park) near Burnsville, WV, and then we proceeded north toward Gettysburg, Pennsylvania, where we explored various historical military sites. We were then chased (by inclement weather) out of Pennsylvania, through New York, and on into Connecticut.
<![endif]>
We visited briefly with my family in Rhode Island, riding the coast and taking in the sights in Newport.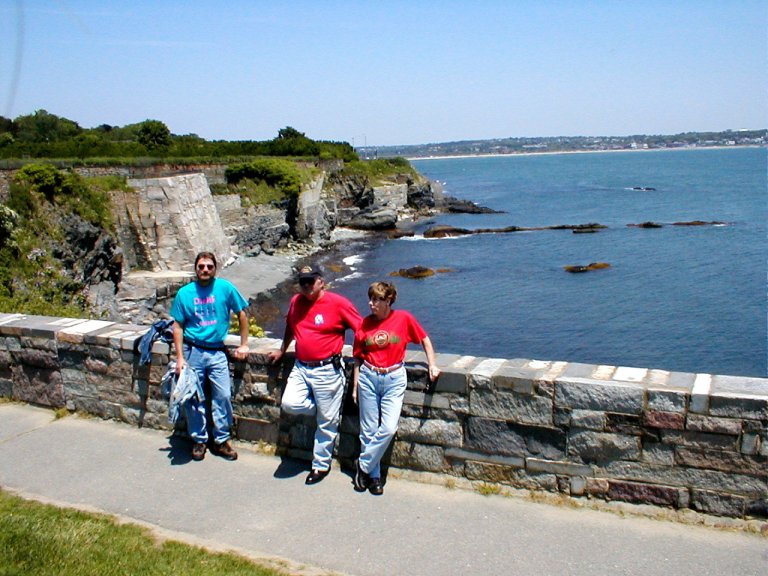 Then it was northwest toward Vermont and New Hampshire. By now we were beginning to venture into fresh territory, paths never before trod.
Vermont is quite interesting, with its rustic, rural character. Almost too rural, sometimes; I was on the verge of panic as I watched my fuel gauge descend toward the ominous EMPTY, with no diesel stations in range. I had visions of running my 20,000 pound rig out of fuel on a steep, twisty mountain road. What to do then? Only after the low fuel beeper had started pinging did we find blessed redemption at a diesel stop that I could just barely squeeze into.
A Corp park in Vermont, Winhall Brook, has a steep road leading down to the campground entrance, with a sharp left across a bridge into the campground. The bridge is a steel/wood affair built in 1928, comprised of a narrow single lane immediately preceded by a 90 degree turn in the road. I had to execute the turn onto the bridge precisely, because it seemed mere inches wider than our rig, and the truck/trailer combo has to be near perfectly straight when the bridge is entered. The rusty scars and multi-colored streaks of paint along the battered guardrails of the bridge spoke plainly of past attempts that had failed.
Vermont, the "Green Mountain State", makes the claim that it's the most rural in the country. It is indeed rural, but it's hard for me to believe that it's more rural than states like Wyoming or the Dakotas. Like anything else, I guess it all depends on how you conjure your statistics. There are ski shops, snowmobile shops, all manner of outdoor recreation—as well as scads of gift shops and restaurants. Much of it looks seasonal, and a lot was closed for the summer. I guess that winter is perhaps "the season" for both Florida and Vermont, for obviously different reasons.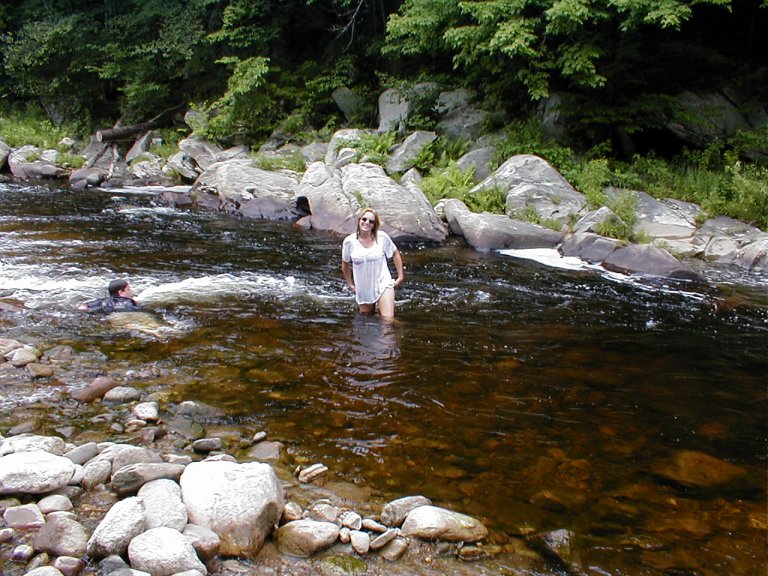 We enjoyed some fine motorcycle touring through Vermont—one day we crested a ridge to look out across the distant vista called "Mount Horrid Overlook". Very impressive, though I was more askance at the ominous looking weather conditions looming ever closer. Thankfully, we got back "home" before being caught out by the storm.
Eventually taking our leave of the Green Mountains of Vermont, we were off to the White Mountains of New Hampshire. We stayed near Bath, and nearby we admired the large Swiftwater Covered Bridge, one of the oldest in New Hampshire, as it fords the Wild Ammonoosuc River. From there we were also able the tour the exceptionally scenic Kancamagus Scenic Byway (or the "Kanc," as locals call it) as it climbs to near 3000 feet in elevation at Kancamagus Pass. Kancamagus is named after an Indian Chief of the Penacook Confederacy who tried unsuccessfully to keep peace between his people and white settlers.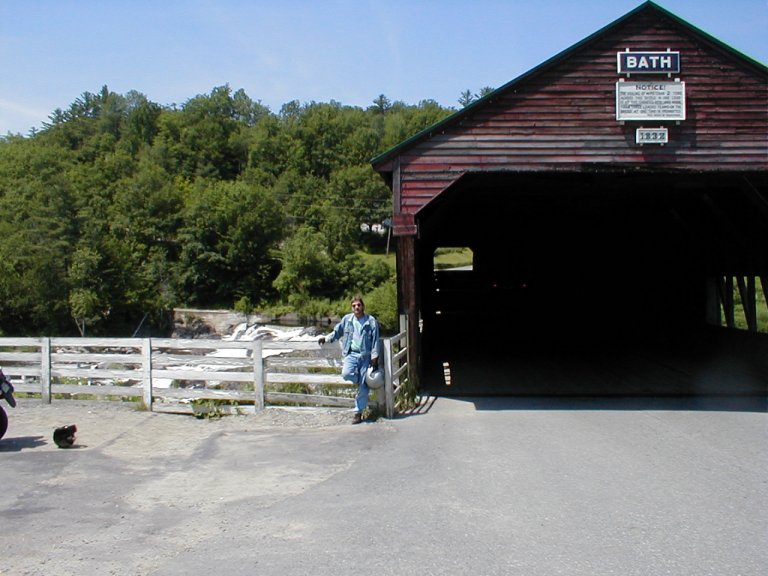 Unfortunately, on this trip we did not take the opportunity to seek out the popular rock formation known fondly as "Old Man Of the Mountains". That opportunity has forever passed with the recent collapse of the "Old Man". We did, however, make the hike up to slippery Ripley Falls, in Crawford Notch State Park off Highway 302.
During our travels through Maine, you'd probably not be surprised to learn that of greatest interest were not the swarms of black flies, but rather Acadia National Park. Located on Mount Desert Island on the coast, it was named by French explorer Champlain in 1604. First thrust up millennia ago by tectonic forces and later sheared by massive glacial activity, this area hosts the Somes Sound—the only fjord on the east coast of the US, as well as Cadillac Mountain—at 1532' the highest point along the North Atlantic seaboard. We drove the park route, scrambled amongst the rocky outcroppings, and beheld the grand vista from atop the great bald crown of Cadillac Mountain. Odd—having started in south Florida, in northern Maine we experienced the most extreme heat yet, with the index over 100 degrees. And where were the moose? We saw plenty of warning signs along the roadway, but nary a single antlered fellow to be found.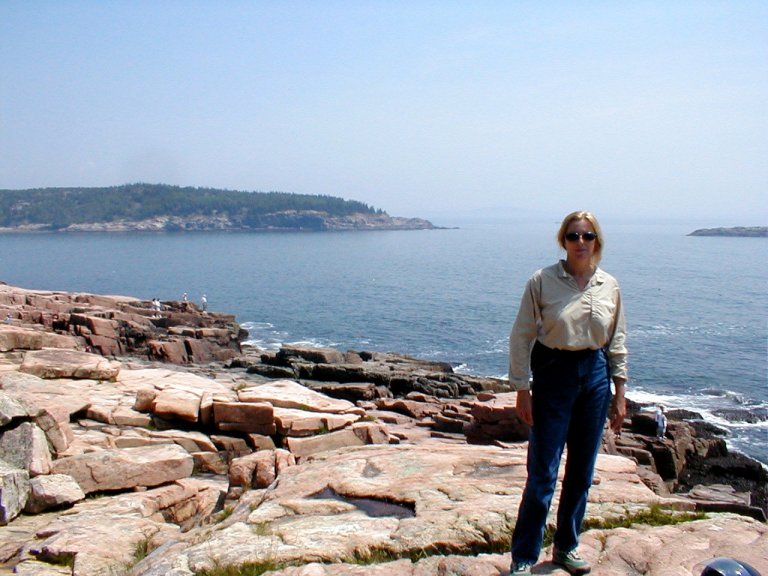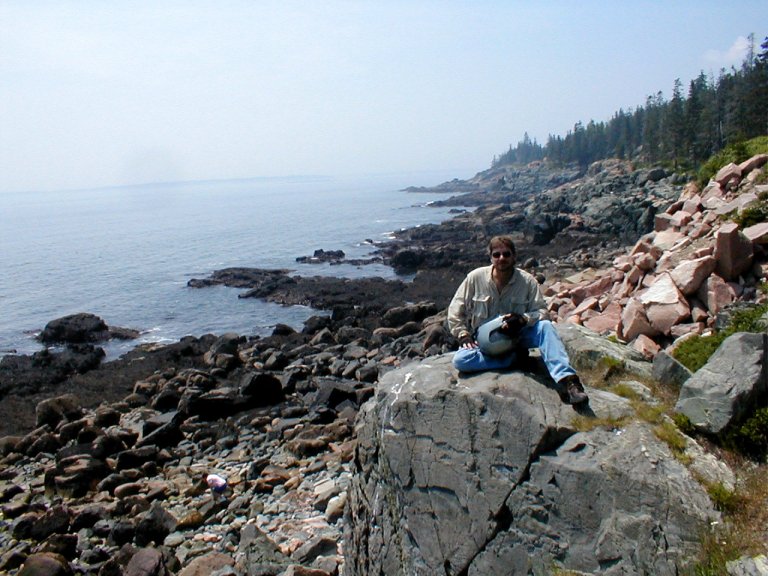 It cooled dramatically as we headed into the Maritime Provinces of Canada. We entered the country easily at Calais, but the reverse string of vehicles entering the US was horrifyingly long. Fundy Bay, in New Brunswick, is an amazing phenomenon. Largely due to the funnel shape of the Bay, the daily variation between high and low tides can approach 50 feet—the volume of water that passes through every 12 hours is said to rival the 24 hour flow of all the rivers in the world! These circumstances result in such amazing features as the "Old Sow"—the world's largest whirlpool; the Reversing Falls of the Saint John River—caused when the direction of water flow reverses; and the "tidal bores"—flowing walls of water that lead the incoming tide over the outgoing flow of the river. The tidal bores are fun to 'surf' on a raft. We stood on the sea bottom of the bay and walked past large fishing boats totally aground, tied to piers but scarcely in sight of the distant waters. Twice a day these boats float on the hide tide, and settle to ground with the low.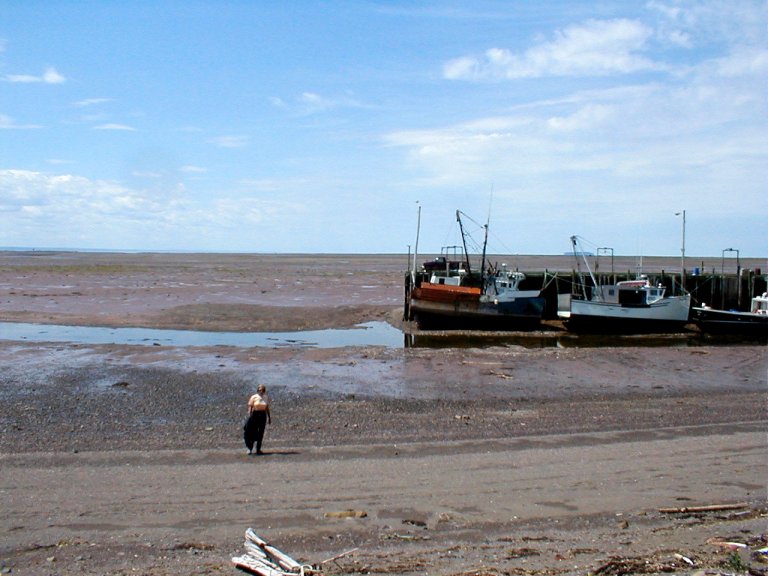 Just across the border into Nova Scotia there are abundant opportunities for motor touring and sightseeing. At Tidnish Dock Provincial Park we viewed the remnants of the eastern terminus of an ambitious project that was never completed. Begun in the late 1800's, it was to be a sequence of docks, lifts, and a railway that would enable large vessels to be transported 10 miles across the Isthmus by locomotives—rather than circumnavigating the much greater distance by sea. And then at Amherst Shore Provincial Park, on the shore of the Northumberland Strait, we happened upon a very pleasant hiking/biking trail. We pedaled our recumbent bicycles through spruce, pine, and maple woodlands, across a wooden foot bridge, and out onto the red sandstone shoreline.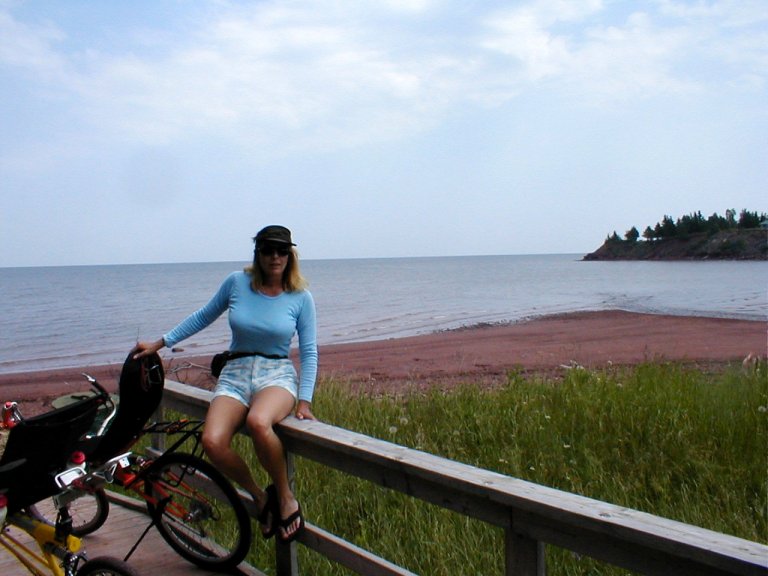 As fine as all that was, however, our ultimate destination in Nova Scotia was the Cabot Trail. Named for famed explorer John Cabot, it's a 185 mile loop around the northern tip of the Cape Breton Highlands. It is steeped in Gaelic history and resplendent in world class visuals; it is awesome. One of the area's best known residents, Alexander Graham Bell, spoke thus; "I have traveled around the globe. I have seen the Canadian and American Rockies, the Andes, the Alps and the Highlands of Scotland, but for simple beauty, Cape Breton out rivals them all."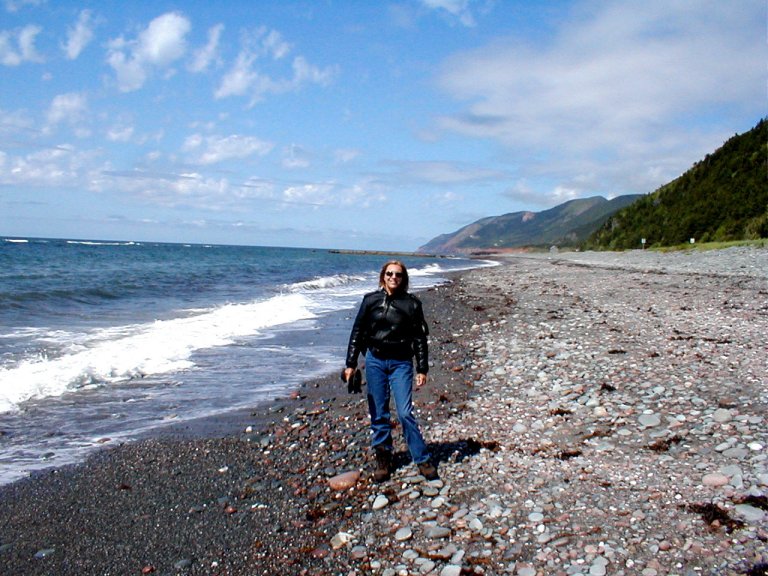 The Trail circles the outer edge of Cape Breton Island, much of it carved into the mountain, with spectacular overlooks high above the waters of the Gulf of St. Lawrence. It is not uncommon to spot whales surfacing in the waters offshore. This was a premier motorcycle tour for us—the weather was gorgeous, and the vistas seemed to simply go on forever.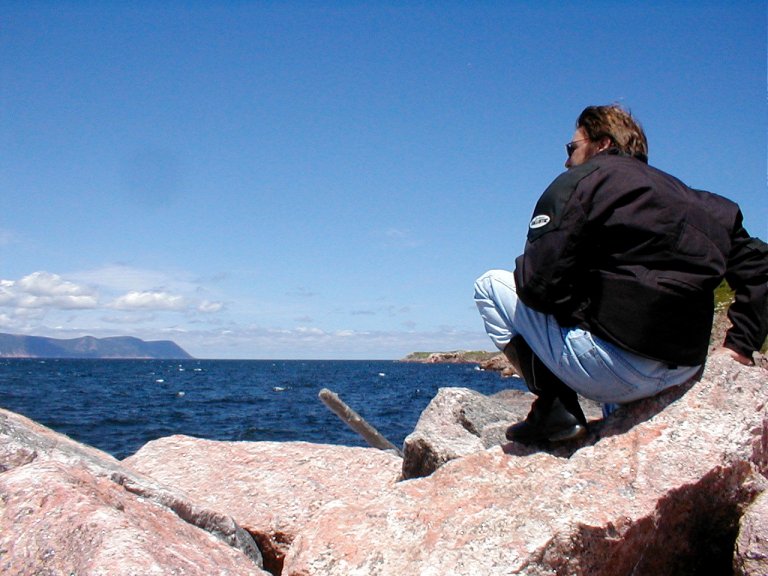 \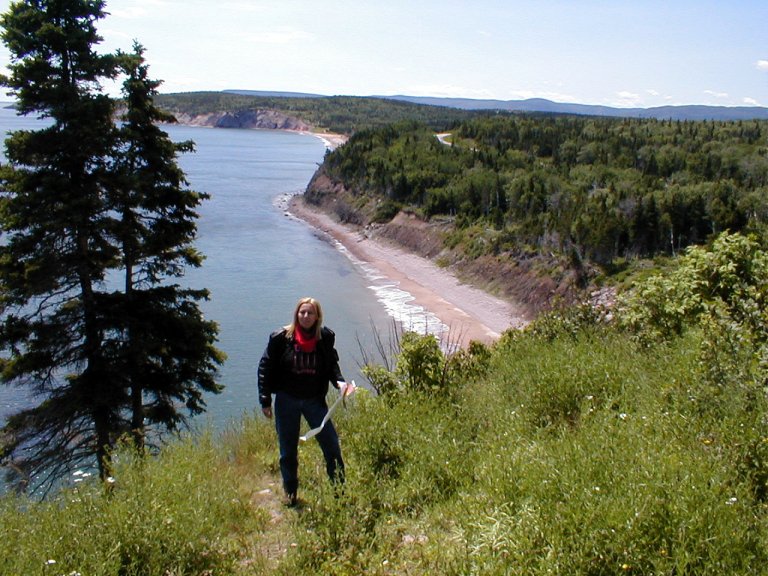 Unwilling to leave Cape Breton too soon, we sampled a number of the other local routes. From our base in Baddeck, we toured the Ceilidh (pronounced kay-lee) Trail, which travels 67 miles along the rugged coastline and through rolling farmlands along the shore of western Cape Breton. The Bras d'Or Lakes Scenic Drive is a sampling of the interior of Cape Breton—it circles the island's beautiful inland sea through a variety of woodlands, small villages, and rural properties.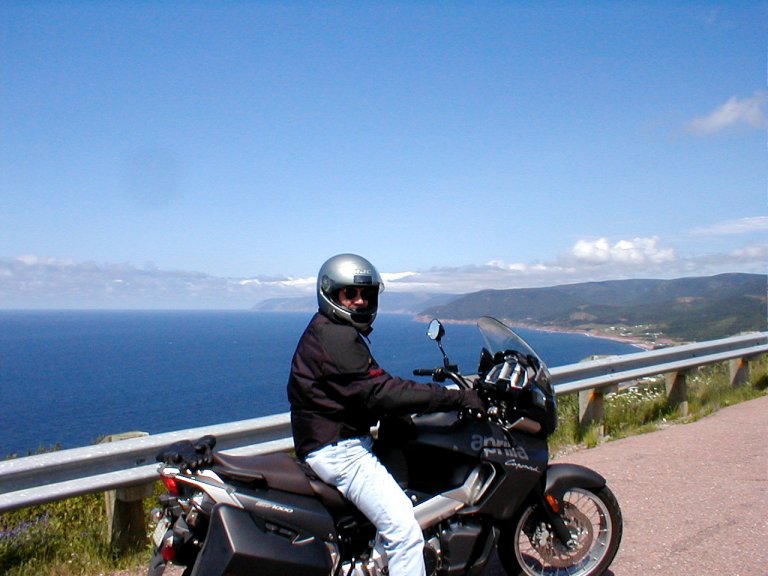 I admit to seriously bastardizing the language as I vainly attempted to emulate the accent of Sean Connery and the infamous Inspector Cloueseau….
With our departure from Cape Breton, the eastern thrust of our trek was ended—it was then time to head west. Our return path roughly paralleled our eastward trek until we veered a bit north through New Hampshire and Vermont. We took US 2 north through the islands in the middle of Lake Champlain, an unexpectedly beautiful route along the Vermont/New York border. Peaceful country roads dotted with picturesque villages, ever-present waterways, and a variety of interesting stops, this drive imparted a warm sense of contentment and ease.
Close to the Canadian border we turned back south for a tour through the Adirondacks. Putting firmly to rest my long held perception of New York State as a huge, writhing mass of urban insanity, we toured but a small fragment of this vast, serene region. It is in truth a collection of many different types of landscape—mountain, city, rural. Whiteface Mountain, near Lake Placid, is the only peak in the Adirondacks where distinct evidence of alpine glaciers is readily evident. Ausable Chasm is a deep river gorge with some particularly impressive and accessible viewing spots; a fine old stone bridge encourages prolonged ogling.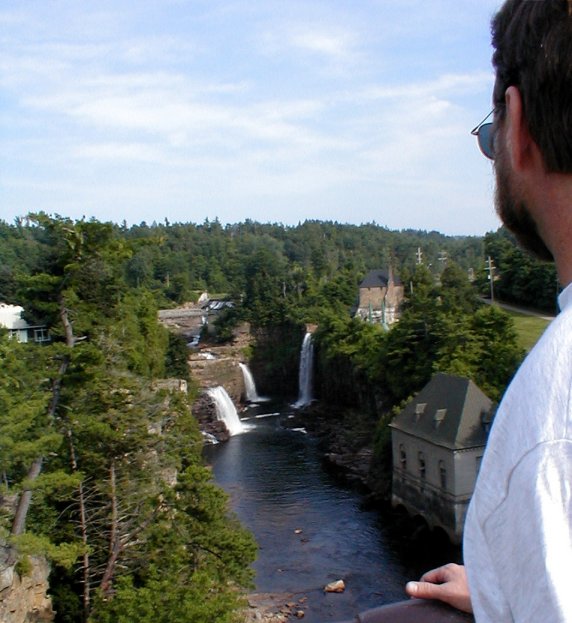 Further west in New York, we visit Letchworth State Park, renowned as the "Grand Canyon of the East".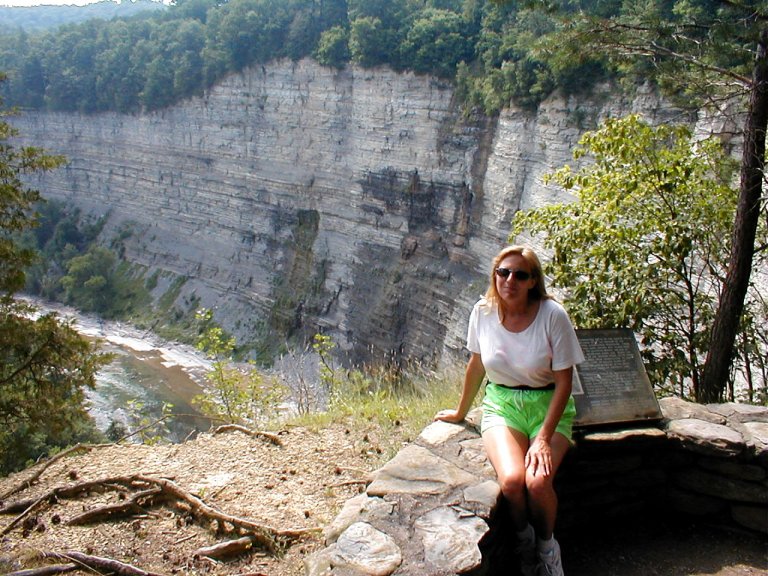 The Genesee River winds its way through the gorge, plunging over three major waterfalls. Cliffs as high as 600 feet tower over the river, and lush forests surround.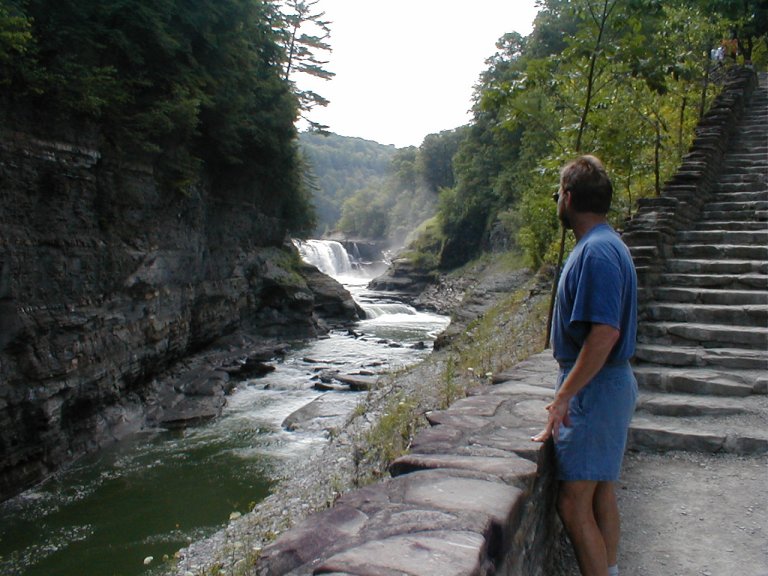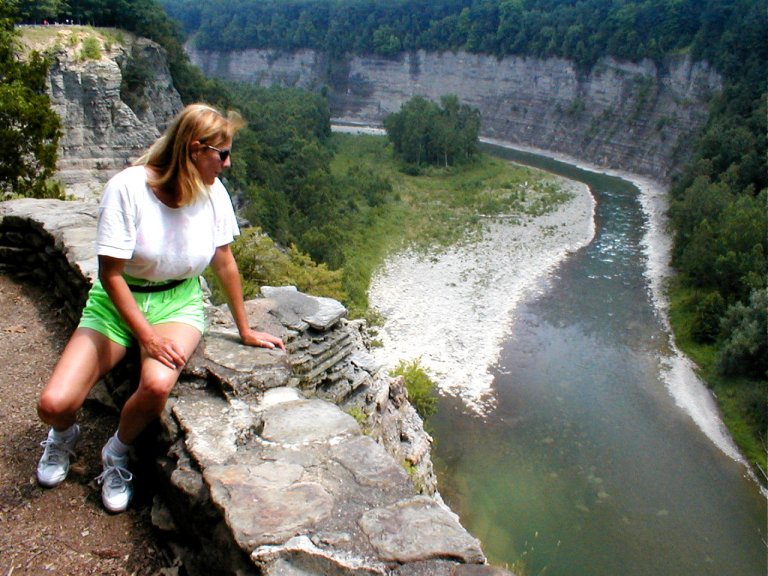 We take the Scenic Drive along the shore of Lake Ontario, and, of course we must pay a visit to mighty Niagra, the 2nd largest falls in the world (Slowly I turn…). Located on the US/Canadian border, it still entices the occasional intrepid daredevil to tempt fate in a barrel.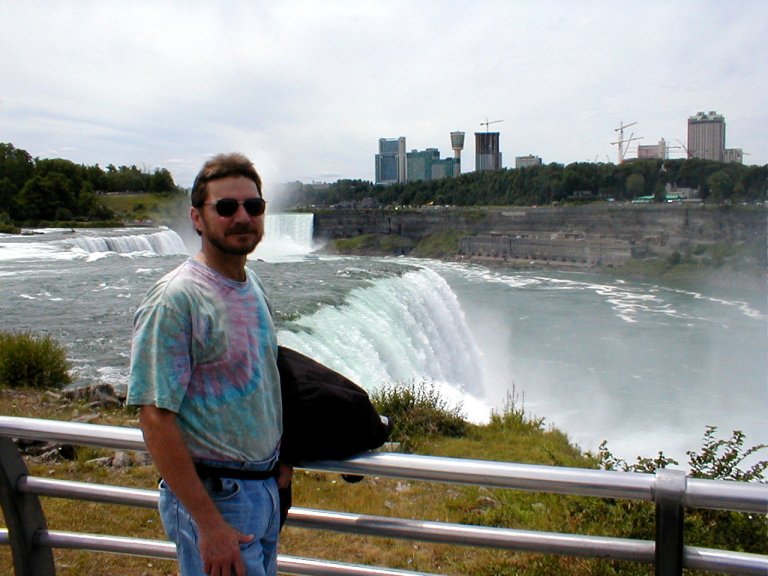 An expedient jaunt through Canada avoided the metro areas south of Lake Erie. Once into Michigan we ventured northward towards the UP. That's "Upper Peninsula", for the uninformed among you (as were we). The Mackinac Bridge (The Mighty Mac), the longest suspension bridge in the Americas, is a dramatic entry into the UP. It's a long run across the Straits of Mackinac—low speeds are advised, crosswinds can be treacherous.
We found the UP to be exceptionally beautiful, and we tried to stick close to one coast or another as we traveled. Sights abound—Tahquamenon Falls and Pictured Rocks are spectacular spots along the way.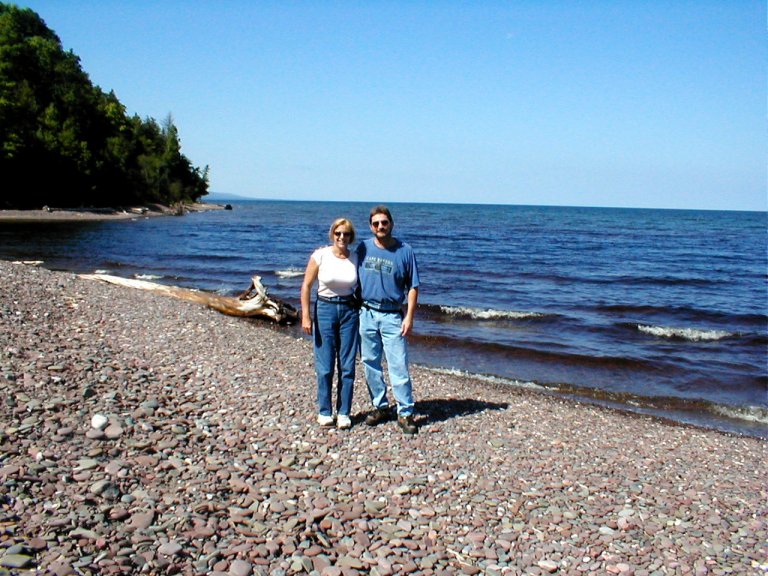 We spent some time hiking the Porkie (Porcupine State Park) on Lake Superior. I especially liked the view from the Escarpment Trail. From the top of a fairly sheer escarpment the deep blue "Lake in the Clouds" rippled beautifully in the sunlight some distance below. A very nasty thunderstorm escorted us out of the UP and across northern Wisconsin.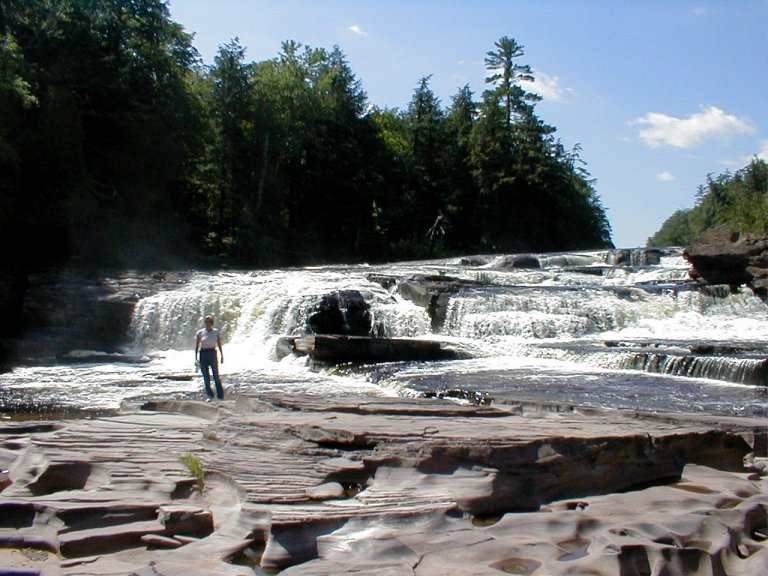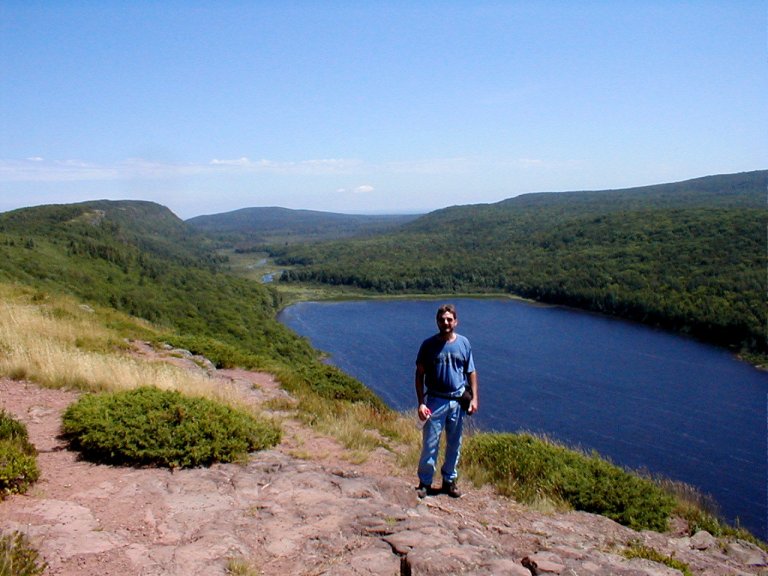 It's easy to appreciate the basis of the nickname for Minnesota—"Land Of 10,000 Lakes". In some lower areas, "Land of Ten Gazillion Mosquitoes" might have been an appropriate subtitle.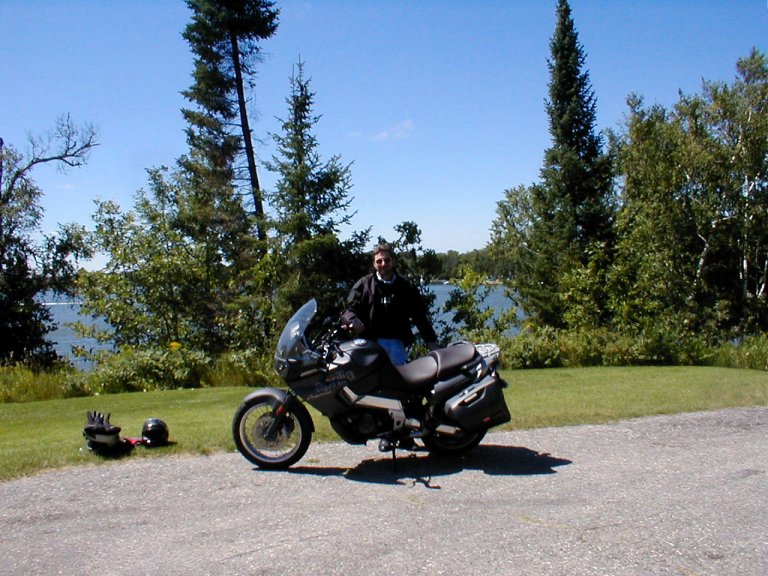 In Detroit Lakes Sue and I were somewhat puzzled by a sign that explicitly prohibited "Dogs, Cats, and Alcoholic Beverages" from the road-front beach area. Even if we first plied him heavily with alcohol, I can't imagine getting our furry little feline buddy out onto that busy beach.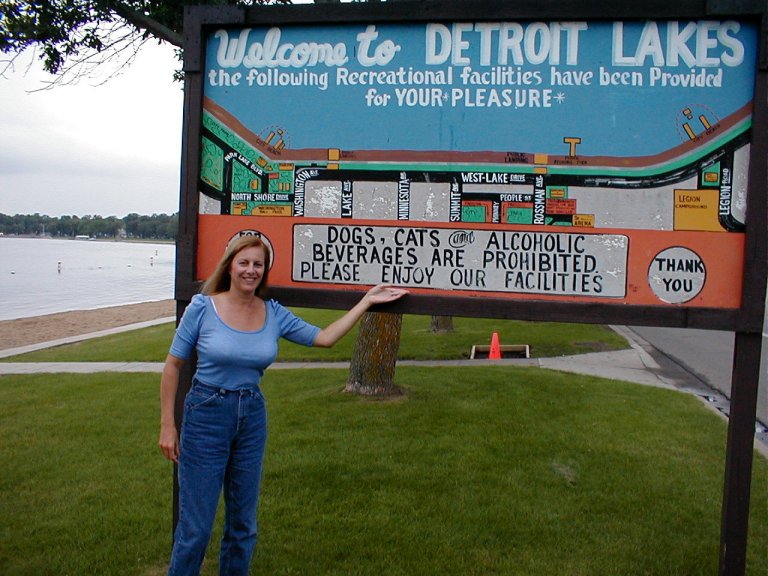 The transition from the verdant landscape of Minnesota to the arid openness of North Dakota was dramatic, to say the least. We now traveled through odd landforms of muted colors—and it was dry. We had to disagree with prior warnings that we'd be in for a long, dreary drive. Long, no doubt, but we found the landscape strangely fascinating.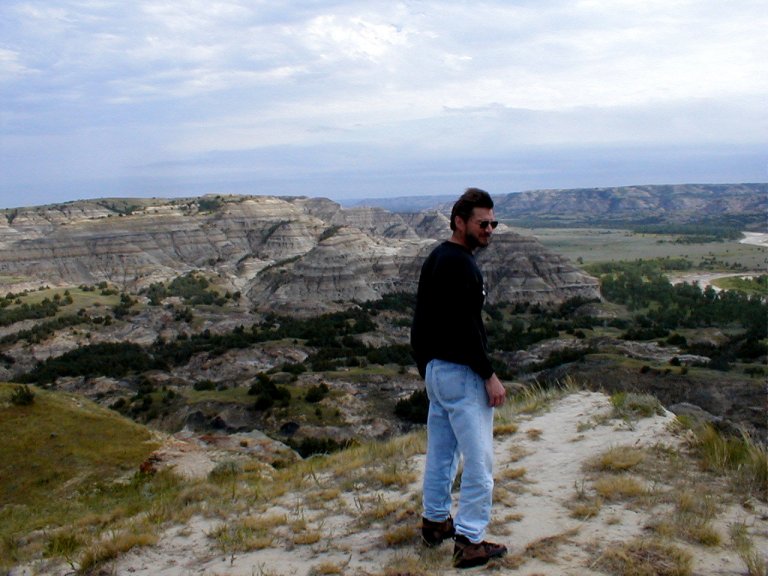 From our base camp in western North Dakota, we toured the northern portion of Theodore Roosevelt National Park. Roosevelt once remarked "I never would have been President if it had not been for my experiences in North Dakota". Known as the "Badlands", this stark and dramatic landscape so dear to Teddy was once described by Brigadier General Alfred Sully as "Hell with the fires out". In those days predating modern conveniences it would indeed be a harsh location to survive, but from the comfort of our F250 we simply marveled at the uniqueness of the area.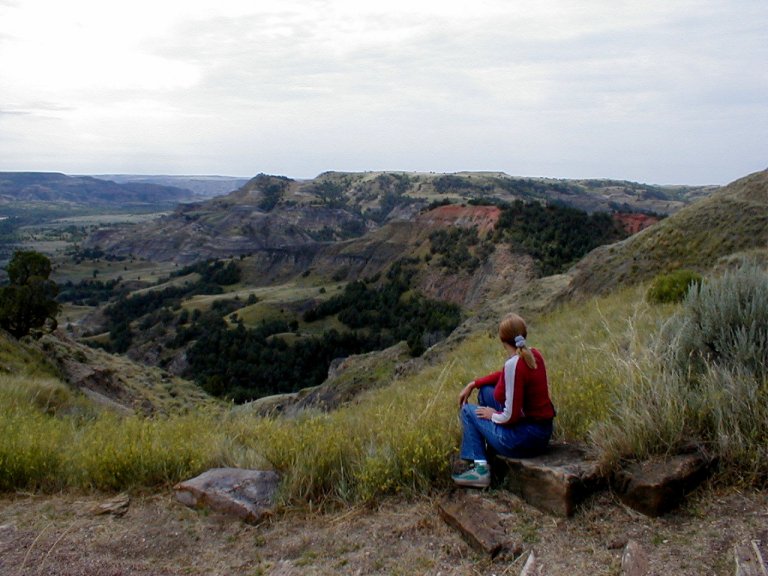 From some distance we gazed upon wandering bison (referred to by early French folk as "Le Buff", as in "The Beef"), and we hiked through sagebrush lined trails traversing populous Prairie Dog communities. We held tight to each other to resist being blown off the multi-layered bluffs while we stood listening to the wind and watching the Little Missouri wind its way below.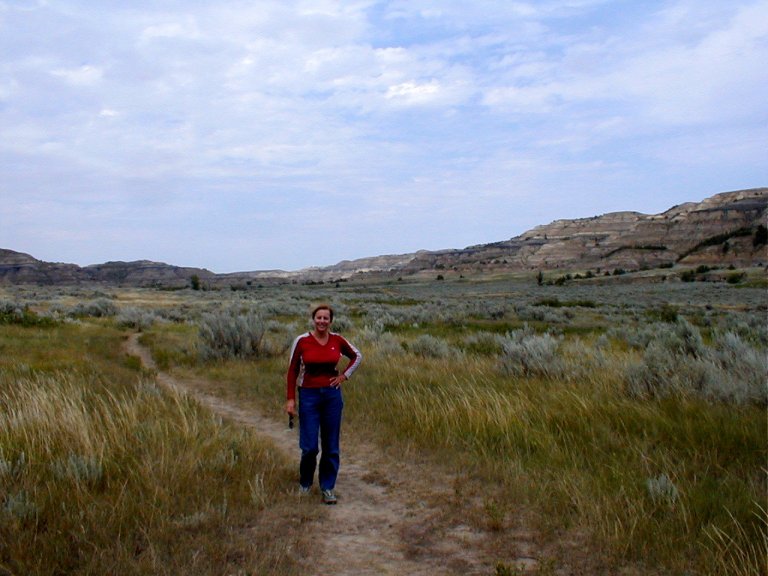 Because our timing was right for the massive gathering of motorcyclists at Sturgis—that's where we were off to next. Being a lifelong motorcycling aficionado, and having grown up in Florida, I had many times attended the huge bikefest at Daytona. But never the distant Sturgis.
Begun in 1938 as a minor motorcycle race, this event has burgeoned to the point that the small town of Sturgis, South Dakota, now experiences a yearly influx of bikers numbering on the order of a half million. The surrounding countryside is ideal for such a gathering, as the Black Hills are a marvel to behold, whether mounted on two wheels or on four. We set up camp in Wall, SD, more than an hour east of Sturgis. We chose this distant location not only because Sturgis was full to overflowing, but also to escape the 24 hour thundering cacophony of Straight Pipe Stan and his 10,000 Henchmen.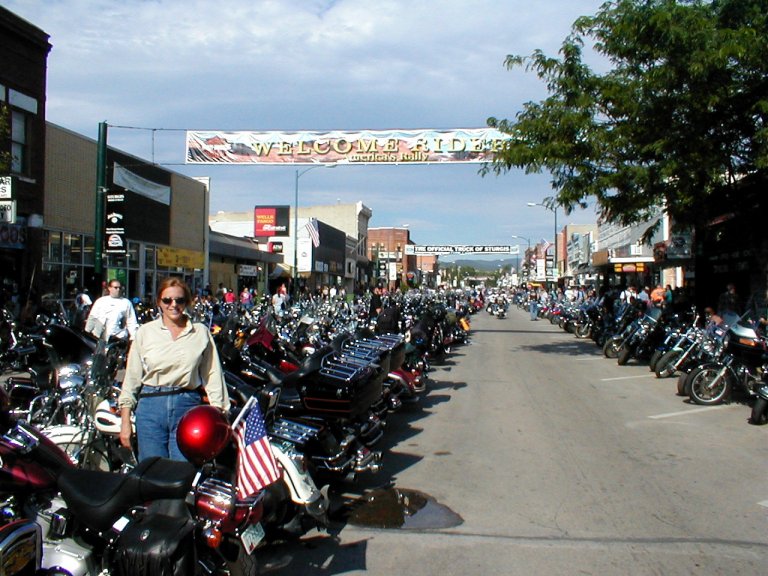 Wall is a very small town that is known worldwide for the Wall Drug store. Begun during the depression years, it survived and prospered by offering free ice water to the thirsty traveler. It is now a hodgepodge of stores and displays offering all manner of non-essential foolishness. It's fun. We stood and watched a couple guys hoot and guffaw as they plied the singing mechanical gorilla with coins. Don't remember the song…
We spent little time in the town of Sturgis itself. After making our obligatory troll down the center of town (so we can say "I was at Sturgis"), the rest of the time we spent touring the countryside. Spearfish Canyon is quite impressive; even more so is Needles Highway—so named for the spires of stone that project skyward. Many places had narrow, one-way-at-a-time tunnels through stone—complete with flagmen to control traffic.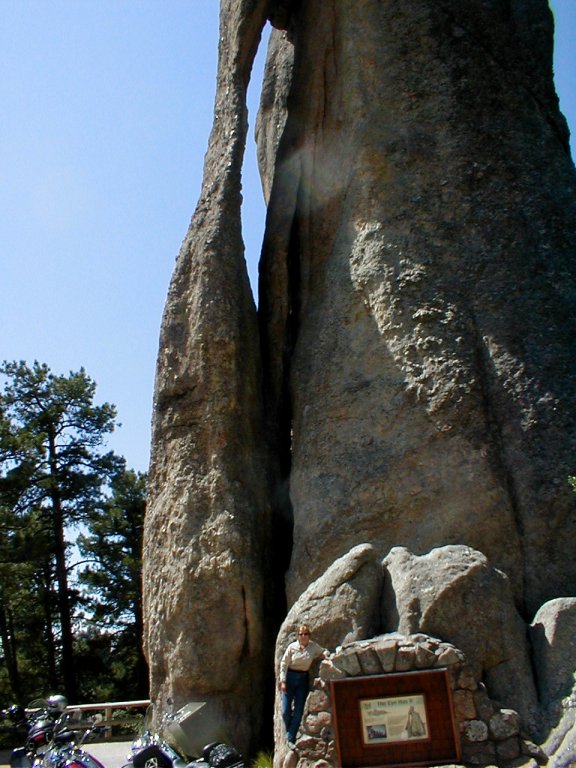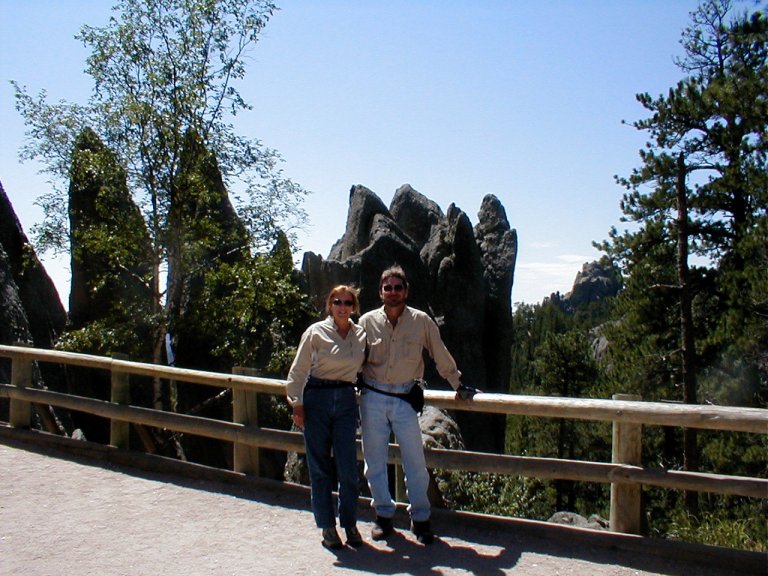 Down into Custer National Park, we saw Bighorn Sheep, prairie dog villages, and of course more bison. One group crossed the road close behind us; as the big bull turned to look us straight in the eye I was poised to immediately launch the bike forward should he demonstrate more serious intent. Bison are potentially very dangerous, not to be meddled with.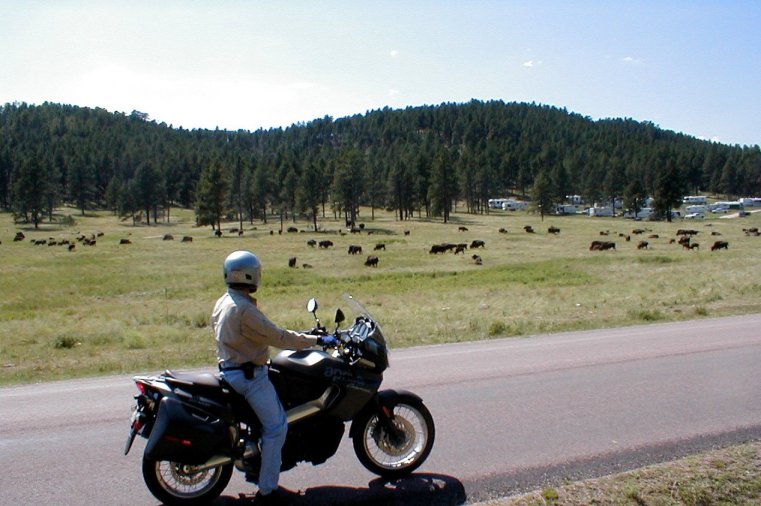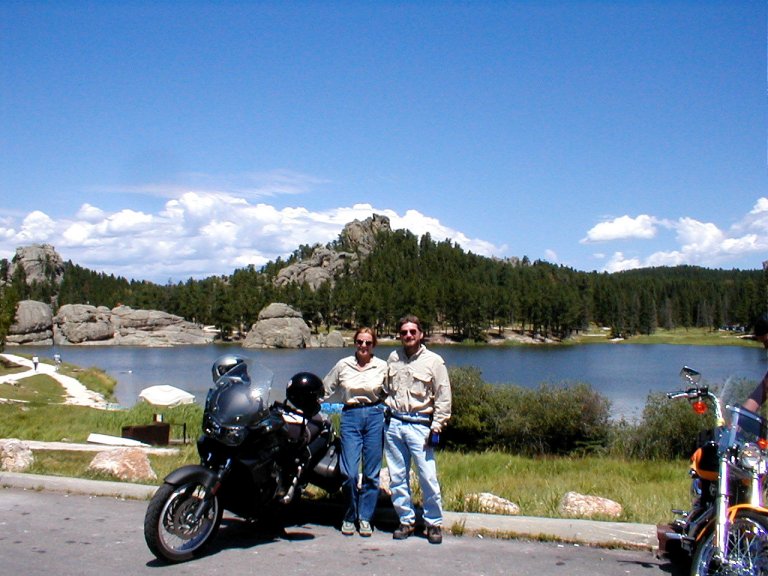 We came back north paralleling Needles Highway on the Iron Mountain Highway—a road that supposedly couldn't be built. This is where I experienced my most impressive switchback yet. Part of the turn is a curved bridge that we crossed over, and then we continued a tight downward spiral until we passed right back under the bridge! Heading 'home' after a long day, the temperatures in the high 90's tipped into the 100's. We felt like we'd spent some time in the convection oven by the time we finally got back to civilization (read 'air conditioning').
Red Lodge, Montana, is situated near the beginning of the Beartooth National Scenic Byway. Charles Kuralt called it "America's most beautiful road". I certainly haven't seen 'em all, but this one's gotta be a contender.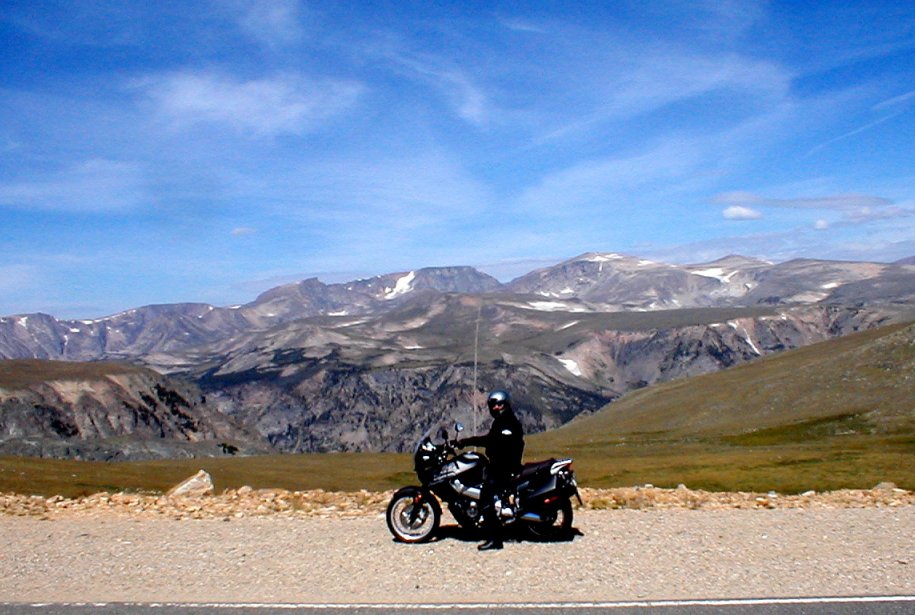 The Beartooth route is spectacular. Shall I say it? Photos don't do it justice. At 9,000+ feet we were awed by the endless vistas, but we just kept climbing up... and up. We climbed well above the treeline, where the wind became a force to be reckoned with. Being from South Florida (which is about, what, zero feet altitude?), I must admit to feeling a bit wheezy.  We dismounted warily at the summit, not wanting to be blown off into the abyss, and cautiously wandered about the snowy rockscape near 11,000 feet altitude.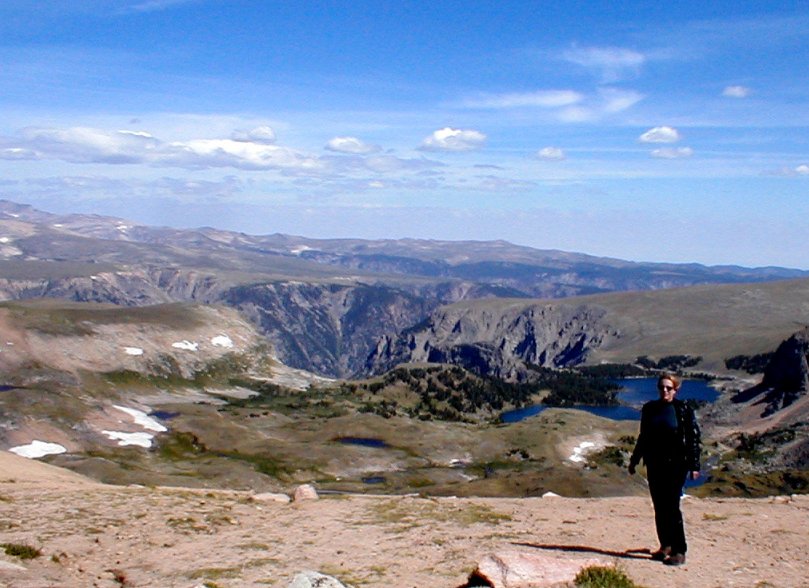 The descent of Beartooth brought us to the Chief Joseph National Scenic Highway, which runs along the south bank of the Clarks Fork River. This is part of the Nez Perce Trail, named after the chief that led his people from Oregon to Montana in flight from the U.S. Army in 1877. The route follows the river canyon, offering panoramic views of the landscape. One spot we liked in particular was a bridge crossing the deep chasm. Secure viewing locations were provided, so that one could behold the breathtaking canyon from its precipice, without reasonable fear of being swallowed up by it. After the crossing we began to climb, through Dead Indian Pass, and then we again descended—to be chased by rain back through badlands territory.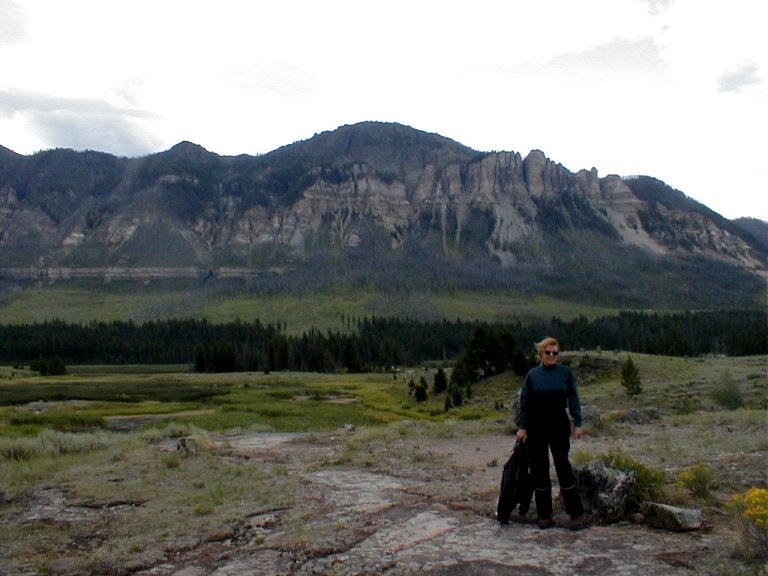 In west-central Montana we took an "alternative" ride. Following the advice of a local newsletter, we started off on a loop that was almost entirely unpaved, but "usually suitable for automobile traffic". That was true enough, but the map was not well done, and we missed an unmarked turnoff as we started to blissfully climb towards Champion's Pass. We came to a crossroads, and since none of the markers indicated what we were looking for, and we still thought we had been proceeding on the proper course, we decided that the leftward fork was most likely correct. The fire road became much more rutted and lumpy, and we began a serious climb. By that point I was sure we were proceeding on the wrong course, but on that steep, narrow, rocky trail it would have been nigh impossible to get turned around. So on we climbed. Most of it was narrow and steeply curving; a rocky path with a sheer drop on the outside and a steeply rising bank on the inside.
The final 30 yards were a real knuckle-biter—a scramble up the rocks. We came out on top of a knob with the trail circling a small abandoned concrete building. That mini-loop was blocked by a 4-wheel drive off-road vehicle that was host to a group obviously very acclimated to the terrain. We were then atop that little knob, with a good bit of wind gusting about, a very long drop in every direction, and the obvious need to get back down.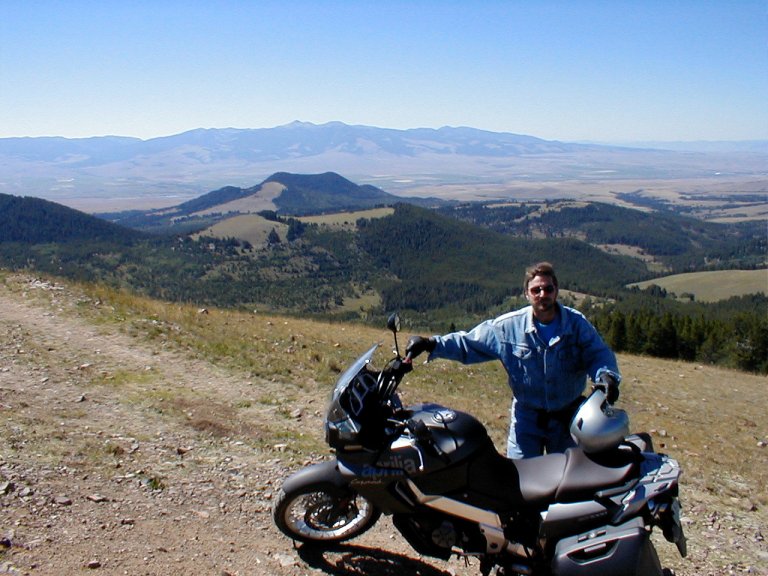 The folk were desirous of being helpful, but the patriarch told me that to get back to Deer Lodge I'd have to cross all... those… far off… ridges. He pointed out the trail climbing the distant slopes, asked if I could see that narrow gap between the peaks, and ventured that he wasn't sure how well a 'street bike' would fare on such.  Sue and I wisely decided we'd simply reverse course and retreat to safety.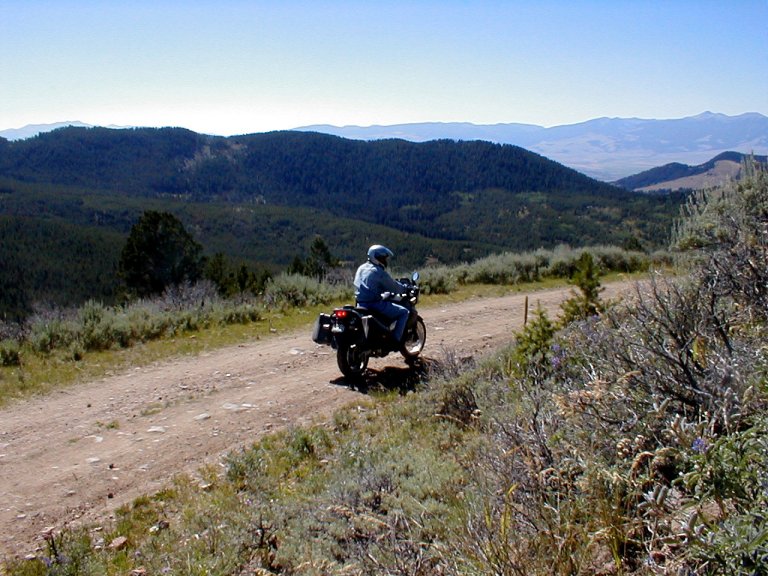 With a great clenching of teeth and much white-knuckled jockeying we successfully descended the trail, and then stopped for some map scrutiny. We realized that we'd missed a turn—and after subsequently finding it we successfully completed the loop. Whew!
In northwestern Montana we set up camp in Chewing Blackbones Campground—on a Blackfoot Indian Reservation on the northwest side of Glacier National park. One of the best sites we'd been to, in terms of outdoor beauty—located on a superb lake with mountains towering in the background. It was also one of the worst sites, in terms of facility maintenance. No big deal—we just didn't venture near the facilities.
This is "free range" territory. More than once we had to haul the rig down to stop and wait for large blank-staring cow(s) to move out of the middle of the road. The great part of all this was the small herd of horses that regularly frisked through the campground—apparently as the whim struck them.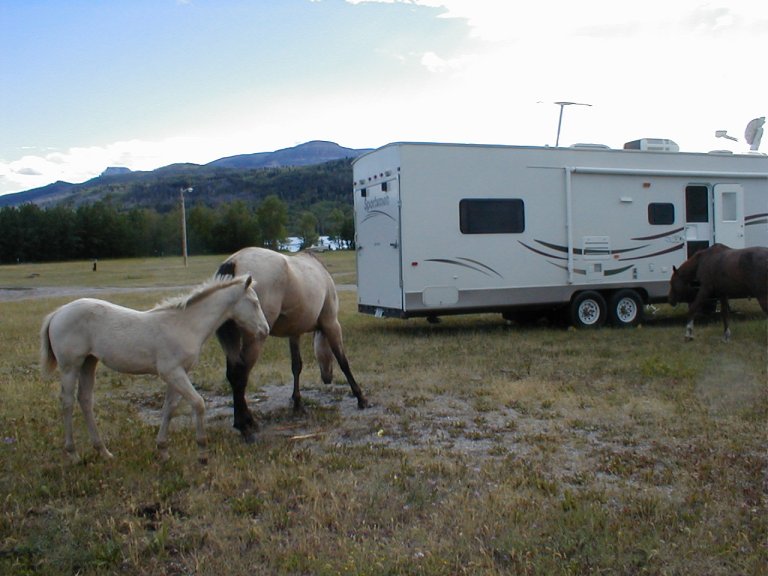 The "Road to the Sun" route through Glacier National Park is a road with a well-deserved reputation. Because of the narrow, twisty roadway with rocky outcroppings protruding over our inside lane, and the constant stream of traffic coming the other way (who were inclined to ride over the yellow line toward us, 'cause they didn't like the unprotected drop on their side of the road), the motorbike would have been a better choice for this drive. Alas, we were in the big F250, and it was a tight squeeze. I'm not sure how those red mini-tour buses navigate it successfully.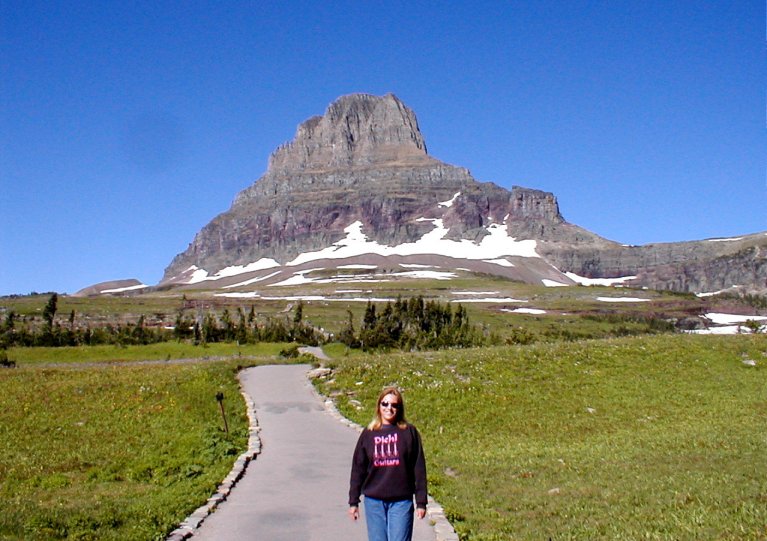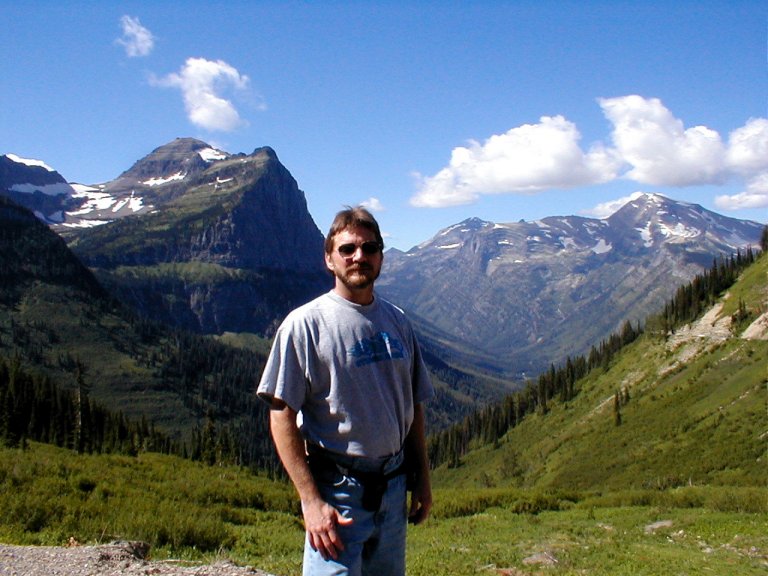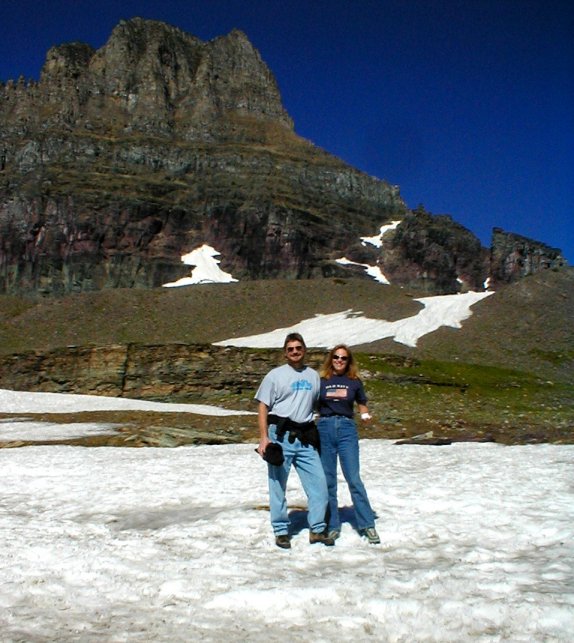 A high point was the mile and a half hike up a steep boardwalk and stone trail at the Logan's Pass summit—to the Hidden Lake overlook. I think they made up that mile-and-a-half story—it had to be more than that. A group of white mountain goats sauntered close past us as we hiked. As we watched them effortlessly plod up steep rocky slopes that I might try on hands and knees (or not), I had to wonder. How do they do that?
After our beautiful sunny day in Glacier National, we listened with some concern to reports that our next destination—Calgary, Alberta, might experience some wet snow over the evening. As it turned out, Calgary didn't see any snow.
But we did! It started raining pre-dawn, and then we watched with wonder as it turned to snow. Quite a bit, once it got going. It was definitely wet, so it took a while for any to accumulate, but it did. We're talking mid-August here, for crying out loud! It had started to melt off by mid-morning, and by the time we got to Calgary it was sunny and cool. Go figure.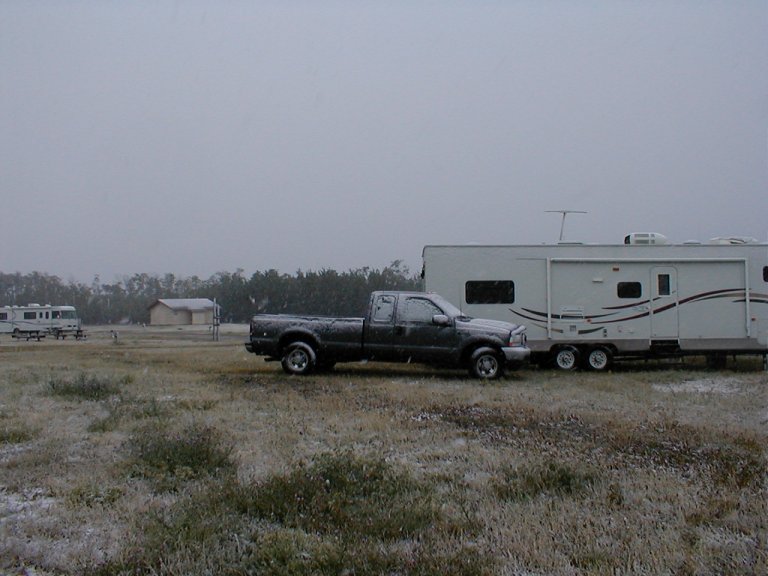 Our time in Alberta and British Columbia was drastically reduced for technical reasons. Because I could no longer connect to the internet via our satellite dish, I was fearful of a hardware failure. But when I finally got through to tech support from our spot in Alberta, I was told—"Dude, you're too far northwest. You're out of the satellite's 'footprint'".
So, we made an extended dash from Calgary, through the Canadian parks Banff and Glacier, until we finally got back in satellite range in southwestern Washington. I regret that we didn't take the Icefields Parkway from Banff north to Jasper. We stayed in a coastal RV park, accessed through a LOT of ground fog..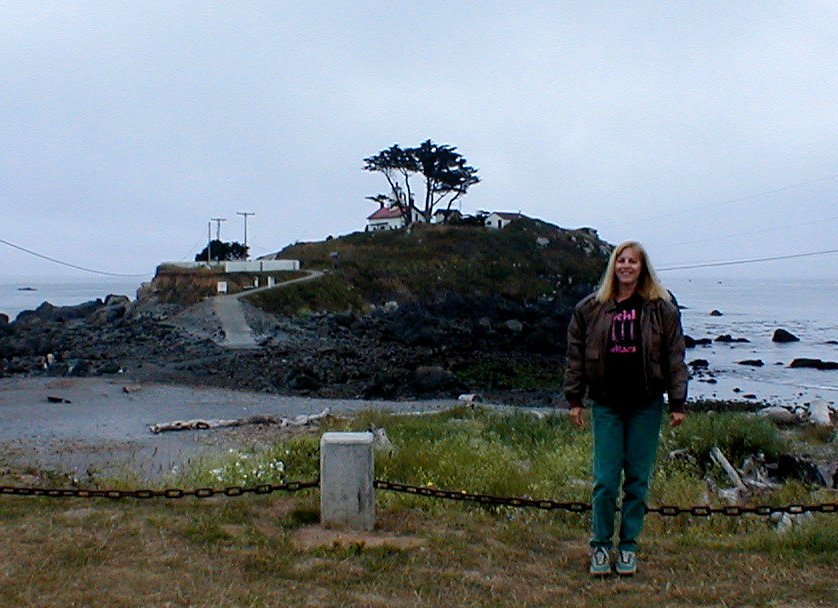 Then on to Mt St Helens. As we gazed upon the scene, I came to realize that I hadn't truly appreciated the extent and the force of that natural disaster; the immense eruption that took off the side of the volcano. One stands in awe of the landscape even now—twenty-some years later the tremendous devastation that was unleashed is still obvious. There are several nice visitor centers along the route, and of course the zone of devastation itself.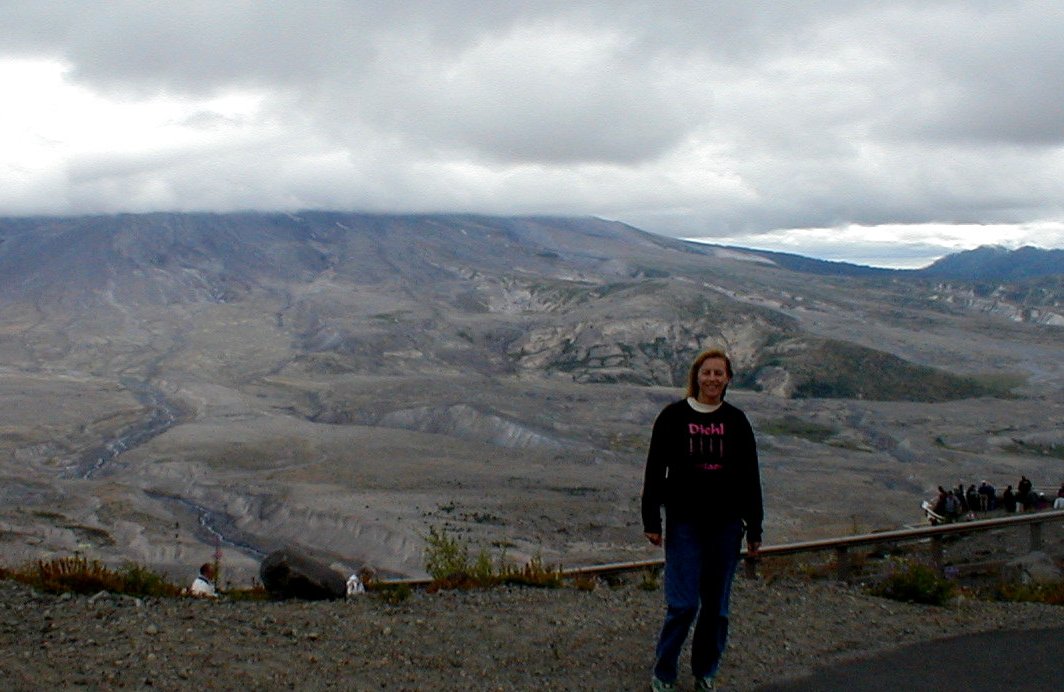 On our first ever visit to the Pacific coast, an unexpected delight awaited us. The International Kite Festival was going full sail (pun intended) on Long Beach, in southwestern Washington. Kites of all shapes and colors filled the sunny sky over the beach; I never imagined there were so many varieties. There were numerous competitions where the kiters (not sure if that's a word, but I like it) flew their wild contraptions in synchronization to a broadcast soundtrack. One of the most fascinating demonstrations was a kiter who had 2 strings of multiple kites that he would fly together, away from each other, at and through each other. I can't figure out how he didn't tangle all the lines together.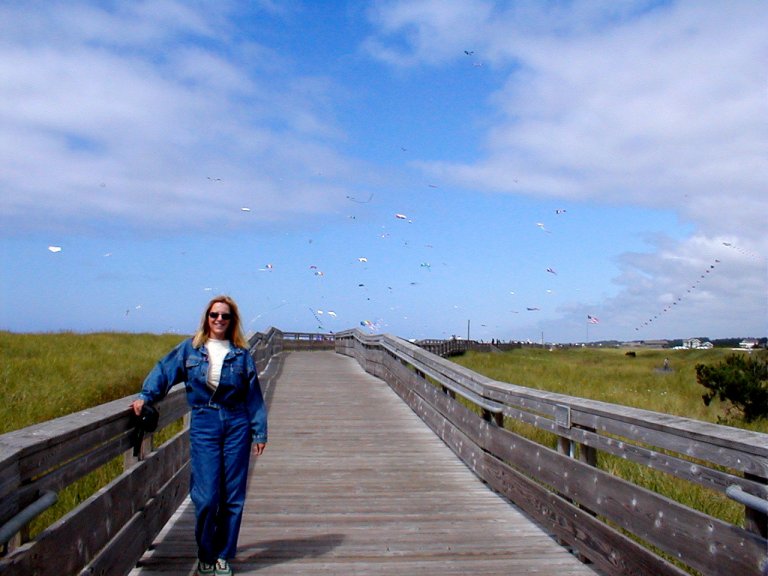 Hmmm.... I wonder, what's the job market for professional kiters? I'm fairly available these days.
Heading back to camp we crossed the Columbia River into Oregon, near the inlet, on a 4+ mile long bridge. A bit east of that we crossed back into Washington on a much shorter bridge, which was VERY HIGH all the way across.
Venturing into Oregon, the weather turned nice, but wildfires cloaked the state in a dense smoky haze. On to California, then. Fog and cool temperatures along the coast relegated the motorbike to more days in the 'garage', so we explored in the truck. At a high overlook where the Klamath River flows into the Pacific there is a fine, steep trail out to a little platform built on a protruding knob. We could hear the sea lions barking, and see them playing (and catching fish) in the waters below. By the time we had climbed back up the trail, both jackets and sweatshirts were off (only to go back on a short while later).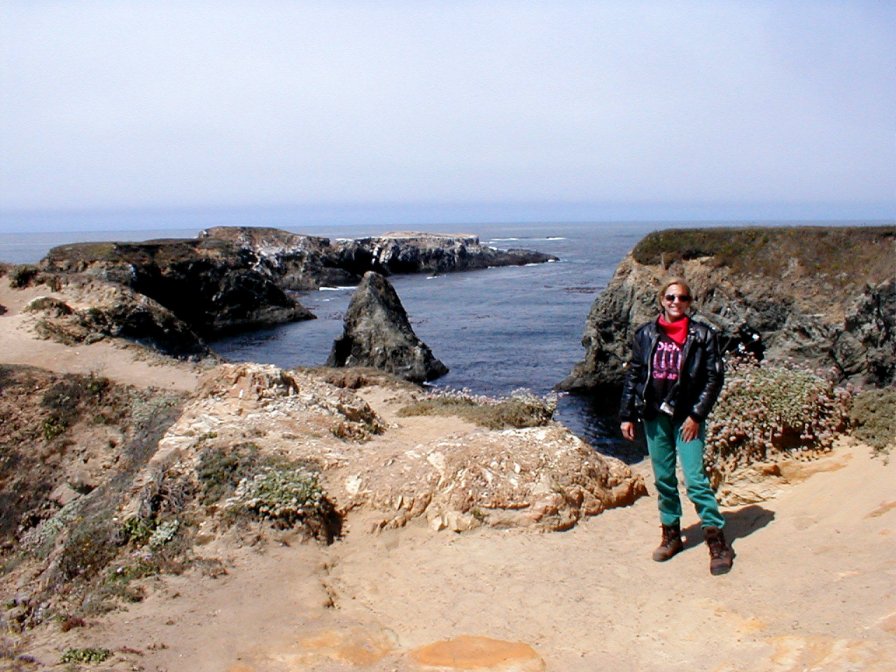 One of our favorite spots in this area was a long single lane dirt road through a prime section of Redwood National Park (Howland Hill Rd from Crescent City to Jebediah State Park). We had run, in fascination, amongst the giant trees as we made our way about on pavement, but this route had us creeping through the middle of the groves in slow motion. Once more, photos (mine, anyway) can't do justice. There are some nice walking paths in the "Stout Grove" area. They are truly remarkable, the Redwoods. I'm told that area is the last of the old growth redwoods in the country. Sue read that they average 500-700 years as a life span, and a few that more than double that. Try to stand and look up to see the tops of the biggest ones, and you'll likely fall over backwards.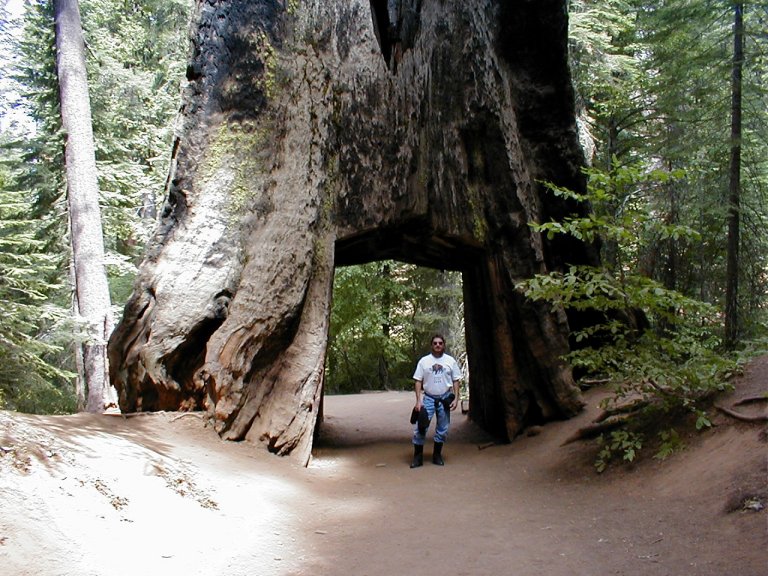 When we finally got our break in the fog and chilly temperatures, we wheeled the sad, neglected Aprilia out of the garage for a coastal blitz. Heading out from our northern California site near Willits, it was cool and sunny. As we saddled up for our ride to the coast, it was hard to believe that a mere 30 miles west it was going to be foggy and cold.
Sure enough, a mile or so off the coast the fog ahead became obvious, and we stopped to add layers of clothing. The first few miles of the infamous Pacific Coast Hwy 1 route were a bit of a disappointment. We did come upon a picturesque lighthouse, though, with various trails wandering along the coast. Sue was frustrated that we could hear the sea lions barking, but we could not go to them and join in their play.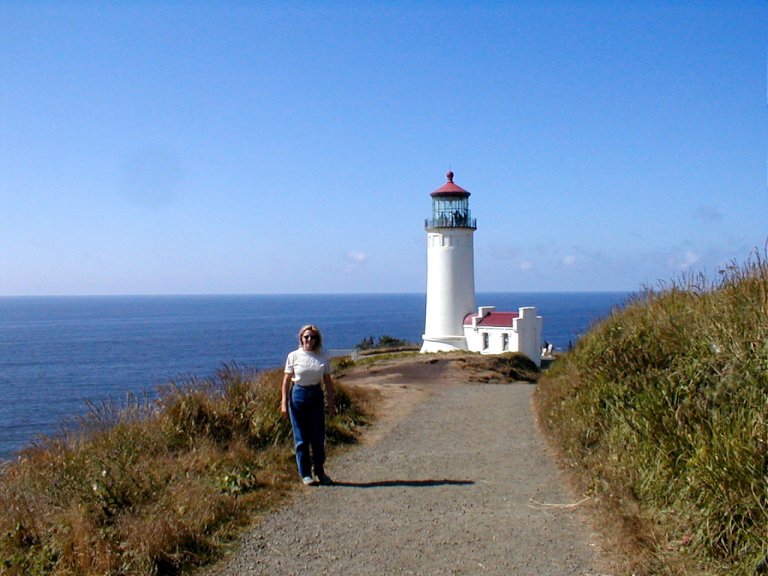 A bit farther south we happened onto Mendocino State Park, and that was our intro to the greatness of PCH 1. The fog burned off as we wheeled through the coastal town of Mendocino. It appeared a touristy location, but interesting enough that even I (the non-urban person) would likely enjoy wandering about. But no—it was time to ride.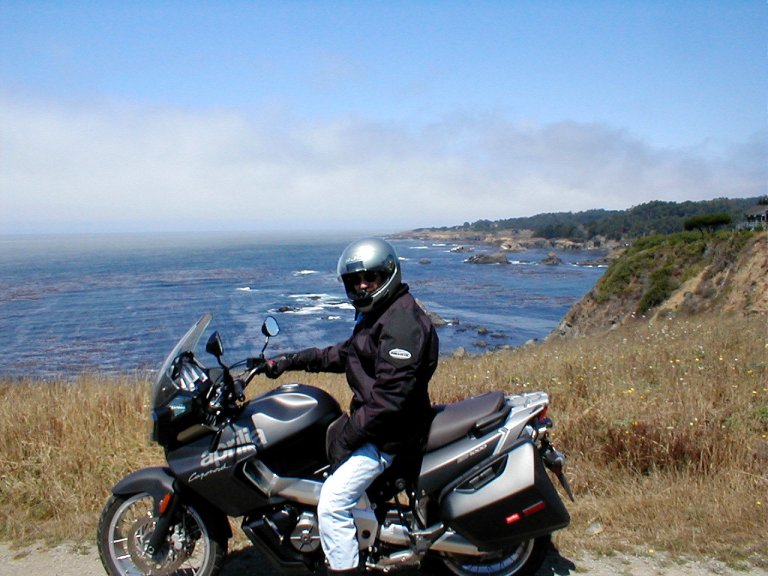 The million dollar question: Could PCH 1 truly equal the Cabot Trail in Nova Scotia? Both have their grandeur—I'd be hard pressed to say that one definitively bested the other. Many sections of PCH 1 are quite spectacular, with plenty of riding-on-the-edge, blue sky scenery.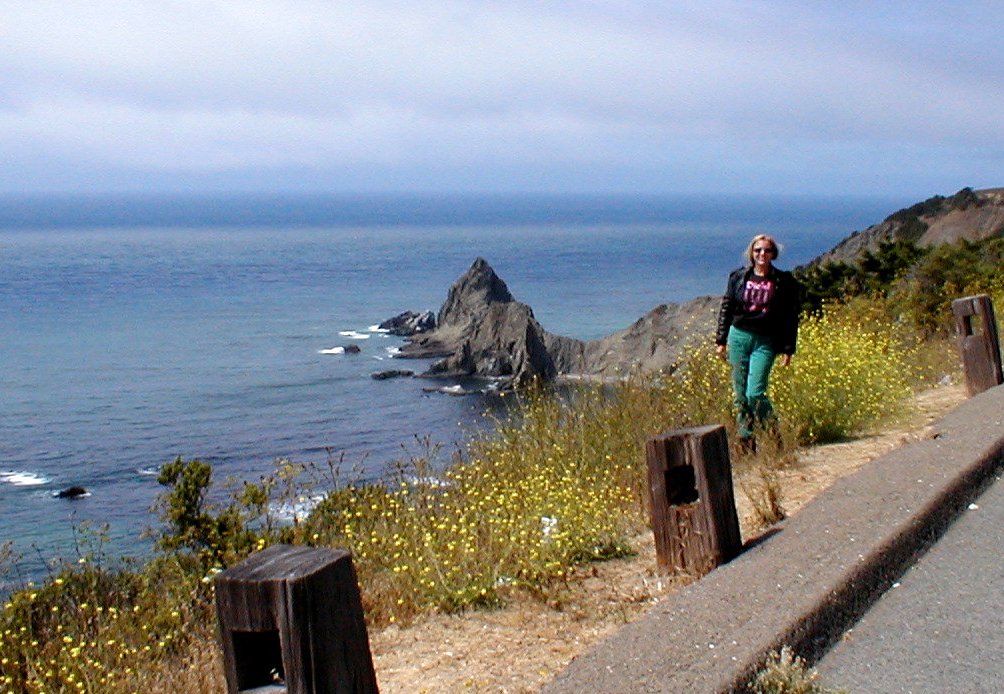 A local advised us of the "Holy Grail" of sport motorcycling, a route running east from PCH 1 to intersect Hwy 101 not far from Healdsburg. We took our local's advice, and in Stewart's Point turned east onto Skaggs Spring Road as it wandered away from PCH 1. The first miles were very pleasant, a single lane of asphalt through some fairly old-growth redwoods, and the road opens up a bit as it weaves its way through the forest. My thought at the time was that it was indeed a fine road, but perhaps its excellence as a sporting motorcycle route had been somewhat overstated.
Then, crossing a bridge, the road changed character completely. This was now smooth, wide, 2-lane asphalt sweeping beautifully across the dry, rolling mountains. It's open countryside, visibility is excellent. You can look out across the distance and watch the black strip of pavement wind down the rounded slopes, only to see it again twist up the far range. I should have stopped to take pictures, but I couldn't interrupt the flow. It was good.
And then we came to another turning point on our trek—we leave the west coast and turn back to the east. As we skirt Nevada, we behold the beautiful Lake Tahoe; the deep waters surrounded by snowcapped mountains, with a clear blue sky shining down. Passing down the western shoreline we proceed onward to Lee Vinings, California. Near the shores of Lake Mono, Lee Vinings is a small town near the eastern entrance to Yosemite National Park.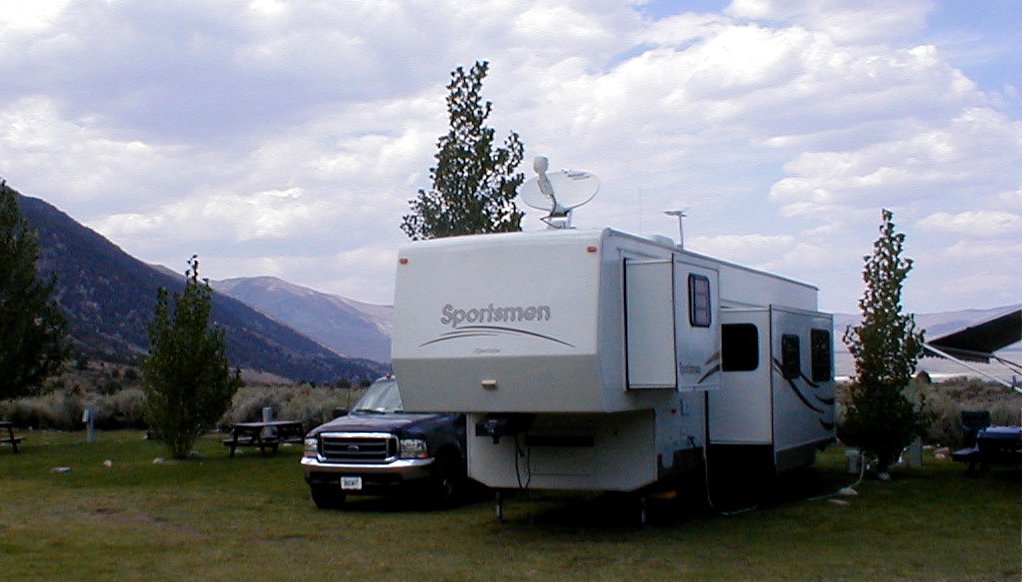 Lake Mono is one of the oldest lakes in North America. It has several feeder rivers, and no exits. Hence, the water can leave only via evaporation, leaving all minerals behind. The lake is something like 2 and a half times as salty as the Pacific Ocean, and 1000 times more alkaline.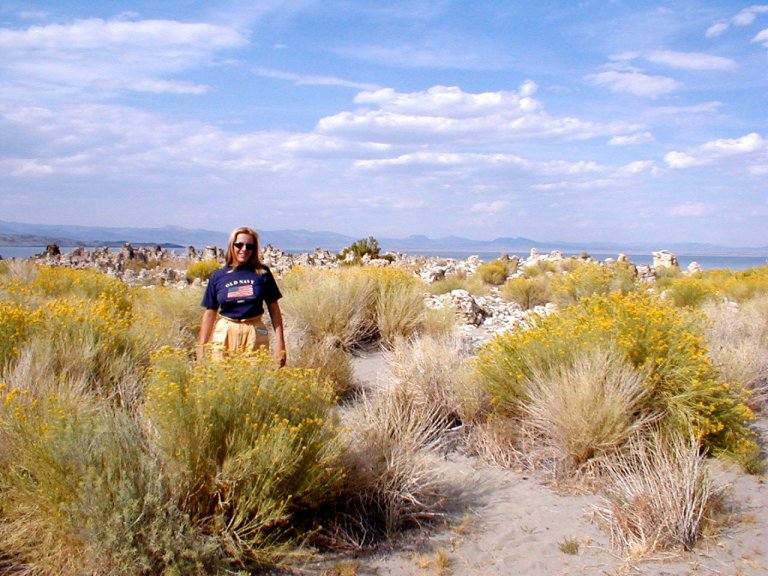 Along the shoreline there is a proliferation of tufas.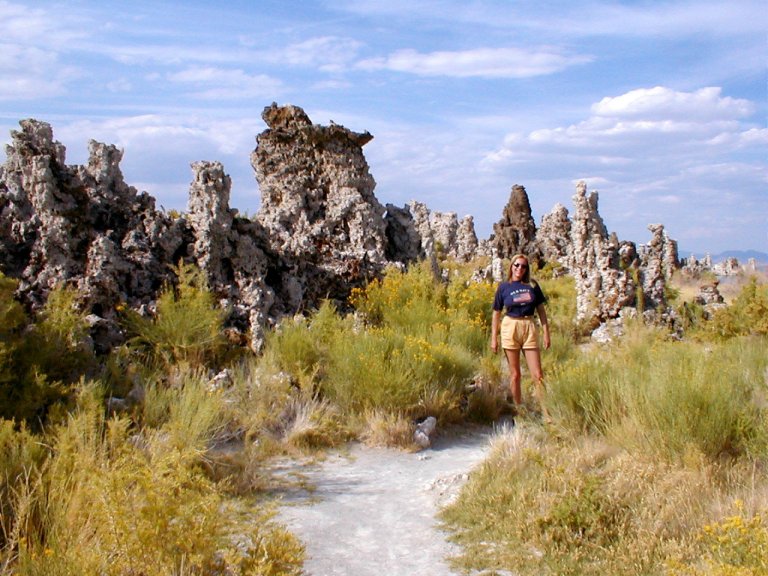 An oddity of alkaline lakes, tufas are tall, craggy limestone deposits resulting from calcium rich fresh water springs. As we walked to the lake's edge, what appeared to be the dark surface of the shoreline erupted in flight—it was an incredibly dense population of alkali flies—very small flies that thrive on the alkalinity of the lake. As we walked, waves of flies would disperse at each footstep. Very fortunately, they had no interest whatsoever in Sue and I. The water contains dense populations of the larvae of the flies. The area's name, Mono, came from an Indian word which meant "fly-eaters". The fly pupae were an important food source for some of the earlier Native American populations.
Heading from Mono to Yosemite National Park, we start at about 6500 feet and ascend quickly to Tioga Pass. At around 9500 feet, it's the highest crossing of the Sierra Nevadas. Very impressive, the Sierras—the longest range in the US, with the highest peaks in the lower 48. It's interesting to note that both the highest and lowest elevations in the contiguous US are in this region; Mount Whitney at 14,496', and Death Valley at minus 282'.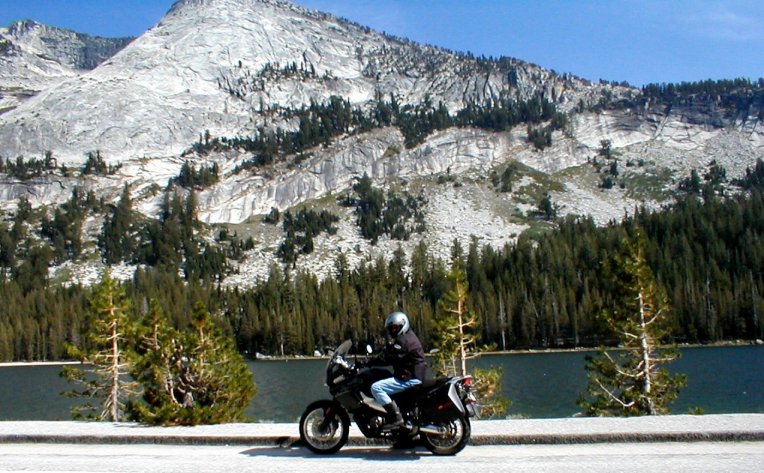 We crossed the park from east to west. It's a mile plus hike down to the lovely Tuolumne Sequoia Grove, and there's a self-guided tour therein. I'm sure they must have rerouted the footpath while we were exploring—it was much more than a mile on that steep hike back up. Sequoias aren't quite as tall as the giant redwoods, but have a greater overall mass. We read that one large sequoia might have the lumber volume of a full acre of pines.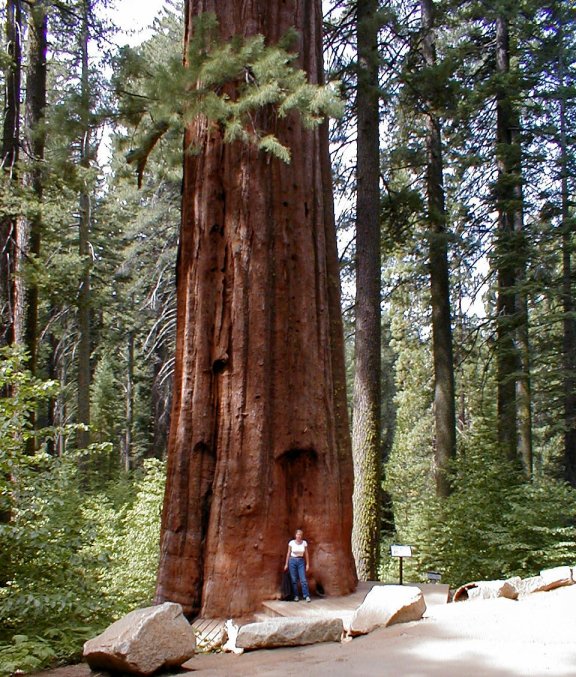 There are some gnarly bristlecone pines about—they hold the title for age. Not too far from Yosemite are the White Mountains, wherein dwells the elder bristlecone Methuselah—supposedly the earth's oldest living inhabitant at better than 4,700 years of age.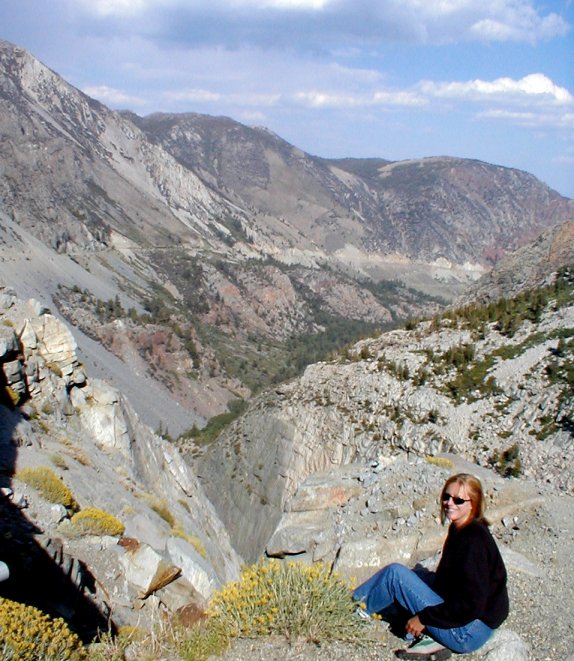 The Valley portion of the park is quite different from the route in from the east. Sheer, towering formations loom on either side, El Capitan is a commanding presence. Apparently a popular mountaineering area, we stopped several times to watch climbers clamber up the steep rock faces above. We weren't tempted to join them…
We elected to cross Death Valley as we continued east. I had always thought of a desert as mostly flat, austere territory—I had imagined a gradual descent to the lowest point in the US. The name, Death Valley, might have tipped me off. I was taken somewhat by surprise as we began the steep, narrow descent from about 5,000' to around 1,000'. I was concerned that I'd fry the brakes as I resisted speeding down the grade, and it was difficult to keep the rig completely on our side of the yellow line as we jockeyed tight turns on that narrow road.
When we got to the bottom we admired the variety of muted colors and strange landforms. Quite warm indeed, but not what I'd expected the predicted 111 degree temp to feel like. As we began our ascent up opposite side of the valley, the truck was working hard—I was watching the temperature gauges closely, and the diesel engine temp never faltered. But just a third of the way up, I watched with dismay as the transmission temperature gauge began a rapid climb. As it approached the yellow zone, I sought a wide spot in the road to pull over, put it into Park, and wait while the engine idled and the transmission cooled.  Twice we had to pause to allow the transmission to cool, before finally leveling out on top.
But of course we then realized that first descent and ascent were just a warm up, we hadn't yet been to the true valley floor. So we began to descend a 2nd time, this time to Death Valley proper. Interestingly enough, there was a lightly populated RV park on the valley floor. We watched curiously from the refuge of our air-conditioning as folk performed normal lifestyle activities in the superheated air of the desert. And then we climbed uneventfully, nervously watching the temp gauges, out of the Valley toward Beattie, Nevada. Whew! Made it!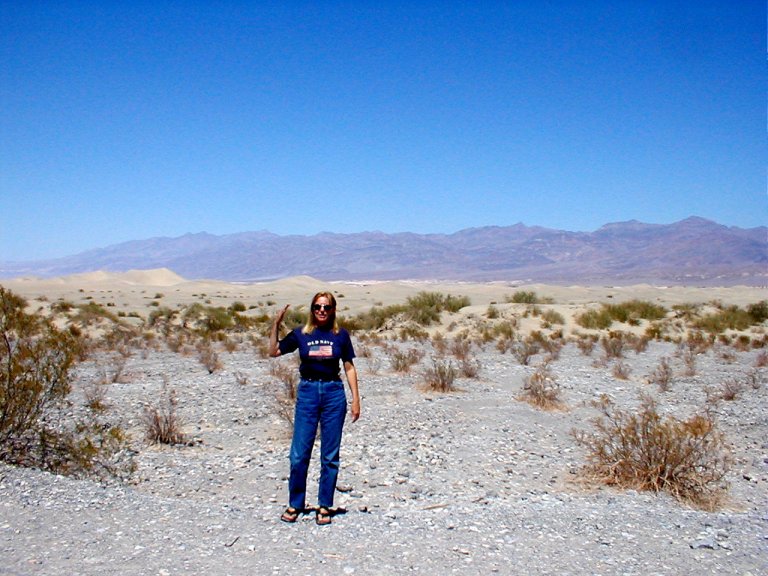 After our slightly harrowing passage through Death Valley, we decided to do what neither of us had ever imagined we'd do. Viva Las Vegas! Though neither of are bitten by the gambling bug, we'd heard much about the excessive indulgence of Vegas. Sin City, and all that. So, well... why not go have a look?
First of all, nobody had bothered to mention that Vegas is a real desert.
It's a desert—with temperatures reading over 110 degrees. So what did we decide to do? Walk the strip, of course. It's fairly lengthy. Did I mention it was hot?
Vegas is a decidedly bizarre place. Early Sunday AM, and all manner of humanity are out and about. Many seemed to just be taking in the sights, as were we, but the vast acres of slot machines and gaming tables were ever manned.
Ka-Ching!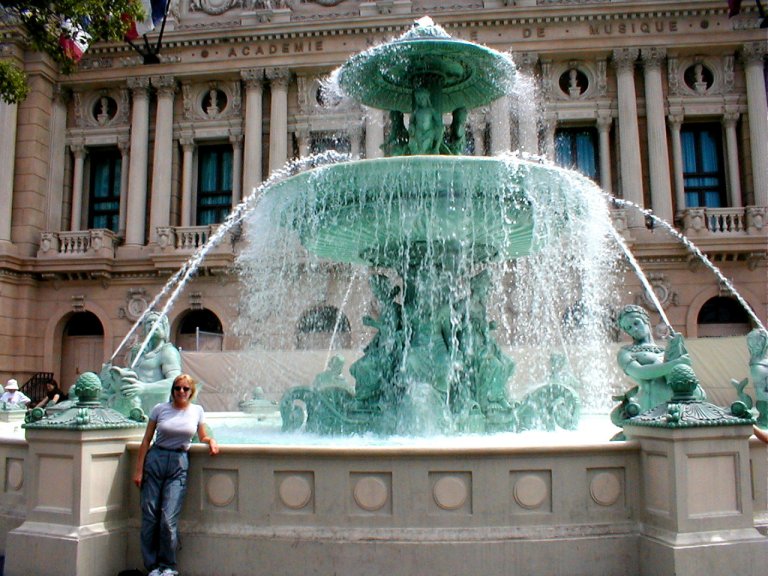 Of course we saw Elvis, and wedding chapels abounded, including at least one "drive-through". I wondered how often the procession proceeded from the apparent abundance of "Gentlemen's Club's" directly on to the drive-through chapel?
We walked a few hours, sometimes becoming lost in the maze of the labyrinthine casinos, only to eventually emerge back upon the surreal world—and to be reminded of how HOT it was out there. It would seem that Las Vegas does not believe in drinking water, we never did find a water fountain. Libation—that'll loosen up the purse strings! We eventually tired of looking for water and had a beer instead (in Treasure Island, of all places "water, water, everywhere....").
I know, I know, the beer wasn't a great idea.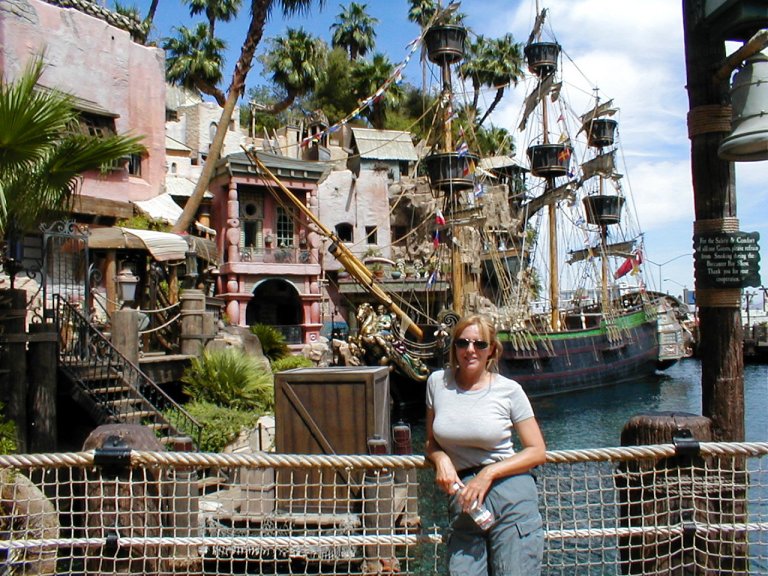 After hiking back to the bike, we saddled up and headed towards Red Rocks Canyon. As a Bureau of Land Management site, our newly purchased Golden Eagle parks pass would get us in. It would, that is, if it hadn't been sitting on the center console of the truck back at camp.
Deciding, with some irritation, to not pay again for something we'd just paid for, we instead prepared to head back to base. But Sue abruptly decided she'd best sit for a moment, because she was feeling rather hot and discomfited. A bit alarmed, I said that we'd go ahead and pay entrance to the BLM site and head straight for the nearby air-conditioned visitor's center. She objected, insisting that we instead head toward shaded, air-conditioned civilization not too far away.
I reluctantly agreed, and off we went. A few miles away she prodded me and asked to stop—she had become light-headed and was having trouble staying in the saddle. I was distraught, on the side of the road with no shade or water, and my wife unable to hold on while we sought refuge. Very fortunately, we were almost immediately aided by a passerby that volunteered safe passage to the visitor's center in his air conditioned truck. I'm very grateful to that fellow. Inside, we sat for a couple of hours, drinking large quantities of water and listening to some local folk's tales of heat exhaustion. Sue regained her strength, was able to stand and speak OK, and so we soaked our clothing in water and headed out.
So, where's our next destination? Out of the desert, perhaps?
Leaving the scorching desert of Las Vegas, we crossed the Hoover Dam, towing our behemoth rig. As we parked the beast and got out to admire the view, what did it do? Start to rain, of course. In the bloomin' desert!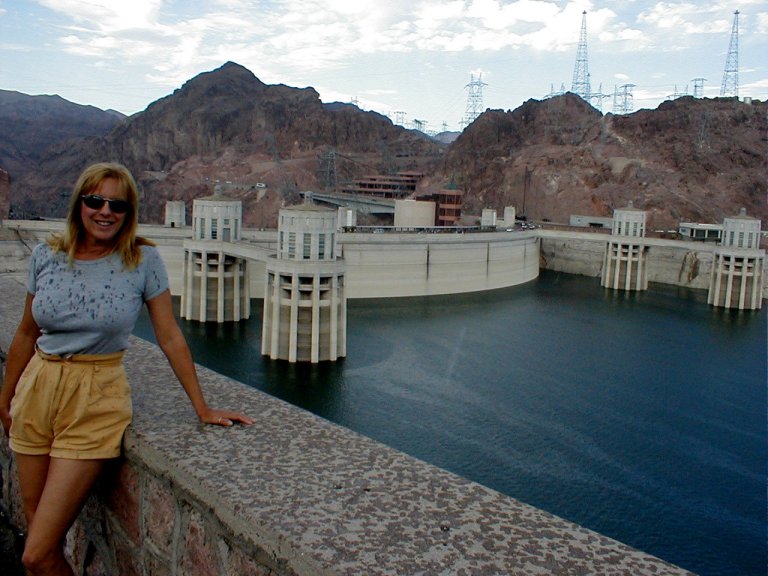 Williams, Arizona is a good spot from which to stage explorations of the Grand Canyon to the north, and of Sedona to the southeast. Williams is the last town on the famous (get your kicks) Route 66 to have been bypassed by the interstate. Our first night we had Mexican in a restaurant dating from the 1800's (Pancho McGillicudy's—do you see a contradiction there?). As we finished our meal a local group calling themselves the "Cataract Street Gang" staged a street theater presentation with 2 different takes on a historic gunfight in Williams. It involved a fair bit of hamming it up, but great period costumes (to my untrained eye), and no small paucity of gunfire.
The Grand Canyon is another of those must-see destinations. It seems a very abrupt transition to the Canyon. It's not mountainous country here, mostly gently rolling forest land. And then, just yards away, the forest disappears and the ground drops thousands of feet across the spectacular canyon. One of the true Seven Wonders of the World, it obviously cannot be adequately described in words or pictures. Would I confess to a bit of fear as I approach one of the viewpoints that drop away in a mind-boggling plummet?
Uh… no?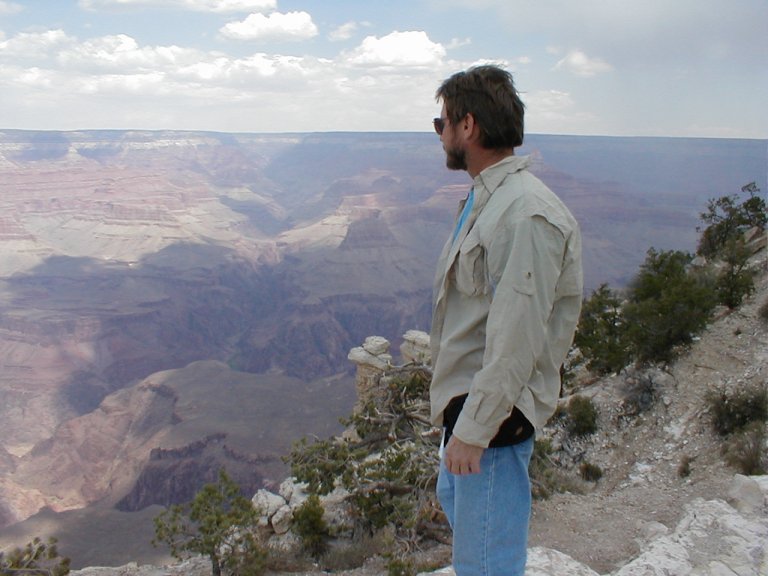 We first hiked a couple miles along the Rim Trail, and then rode the bike east, paralleling the canyon and stopping at many viewpoints.
The relatively new visitor's center was very nicely done, with many displays that imparted a clearer appreciation of the immensity and age of it all.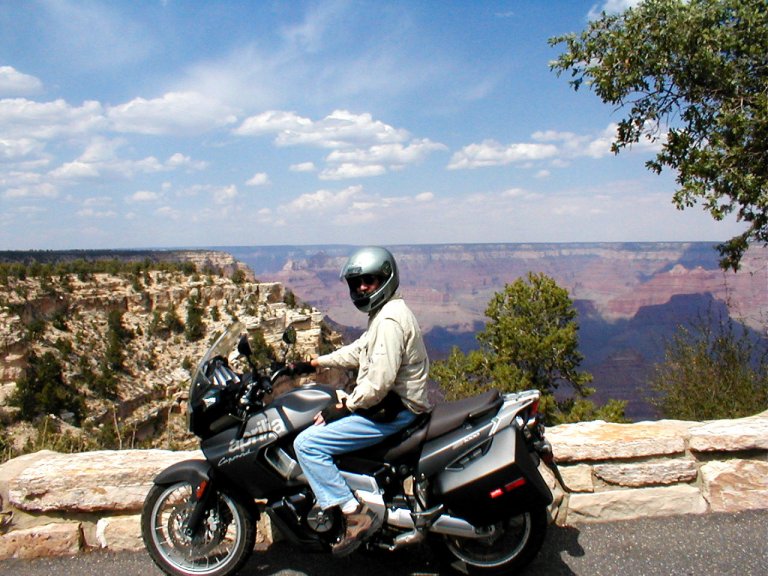 Interestingly, though we did hear one very southern twang among the strollers, there seemed to be mostly foreign accents. That seems not uncommon in many of the national parks we've toured. We also heard many jokes while walking the edge of the sheer precipice—"Honey, is your life insurance paid up?"
Toward the eastern end of our route were the Lipan and Desert View overlooks. The former displayed the Colorado River in its muddy glory (how could that little muddy river way down there have done all this?). At our final stop at Desert View there is a tall, prehistoric looking stone structure called the Watchtower. Designed in the 30's by local architect Mary Colter, it's modeled after Native American Pueblo architecture. It functions as an ultimate viewing platform, arts display, and gift shop. As the highest point of the South Rim at 7,522 feet, there is no lack of spectacle in or about the Watchtower.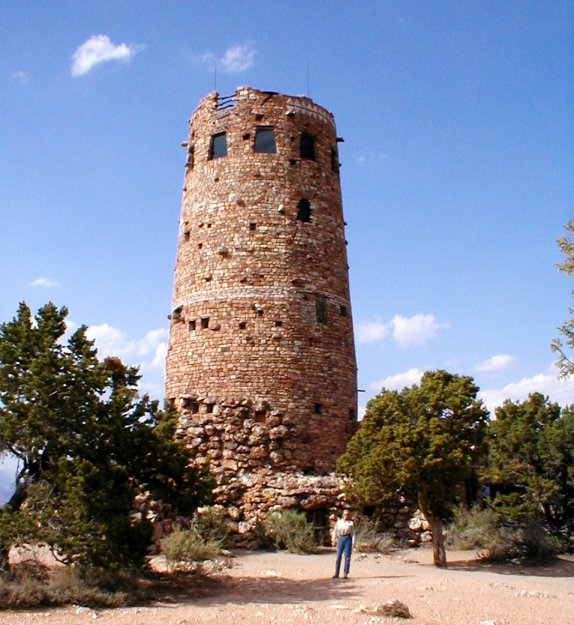 Sedona, Arizona, at the lower end of beautiful Oak Creek Canyon, has become something of an artist's colony. It's also said to host numerous "power centers", or vortexes—concentrations of magnetic or electrical energy. Several miles north of Sedona, we began a twisting descent down the path of the canyon toward Sedona. We parked at Midgley Bridge and hiked down Wilson's Canyon to the creek bed below, and we took a loop around nearby Red Rock State Park. It's a relatively short tour through the park, with a few miles unpaved in the middle, but it hosts incredible scenery. With Oak Creek meandering through, one traverses a diverse riparian habitat sprouting with incredibly colorful buttes and any variety of unusual landforms.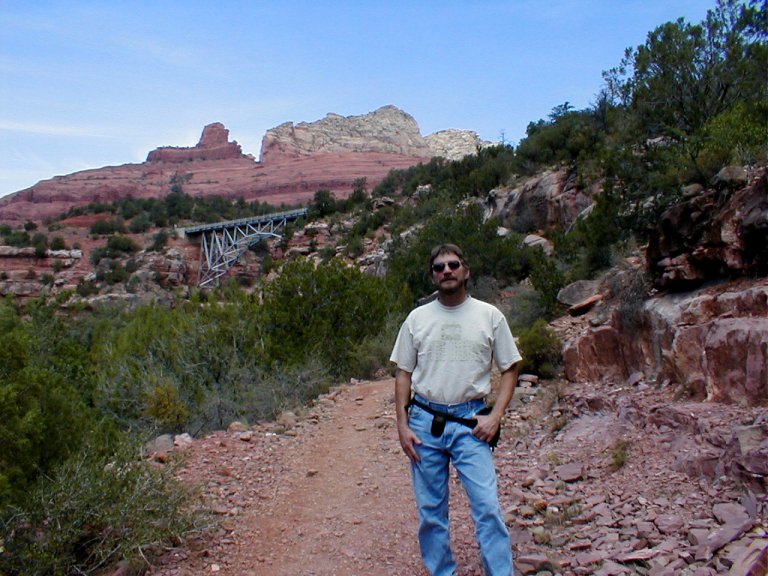 Leaving the Sedona area, we visited Walnut Canyon National Monument. We had no idea what it was; just picked it off the map. The main attraction was the Cliffside dwellings of the Sinagua Indians, some 800 years old. The ranger at the visitor center told us it was an easy hike to the ruins, after the initial series of steps.
Steps. Ah… yes. When we limped back into the visitor center, we were told it was something like 240 steps, akin to an 18 story building. It was more than that, I'm sure...
The trail followed a narrow path on the side of the steep valley wall, the naturally occurring stone overhang providing a good basis for building walls to enclose the space as living quarters. It's not known why the structures were abandoned, but after later plundering by local sightseers was put to an end, the structures remain in remarkably good condition.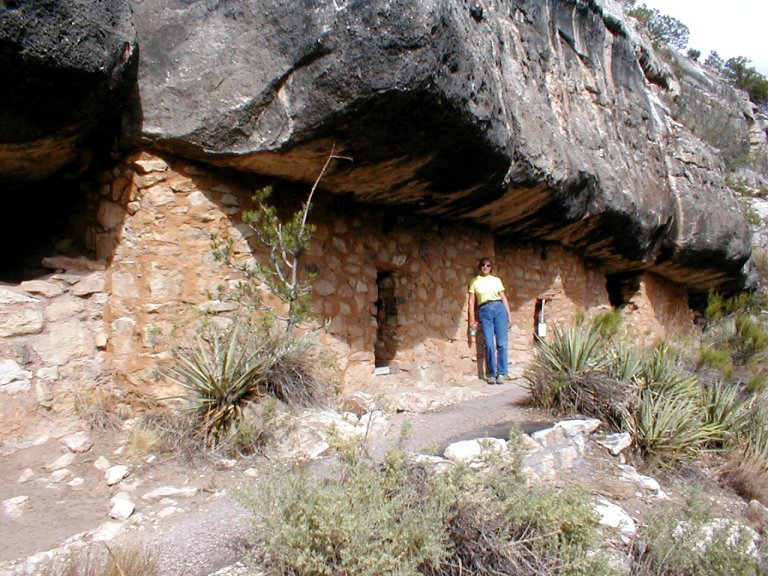 As we drove eastward out of the state we neglected, sadly enough, to go stand on a corner in Winslow, Arizona (sorry, couldn't resist). We did manage to pass unscathed through the legions of concrete dinosaurs flanking the highway (must've escaped from Dinosaur Park). We also drove through a bit of the Painted Desert—very beautiful, soft colors.
As we entered New Mexico we were greeted by an uprising of multi-colored buttes and bluffs and generally amazing rock formations. A variety of colors—I'd just read that the color red in rocks comes from the oxidation of the iron content of the rocks. Rust!
We found a surprisingly inexpensive RV park in Grants, NM. Must've had something to do with the trains that roared by about every half-hour....
Since neither of us felt a compelling need to spend another night at what should have been named "Whistlestop RV Park", we decided to make an early morning run to one of the more impressive local sites, El Malpais, and then get a later than normal start on the day's drive.
Though it translates to "The BadLands", El Malpais was actually greener than most of the surrounding territory, with lots of yellow and purple wildflowers in bloom. On the other hand, the area comprises some extensive lava fields that would be very inhospitable to negotiate. So—The Badlands it is.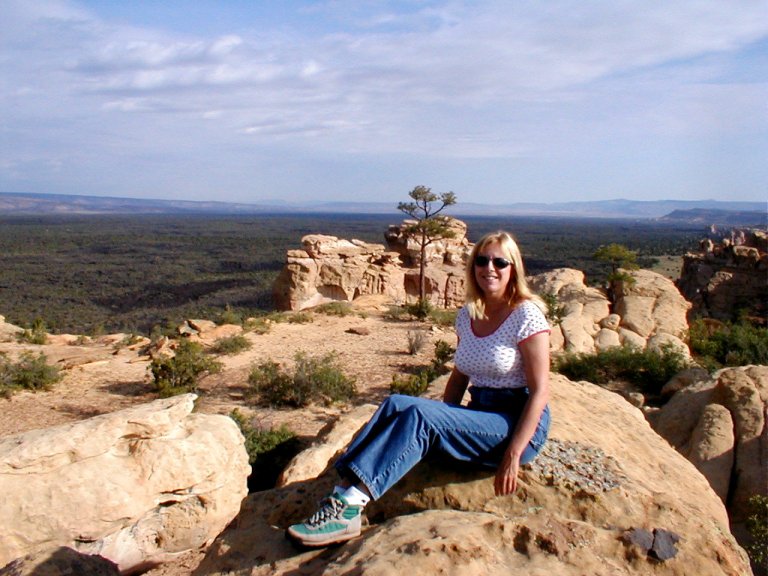 We hiked up to La Ventana, a natural stone arch, and then out onto the Sandstone Bluffs Overlook. From the latter spot we could survey from on high the vast lava fields, and come to understand the name of the region.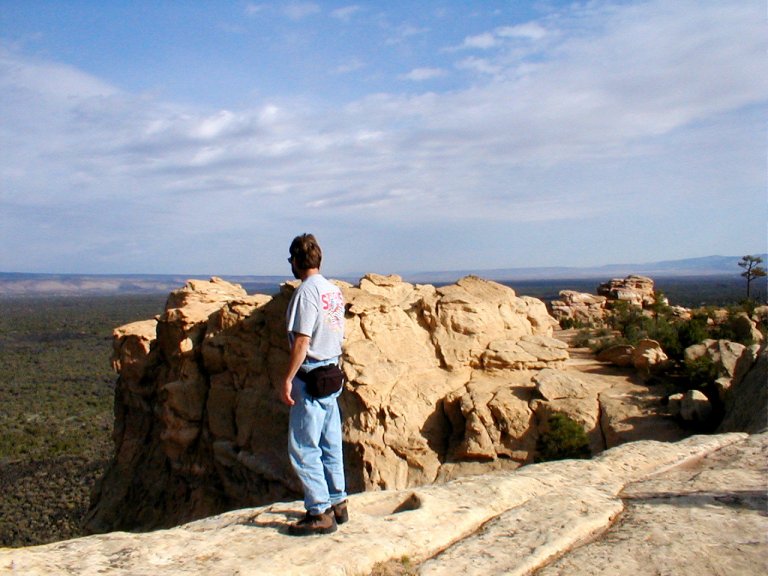 Back in the rig, we turned north and climbed over the Sangre De Cristo mountains north of Santa Fe. Coming up through northern New Mexico we stopped in a nice RV park in Pecos Creek. It had a scenic overlook on a bluff above an Indian trading ground of many generations past, with the Sante Fe Trail also nearby. I could almost see the gatherings of the tribes on the plain below, smoke wisping up from campfires, horses tethered nearby.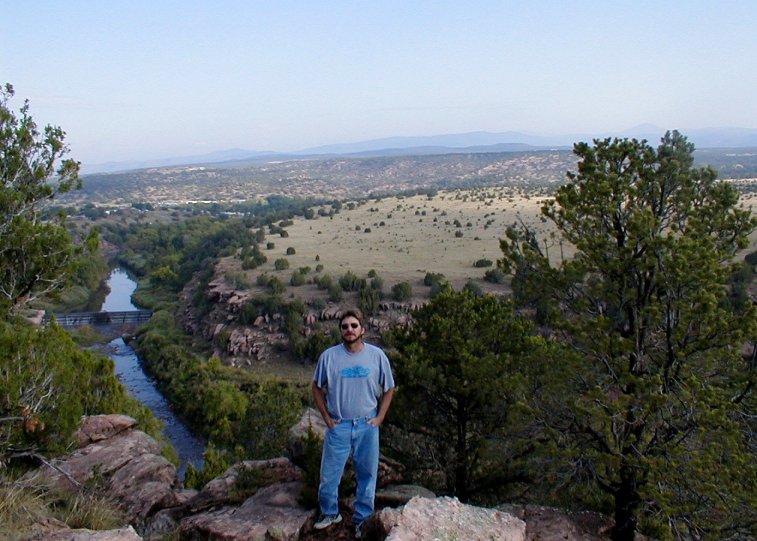 As we came up into Colorado, a couple of weather systems converged on the state—one tropical, off the Pacific, and the other a cold front from the north. The result—rain and nasty weather. In Colorful Colorado!
These were my stomping grounds as a young child, so we spent time visiting family in the Boulder area. I had greatly anticipated taking the motorcycle up into the Rockies, Trail Ridge Road is truly spectacular. Unfortunately, the inclement weather was not letting up, and, considering that the weather channels advised heavy snow in the nearby mountains, we spent a few days roaming the adjacent "low lands" instead.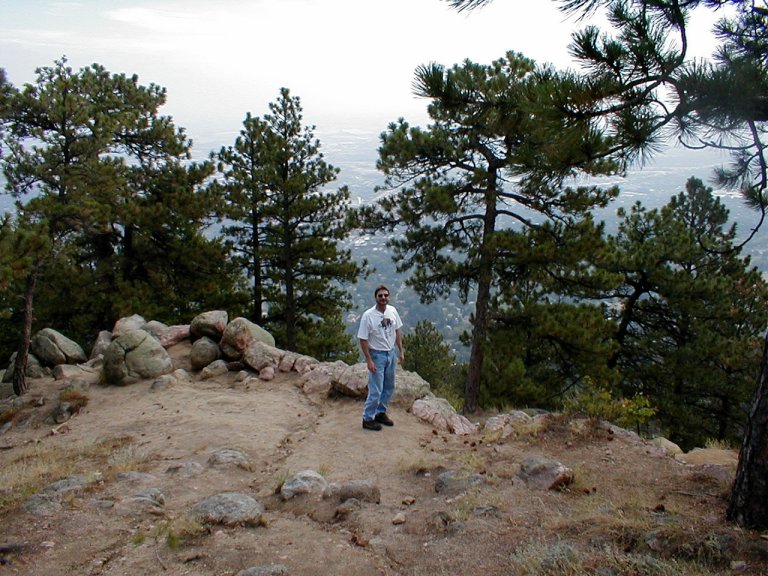 And then we came to face a long passage across the high plains of Colorado and Kansas. By this time we'd come to realize that our adventure was winding down. The weather was turning with the change of the seasons, and we were not yet ready to commit to full-timing as a permanent lifestyle. I had produced some income as we traveled, but Sue would get antsy during the time I spent working, and we had not yet replaced the health insurance that ended with the termination of regular employment.
We spent a of couple days visiting my cousin in Missouri, in the Lake of the Ozarks area, and then we continued on to the Upcountry region of South Carolina. A couple more months were spent living in the RV, in the most improbably named "Scuffletown Campground", as we searched the area for a homesite. We shared our campground spot with wandering peacocks and bantam roosters. Shade was not sure what to make of it all. The roosters made sure we didn't sleep in.
And now the RV sits forlorn behind our house, covered and impatiently awaiting the occasional short romp. All told, we were out close to 6 months. Interestingly enough, it was I, more so than Sue, who was ready to hang up the walking shoes—to come in off the road and resettle.  Sue will still occasionally give me a sideways glance and inquire "Why did we come in so soon?"
I go out to the backyard from time to time, where I gaze wistfully at the 5th wheel—wondering why. Why did we come in?
Hmmmm… maybe it was not to be a once-in-a-lifetime adventure, after all…..