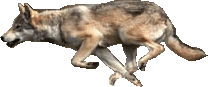 A Biker's Heaven
(partially printed in
Rider Magazine and Dual Sport News, and penned while still living in Florida, before GPS and hi-res digital)

Each Summer Sue and I would flee the mind-numbing, traffic-gridlocked frenzy otherwise known as South Florida – seeking a calm port in the storm. Our destination? An idyllic mountain river valley, on the banks of the Greenbrier River in southern West Virginia. The trip always has a motorcycling focus, and a combination of great weather and machine rank this year's tour near the top.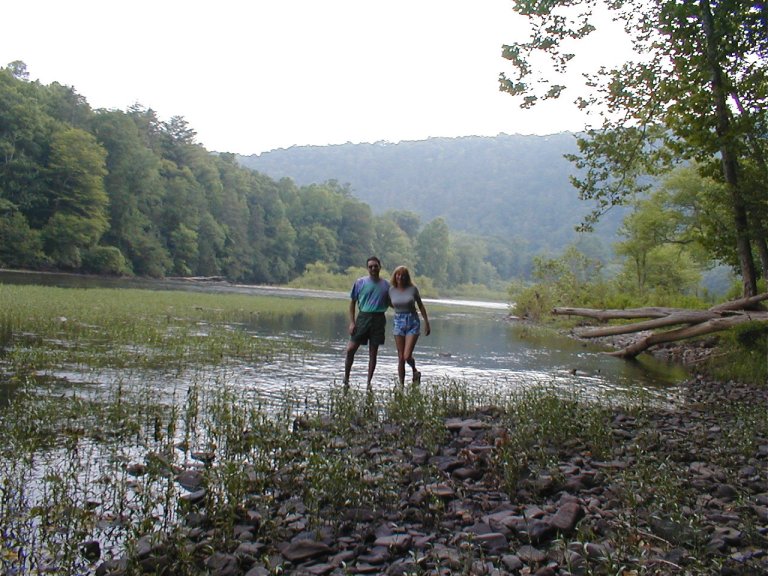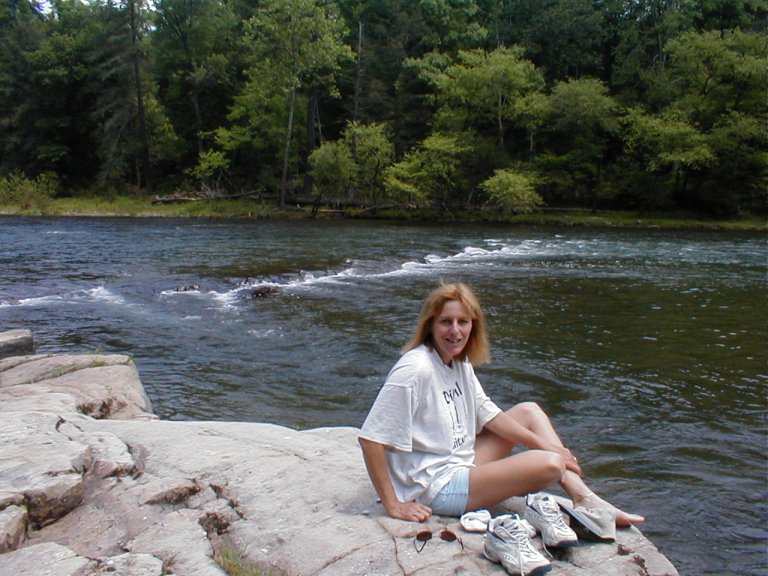 In years past my choice of motorcycle has typically been in the vein of large displacement, dual sport thumpers (e.g. KLX 650). Those have worked quite well, but they do suffer on high-speed highways, and they are especially lacking in terms of passenger accommodations (pilot accommodations aren't the greatest, either).
This year I set my Cagiva Gran Canyon dual-sport/sport-tourer to the task, and excel it did. There are a wide range of road conditions in this spectacular mountain country, ranging from blemish-free interstates to smoothly sweeping 2-lane to super-tight single lane pavement to gravel (and sometimes that diminishing gravel trail just sort of, well….. ends).  Not many bikes can deal well with that range of diversity, especially with a passenger onboard. But with its long-travel, well-sorted suspension the Cagiva does a good job of handling both rough pavement and no pavement. The motor, a fuel-injected 2-valve Ducati 900, is a marvelous lump, and the aftermarket carbon fiber Ferracci exhaust system and matching Fuel injection chip provide a noticeable boost in power. Not to mention that fine, raspy bark of an exhaust note that makes for good company.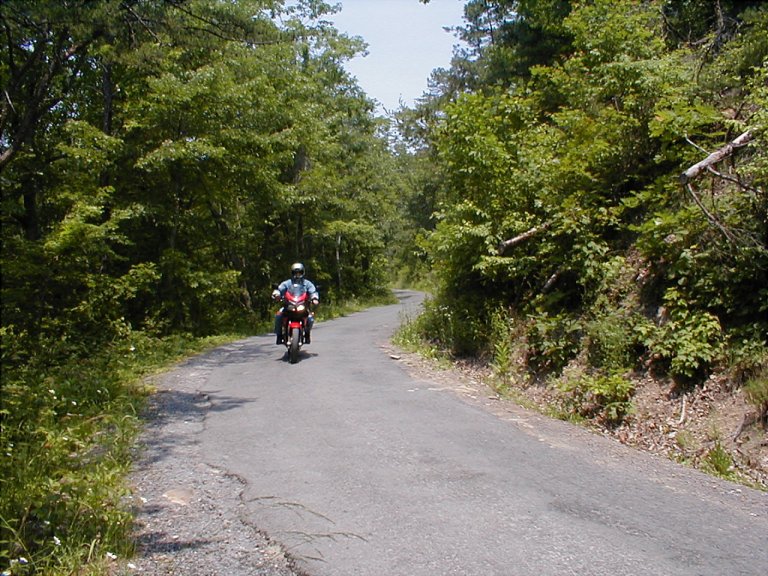 Though I was initially astounded by the fantastic mileage of the bike, I soon sheepishly realized that I was calculating KPG, not MPG (the speedo's calibrated in kilometers).
While the dual-sport tires are mostly street-oriented, they're able to handle any off-road action that's within the Cagiva's comfort zone – a zone that is admittedly limited. I'm the first to concede that this is no true dirt bike, as I ably demonstrated with my damp, grassy meadow hijinks. Ah, well, a little plastic epoxy, some vice-grips and a ball-peen hammer—and all was back in order. Well, maybe a few ibuprofen also….
Our vacation base camp is a very modest cabin in a beautiful mountain river-valley in the Lewisburg/White Sulpher Springs area - located in the Allegheny section of the Appalachian Mountains. The Greenbrier River is one of the longest free-flowing rivers in the eastern US. Along this segment of the river there's a very scenic reclaimed railway trail—the 77-mile "Rails-To-Trails" Greenbrier Trail that follows the river's meandering path. Sorry, no motor vehicles allowed.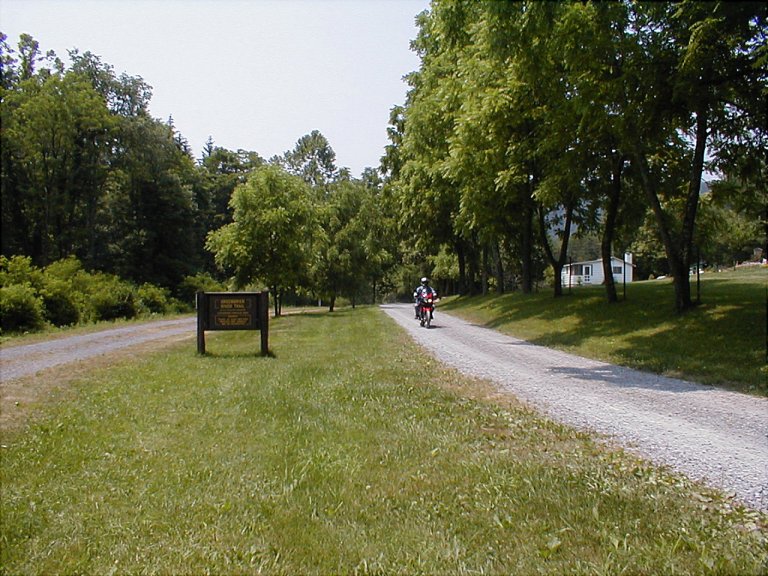 Lewisburg, a small town with buildings dating from the 1700's, is designated a National Register Historic District.  Near the center of town is Lewis Spring, discovered in 1750 by Andrew Lewis, which hosts a stone springhouse over 200 years old. Another point of interest is Old Stone Church—built in 1796, it's the oldest church in continuous use west of the Alleghenies. And a number of military engagements are a part of the history of the area. A Shawnee attack was repelled at nearby Fort Donnaly in 1778, and on May 2, 1862, the Battle of Lewisburg was a little noted, but deadly, battle of the Civil War.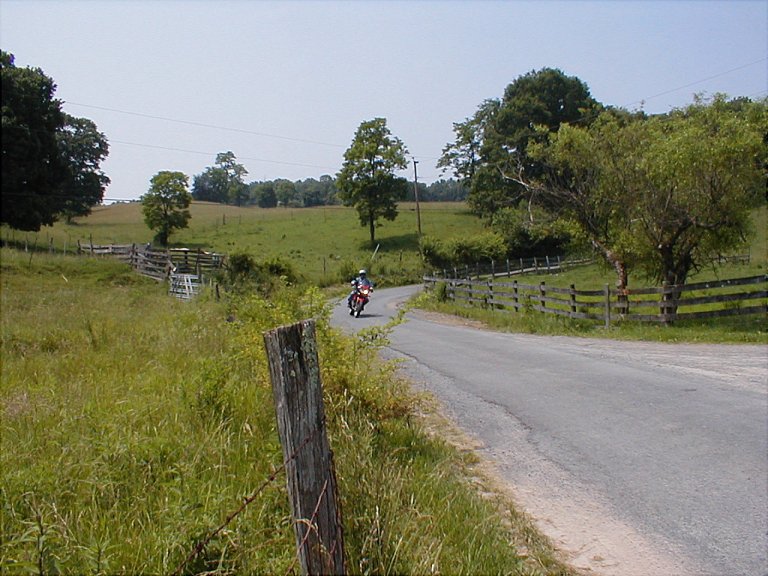 Nearby White Sulpher Springs is most widely known as the home of the prestigious Greenbrier Resort. From around 1800 to 1860 there was a steady flow of visitors to some of the many spring-fed resorts in the area. Only the Greenbrier remains active today.
An interesting side note to the Greenbrier Resort is that it played host throughout the cold war to the "Greenbrier Bunker". Though it's recently been opened for touring, this facility had previously served as a secret bunker structure designed to shelter up to 1500 (important) people in the face of a nuclear strike. This lightly populated area is not a likely strike target, and Washington DC is not too far by air. Just over the ridge is the Greenbrier Valley Airport; at 7000 feet the longest runway in West Virginia, and I'm told the only WV strip suitable for use by Air Force One.
The luxurious Greenbrier Resort is a spot where one might pamper him/herself in any number of ways. No thanks, I'll opt for my cabin on the river with a motorbike waiting impatiently on the deck.
The Appalachians number among the oldest mountains on earth. At one time they were very extreme in stature, probably rivaling the Himalayas of today. A while back (before the development of the Atlantic Ocean) the Appalachians were part of a mountain chain that extended through Greenland, Ireland, Great Britain and Norway.
But time has worn them down and smoothed them over. Now the Appalachians are relatively gentle—heavily forested and lushly verdant—abundant with wildlife. They are also very lightly populated in most areas. After we returned from our trip this year, back in the cauldron, so to speak, I had a revelation. Sue and I would ride for extended periods throughout the region, taking great pleasure in the scenery and the machinations of the roadway. But, the thing is, with few exceptions we'd stop only when we wanted to! Traffic lights—Hah!
The local population was typically quite friendly, more often than not looking to strike up a conversation. We didn't really encounter any anti-motorcycle bias—imagine being on a ride and not wondering if the guy in that car right behind you is going to shout or gesture obscenities, or try to run you off the road, or brandish a weapon of some type.
Some of the differences between West Virginia and south Florida roadways are too obvious to mention (no straights, no flats, no traffic jams, etc.) But there are others that merit mention. First off, while there is plenty of wide, high quality pavement to be found, that commodity becomes more scarce the farther one ventures into the deep. A very common strategy in more rural, less trafficked areas is to pave a single lane only, and provide wide gravel shoulders on either side. The local practice is to drive merrily along, dead center in the single lane of pavement, until an oncoming vehicle is sighted. Then each 4-wheeler shifts to the right, half-on and half-off the pavement, providing adequate clearance to pass. Most cagers will do the same for motorcyclists—allowing the bike to run along the edge of the pavement without dropping off into the gravel, but that's not always the case. This can be especially exciting when wheeling around a tight, blind corner—only to come face to face (so to speak) with a Dodge Ram radiator grill. Be forewarned.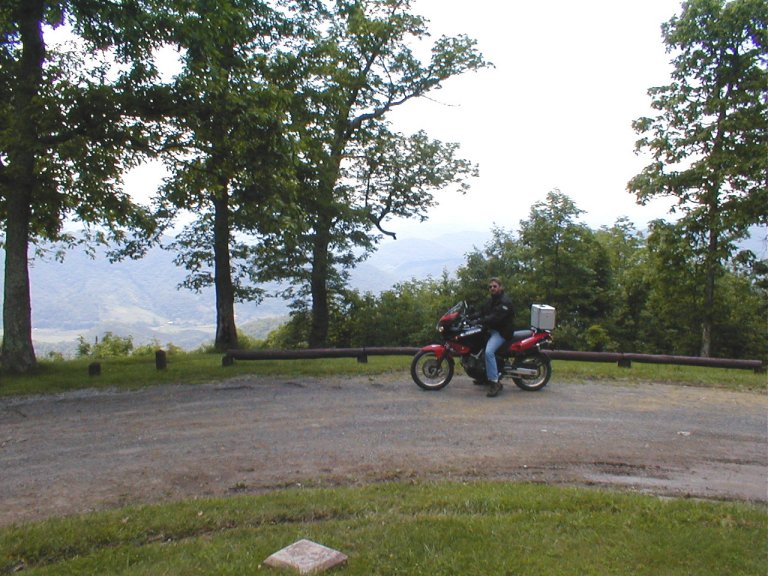 Finally, a point I can't emphasize strongly enough is—have good maps!
While I agree with those I've heard say 'You can't make a wrong turn in West Virginia', it is also quite possible that the scenic spot you're currently riding through may not be where you thought you'd be about now (don't ask how I know that). Informative road signs can be few and far between, and gas stations can also be spread pretty thin. I try to top my tank off whenever possible when wandering deep.
I use a large format paperback book of topo maps; the "West Virginia Atlas and Gazetteer" (what the heck is a "Gazetteer", anyway?) by DeLorme (www.delorme.com). Other useful publications (freebies) are: "West Virginia Byways & Backways (1-800-225-5982) and "Midland Trail" (1-800-822-US60).
But enough of all that! Time to go round off those flat spots I've been wearing around my tread! Sue and I squeezed in a lot of trips this year. Some were particularly special; those are the ones I'll describe.
We'll start local, a bit north of Lewisburg off SR 219. The first checkpoint is Anthony, a small community on the western bank of the Greenbrier River. There are a few different county roads that'll get you down to Anthony, let's pick the most direct; CR 21 that turns west off of 219 just south of Frankford. When you get down to Anthony (don't blink), you'll cross the Greenbrier River on a nice, new concrete and steel bridge (the replacement of the bridge that didn't survive the infamous Flood of 1985).
Immediately across the bridge is a 90 degree left turn that starts a steep twisty climb to an overlook - from which the river can be seen far below.
We're into the Monongahela National Forest now. The roadway continues to snake downward through the Blue Bend Recreation Area. Directly across from the entrance to the Blue Bend site is a sign pointing up a relatively straight, steep (I use that word a lot, don't I?) 3-mile gravel climb to Hopkins Vista. Up top there used to be an observation tower of some sort, but now it's just a few benches looking lazily out over the farmlands that dot the distant slopes. It's often a somewhat hazy view - hence the term Smokey Mountains, I suppose.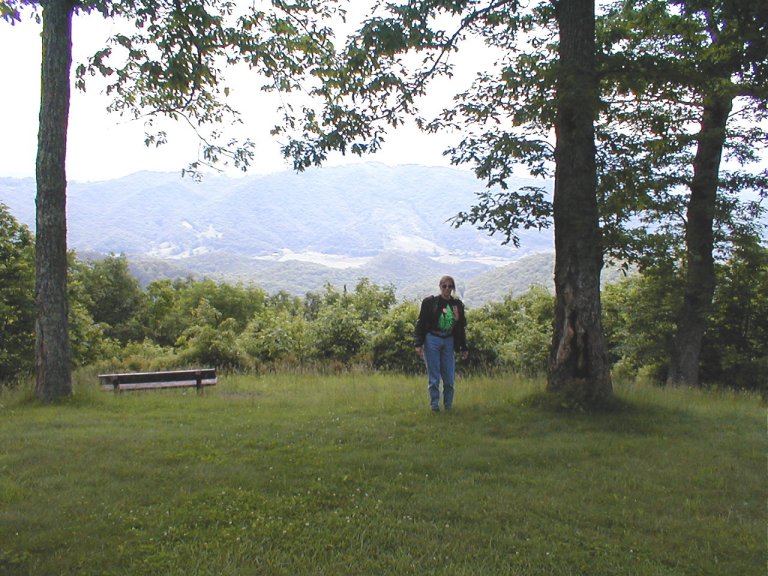 Back down onto the pavement, the road continues on to an unmarked fork. If you don't care for a bit of fairly bumpy pavement, you'd continue straight on to SR 92 – whereupon you could head back south. We choose the right fork, and head down a rough single lane roadway toward White Sulpher Springs. This road is called Big Draft; I'm told it's so named because during winter storms a fierce wind roars down this passage. Big Draft eventually smoothes out as we approach White Sulpher Springs, and we can now better test our traction as we proceed toward town. At the first stop light, a right turn onto SR 60 runs through town, past the Greenbrier Resort (they don't let motorcycles in, I take back what I said about 'no bias'), and then continues back to Lewisburg.
The next ride is a longer run. Departure is from Lewisburg north on SR 219. I've read other articles that have lavishly praised 219, and I couldn't agree more. It's a 2-lane highway, good pavement, and mostly 55 MPH throughout.
Speaking of speed – I'll digress a moment. West Virginia seems to me very generous with its speed limit—they're 55 MPH or better just about everywhere except towns. I contend that there are many sections where 55 becomes a bit of a challenge (for middling riders such as myself, anyway). The curves are usually well-marked, but, again—often generously posted. My point is, if ("when", I should say) you see one of those diamond shaped yellow signs with a black squiggly arrow and the marking "15 MPH", you'll likely find yourself in serious "clench mode" if you don't back off a bit.
I admit I've gone through some of those 20 MPH marked corners a good bit faster, scoffing mid-turn at the suggested speed limit. I scoffed, that is, until that sharp knee-dragger was immediately followed by a 180 degree steeply descending switchback. And being a tight turn, there was of course some gravel about.
In the interest of propriety, I'll not describe any bodily functions at this point.
Back to 219. It starts its run north out of Lewisburg as a fast cruise. Big, sweeping turns, swooping climbs and descents. The sun is out, the sky is blue, life is wonderful. Then, just north of Renick, Hwy 219 begins its long snake dance up the mountain. How could it get any better? Just wait.
There are some scenic stops along this route, if you're of a mind. A favorite of ours is Beartown State Park, about halfway between Renick and Hillsboro. Beartown consists of a fairly extensive boardwalk though and over a series of massive crevices that have been eroded by wind and rain into an extensive rock formation. It's quite impressive, but we've yet to see a bear.
Another spot not too far beyond Beartown is the Droop Mountain Battlefield, the site of West Virginia's largest Civil War Engagement. Brigadier Generals W.W. Averell and Alfred Napolean Alexander Duffie mounted a raid into southwestern Virginia in early November, 1863. Duffie concentrated on destroying military property along the route, while Averell engaged and defeated a Confederate brigade under the command of General John Echols at Droop Mountain. The Union troops reunited in Lewisburg, and that pretty well marked the end of Confederate resistance in WV. The quiet park has a small museum, an observation tower, and a number of hiking trails.
I believe that it's shortly beyond Droop Mountain where we encounter what is possibly my favorite section of SR 219. Droop Mountain is one of the higher spots along the route, and as 219 proceeds north we come upon a grand downhill run. I don't believe I've ever ridden a section quite like this one. It's a fast drop down the mountainside, but instead of doing the normal routine of switchbacks, it's a continuous, fairly uniform series of seriously cambered, alternating left, right, left (you get the idea) turns.  OK, some of the turns seem almost like switchbacks, but the steepness of the camber allows one to drop into the bottom of the curve, ride the bank through the curve, then roll the bike over to a reverse lean - and do the same thing on the next curve. And again, and again, and again. It's sort of like riding a series of interconnected bowls down the mountain. I find it an almost most hypnotic sequence, though I doubt hypnosis and an accelerated pulse rate are common bedfellows.
Further on there's a fuel top-off at Hillsboro, and then a turn west onto 35/55 at Mills Point. This is a smooth 2-lane climb to the juncture with SR 150; it usually cools off as you climb the route largely chiseled through rock. Whether you go north on 150, or continue west on 55 - you'll now be riding the Highland Scenic Highway.
On previous trips we've taken the route north, the 22 mile Parkway section, over what I believe is the highest continuous roadway in West Virginia. It rises to over 4500 feet, has several overlook stops, and is the trailhead for a number of serious mountain bike paths. When taking this route we would drop back down to 219 in Edray, south to Marlinton, west to Huntersville, and then south on a very rustic route through the serene Watoga State Park – finally finishing back out on 219 a bit north of Hillsboro. I seem to remember driving by what looked like a combination penal facility and emu/llama farm? Or maybe I dreamt that…
On this trip, we opt for the 21 mile stretch of SR 55 that continues west to Richwood. First stop is the Cranberry Glades Botanical Area. This spot is a study of a landscape that exists out-of-place. These bogs are acidic wetlands that are generally found further north in the US and Canada. This type of tundra vegetation migrated southward to West Virginia as the glaciers of the last ice age approached from the north. As the climate has warmed since, Cranberry Glades remains the southernmost location of such vegetation—preserved by the cooler temperatures in the 3200' bowl-shaped valley. There's a half mile boardwalk that loops through the area, with signboards describing the transitions from one stage of plant growth to the next.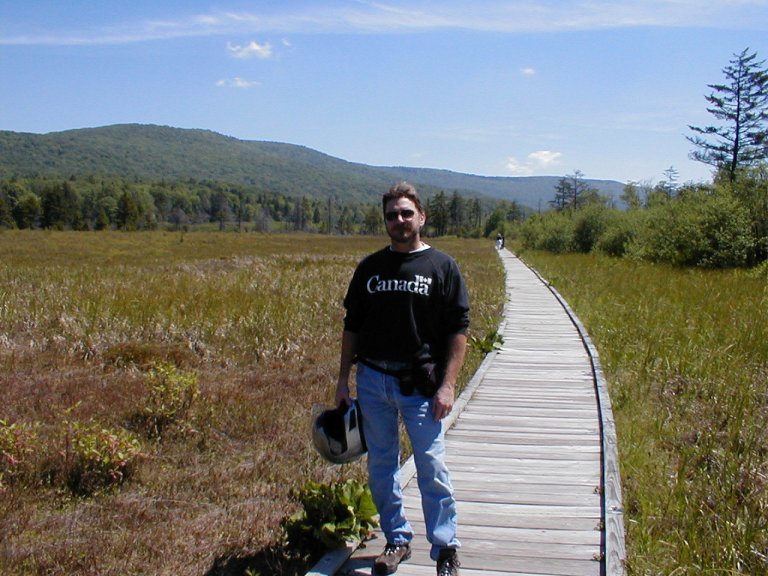 Further along on SR 55, we happened upon a sign indicating the approach to a natural scenic area. We turn in—and we've found the Falls of Hills Creek. The signpost at the parking area warned of a strenuous walk – they weren't kidding. The ¾ mile walk begins with a trail, and then steepens into boardwalks with plenty of stairs—including a couple of multi-level spiral descents. A drop of 220' in all. But it's a worthwhile hike. There are 3 falls, the highest being the "Lower Falls" at the end of the trail. At 63', it's the 2nd highest falls in the state.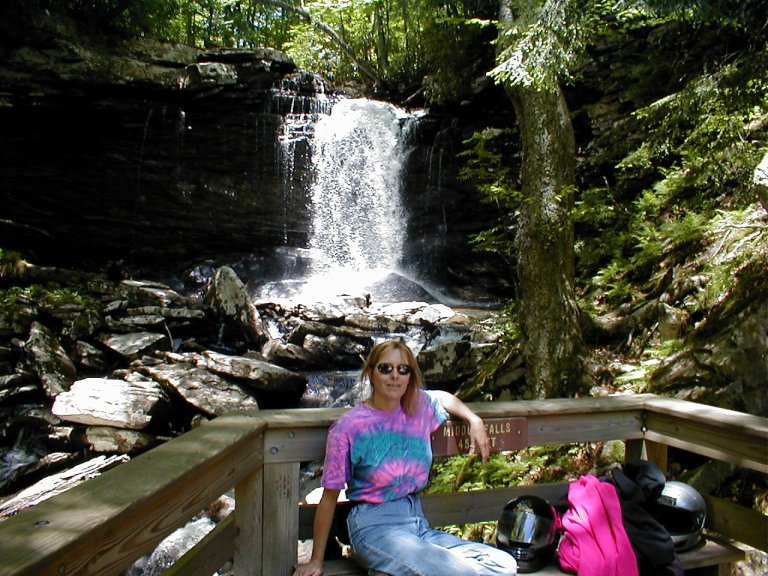 Continuing on through Richwood (an appropriate name for a small town started in 1901 by a Lumber company), we connect with SR 20, which then turns south. SR 20 is kind of like a more rural version of 219. It's a fun ride south to SR 60 at Charmco, where we turn back east toward Lewisburg. This is part of the Midland Trail, which was known as the Buffalo Trail up until the late 1700's. It was, literally, used by migrating buffalo—until we put a stop to that. It then became known as part of the Lewis Trail—conceived by George Washington as an overland route from the tidewater region of Virginia through to the Gulf Coast. Daniel Boone made use of it in the 1780's. The route was of poor quality and very difficult to navigate until in 1824 commercial interests became involved—and thus was born the Kanawha Turnpike. It was designated Route 60 in 1924 by the US Highway System, and it remained a primary throughway until reduced to secondary status by the completion of I-64 in 1988.  
On our next outing we return to Richwood, but this time by a very different route. We didn't realize it at the start, but this is a dual-sport-only trip. We turn east off of 219 a bit south of Renick on CR 9. The topo map shows a fairly straightforward trip on CR 9 past Friars Hill, until we turn north on CR 10, which later becomes CR 10-1, CR 10-2, and then CR 39-1 on a northward passage to Richwood. The topo also showed the route as a solid red line, which I interpreted as a paved road.
The topo and/or road signage is a bit off, here, I'm afraid. There were frequent stops to consult the map as we sought our turn north on CR 10, and a few course reversals. Eventually we become reasonably confident that we're on track north, on a questionably paved single lane road. It then turns to gravel, and we start a pretty good climb up a mountain track. Some sections are washed out by runoff, and the going gets pretty rocky. We climb for a while, and I'm starting to think maybe we'd better turn around before we come to the end of the known universe, when we happen upon a parked 4-wheel drive truck with an amiable looking fellow standing by. Turns out he works for the state tax assessor's office, and he's more than happy to give us directions. Good thing he did, because if we'd have continued on without his directions we might still be out there somewhere. He was the only person we saw the entire stretch to Richwood, by the way.
He tells us it's unpaved all the way to Richwood, pretty rocky in some spots, and we have to be careful to make the correct turns (unmarked) or we'd end up who knows where. We continue to the top of the mountain and turn off to visit Cold Knob. This was the greatest off-road challenge for the Gran Canyon—a short climb up a very rocky, very steep incline. Up top we park the bike and walk up Cold Knob for an impressive view out across the mountains. We're pretty remote here, feeling like backcountry troopers.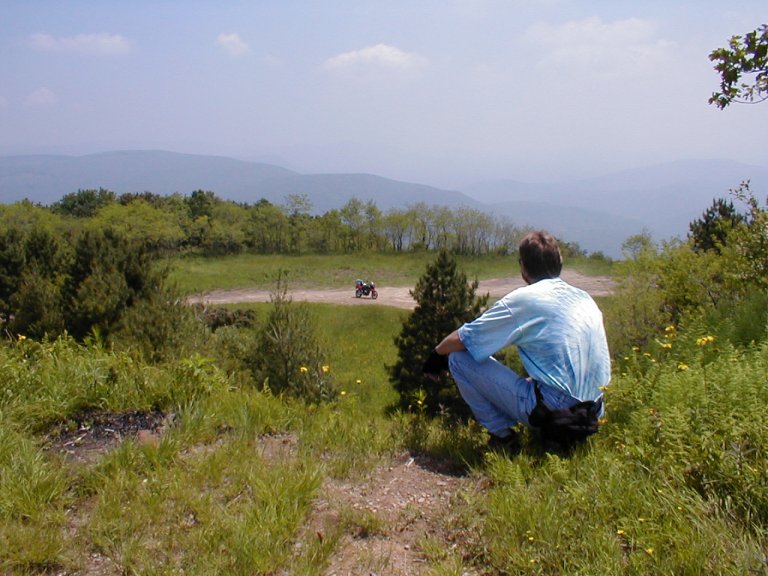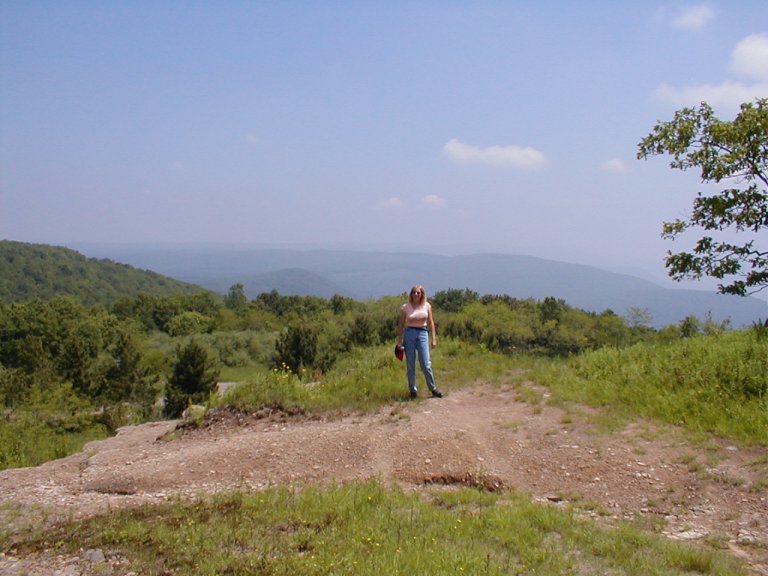 Back down to the trail we continue and make the second right past Cold Knob (I think that's correct, don't hold me to it). We then descend to an intersection of 6 gravel roads. We take the one marked 'Coal Trucks' (the only marking at the intersection). From this point on we've been told to remain on that same road for the remainder of the off-road portion of the ride We do so, though occasionally it's a bit difficult to decide which branch is 'straight ahead'. It's a nice ride up and down a couple of mountains, and we eventually hit a nice, fast, paved descent into Richwood. From there we take our previous route of 55/20/60 back to Lewisburg.
Our next couple of trips turn more to the south. On the first we take a backcountry route to White Sulpher Springs. Our route was a bit complicated, so let's say we take SR 60 to White Sulpher Springs. SR 60 merges into I-64 just east of town, and a short distance along we take the first exit; SR 311 heading south to Crows. Pretty soon we've crossed into Virginia. This is a great 2-lane road—very scenic, very rural. The first stopping point is Sweet Springs; we've crossed back into WV now. Sweet Springs is the location of one of the big spring-based resorts that didn't survive.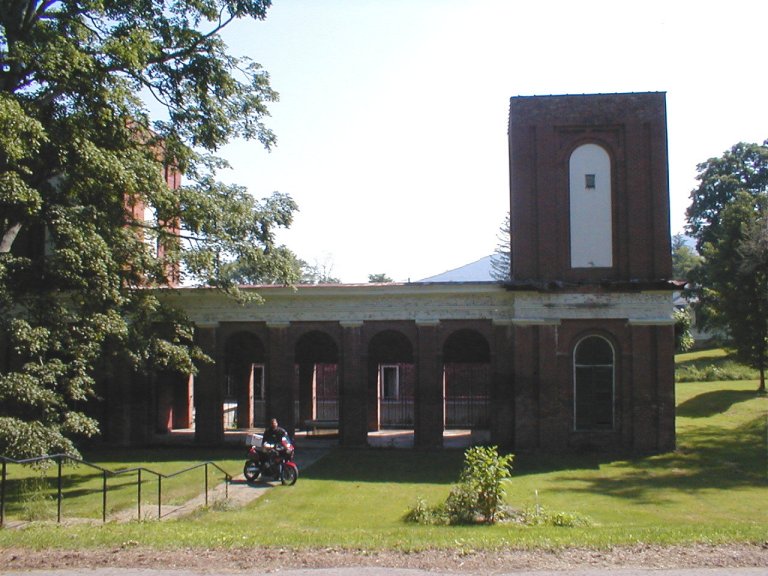 There's not much here now other than the resort and a few houses—sometimes you wonder how these places rate a marking on the map. The abandoned resort consists of a number of buildings in a lovely parklike setting, the 2 most prominent being the bathhouse, fed by the waters of the spring, and the main hotel. Built in 1792, and rebuilt in 1833, the resort was visited by a number of presidents—including Washington, Pierce and Fillmore. The present building is said to have been designed by Thomas Jefferson. Sometime back it became the Andrew Rowan Memorial Home, a state institution for the elderly. In recent years it sits abandoned; though the grounds are maintained, and the property is again in private ownership.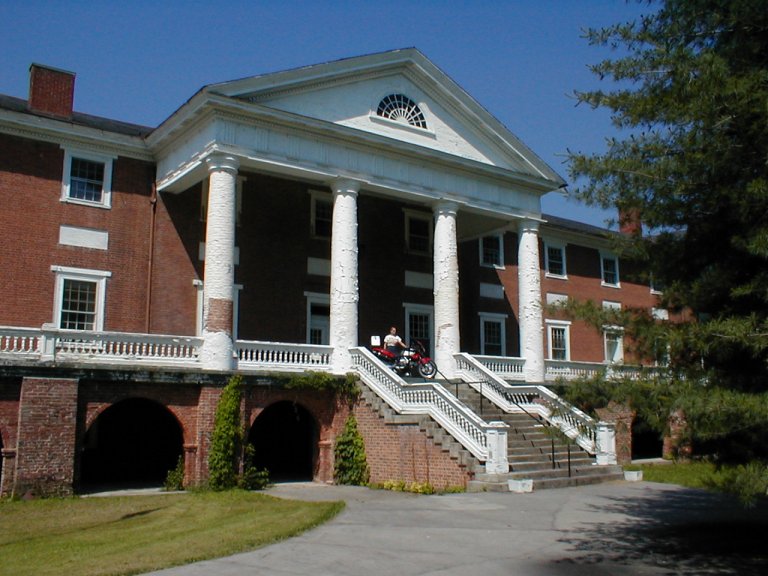 From here we take SR 3 on through to the town of Union. Along the way we pass through an area that is part of the Farm Heritage Trail Byway. This is a gentler landscape, running along the semi-flat Sweet Springs Valley and the rolling plateaus of farmland further on. This area has been farming territory since the late 1700's, and it has retained a lot of that character in the intervening years. It's not hard to find homesteads dating from that period.
At Union there are several options. Sue and I continued further south on the route designated the Farm Heritage Byway, but one could also head straight back to Lewisburg via 219. Or you could take the more circuitous route by staying on SR 3 through Sinks Grove and Wolf Creek, and then following the Greenbrier River from Alderson back to 219 at Ronceverte. There's a great local road in Ronceverte. Once you cross the bridge over the Greenbrier on 219 as you enter Ronceverte, take a right and stay close to the river. You'll soon see a sign pointing to Teaberry Lane, which winds back to 219 in Lewisburg. Have fun!
A variation on that trip would be to stay on SR 311 after Sweet Springs. Back into Virginia, there are some serious climbs on the way to New Castle. We waved to a Beemer sport-tourer parked alongside the road, and as we later pulled back onto the road from an overlook, the Beemer was back and sticking to our tail for a while. We switch to SR 42 in New Castle and jump right back into a steep twisty climb heading south. A short while later 42 mellows out to a more sedate pace as we traverse mountain valley country south to SR 460 at Newport. Then it's 4-lane 460 west to SR 219, and north back to camp.
The next destination is the New River Gorge Canyon Rim Visitor Center. SR 60 north out of Lewisburg begins with my favorite section of this roadway. It is rolling farm country, broad vistas, very pastoral. Past that section of 60, the rest of the route up to the junction with SR 19 at Hico alternates between relatively straight, flat sections that are dotted with small towns and communities, and the climbing switchback type of road typical of WV. Pray you don't get stuck behind a lumber truck at the bottom of an extended climb.
The Visitor Center is a very nicely done facility, with lots of artifacts and large scale photos on display, as well as periodic presentations. It provides both indoor and outdoor viewing areas from which the bridge may be admired. Having been around 65 million years, the New River is, contrary to its name, older than any river other than the Nile. It is also somewhat unique in that it flows north, and that it flows over the Appalachian Plateau as opposed to around, or from, the Plateau – as most other streams do.  The New River existed before the Appalachians.
There is a very nice boardwalk that descends the Gorge wall to a point that offers a good vantage for viewing the bridge from slightly below. The Gorge bridge is the longest single span bridge in the world. The span itself is 1700 feet, the complete bridge is 3030 feet long and 876 feet above the riverbed.
My favorite part of this ride, however, is the drive down the original road that crosses the river on an old bridge near the bottom. This is an incredibly steep, narrow, twisty path – it's hard to imagine that it served 4-wheel traffic as the only route across the Gorge for so many years. A trip across the Gorge that now takes maybe 30 seconds used to take something like 45 minutes before the new bridge was built. As the scenic old bridge near the bottom is crossed, there are often many white water rafters visible just below; the New is a very popular whitewater destination. With almost no traffic passing, we parked along the railing in the middle of the bridge for some photos and to admire the scenery.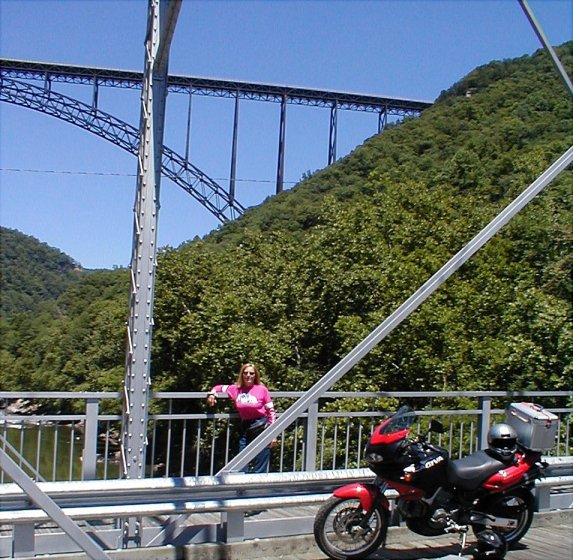 There are some other interesting locations nearby. Like many other towns in the region, Fayetteville fell on hard times with the collapse of the local coal mining economy. But due to its proximity to so many natural wonders, Fayetteville has recreated itself as an outdoor recreation hub; whitewater rafting and mountain biking being the most prominent.
A colorful local story is that of Thurmond, a town that became a very prosperous social, commercial and transportation center during the heyday of coal mining. For a time it beat Cincinatti and Richmond combined in terms of freight tonnage. It also has a bit of a dark side—there is legend of a poker game that lasted fourteen years—ad even then ended only when the hotel burned down! With the collapse of the local coal industry—so did Thurmond. In its day Thurmond is said to have had 500 to 600 residents. A recent count showed something like 7.
The final ride will cover the Coal Heritage Trail National Byway. To get to the starting point near Beckley we take the express route; that being I-64. I'd never have thought that I'd say that I like an interstate for any reason other than expediency. But it's hard for me to even think of I-64 as an interstate. I certainly wouldn't compare it to, say, I-95.
I-64 is a grand ride, especially between Lewisburg and Beckley. It traverses a mixture of rolling farm country and lots of mountain scenery. You see lush green farmland spreading across the distant slopes, dotted with hay bales, livestock, and the occasional homestead. Dramatic plunges, long hard climbs, spectacular bridges soaring far above river valleys. On a morning crossing when there's still some fog cover, it feels almost as though you're riding above the clouds as you pass over the shrouded canyons, the soft white cloud-tops just below.
This may be the only instance during our travels that I had wistful longings for a different mount. I-64 is made especially for big sport/sport tourers. Say… maybe… an FJR 1300? Nonetheless, the Gran Canyon had no problem thrumming along at super-highway speeds, and it slowed not the least on the steepest climbs. Even though it has a slick six speed transmission, it's still geared pretty low. A couple less teeth on the rear sprocket would make for better highway travel.
The Coal Heritage Trail begins on SR 16 on the south side of Beckley. As you run to the southwest you're quickly clear of any signs of the city. The phrase "Coal Heritage" is an appropriate characterization of this route. The coal industry is still alive in West Virginia, though its peak was in the earlier decades of the prior century. Many previously inaccessible areas were opened up with the laying of railroad lines during the late 1800's and early 1900's. A mid-century decrease in demand for coal, in combination with an increase in the use of mechanized means of production, spelled economic disaster for many of these towns that were based almost entirely on the coal industry. Between 1950 and 1960, something like a third of the population of this region left the area in search of other means of support.
The character of this ride is different from the earlier rides further east. The road winds through many small towns and communities, often with housing stacked tightly up the steep roadside hills. It somehow feels "closer" here, less open space. There is more evidence of poverty along this route, and the influence of the railways is obvious. We pass by many coal production structures going to ruin (whose intended function was often beyond me).
But the most telling scenes are in some of the larger towns. In the town of Welch, where the junction with SR 52 will lead us southwest, there was one particular section of town that looked to be a downtown virtually deserted. We had just passed through sections of town that appeared fairly normal, but here it felt more like a ghost town. Theaters, two and three story buildings, empty intersections—almost everything boarded up and silent. Eerie... The occasional small business that had moved into a vacant storefront, perhaps with a crudely hand-lettered sign painted on the window, lent the impression of a desperate attempt to regain footing in a world gone awry.
As we approach the end of our run on SR 52, a stop at Pinnacle State Park is in order. The primary focus of this park is—no surprise—Pinnacle Rock. Pinnacle is a huge, ragged outcropping of stone jutting straight up from the slope—very imposing. As I stood at its base on the upslope leading to it, I felt as though I'd topple backwards as I craned my neck to look upward.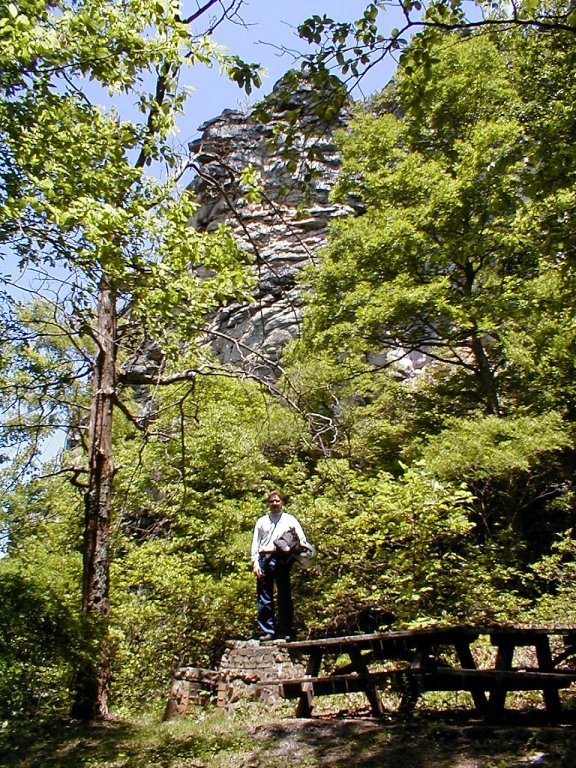 On the opposite side of the rock, there's a trail of stone stairs and a boardwalk leading to a viewing platform just below the peak. A very impressive overlook, with stout wooden railing fending off a case of vertigo. It's possible (but probably not smiled upon) to make a short climb to a little "cave" that also opens onto the precipice side of Pinnacle. You can then step out onto a ledge and move carefully up to the very top. Sue offered to get a photo of me desperately clinging to the rock surface for, you know, "color"—but, thank you, no. I declined.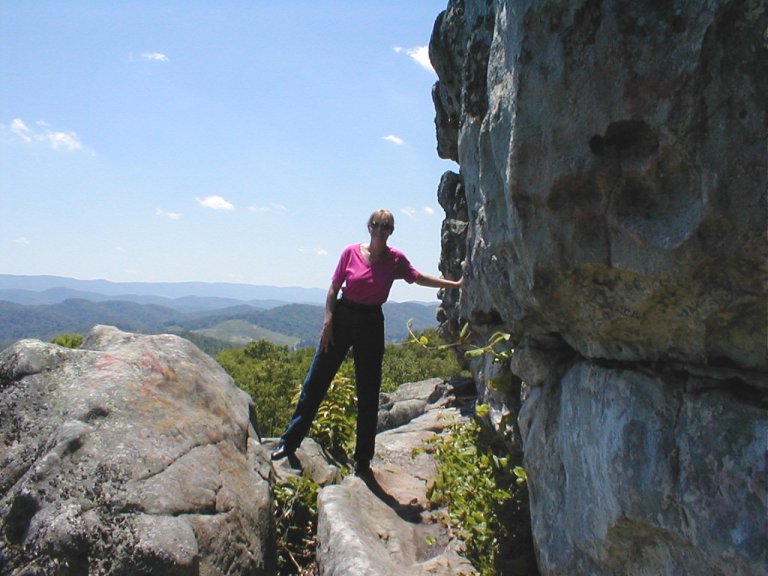 Nearby Bramwell is a former coal town with a great claim to fame. Most of West Virginia's early coal barons lived there; there were something like 14 millionaires in a 2 block radius. In it's day, Bramwell boasted the greatest per capita wealth in the US. And just across the Virginia line is the town of Pocahontas, site of the first operational coal mine in the vast Pocahontas Coalfield (the coal produced there would fill a train 6000 miles long). Pocahontas is currently host to the world's oldest exhibition mine.
Ok, time to set my pen aside. There are so many great rides in West Virginia, I could never catalogue them all (but I'll keep trying)
Arbuckle lane is a personal favorite – it's a fun local road that runs north out of Lewisburg and connects back to 219 after winding through several miles of rolling farmland. Then there are the scads of small local roads that run through communities along the west bank of the Greenbrier. These roads are almost all one lane, following the path of least resistance through very small communities and farmland. They have descriptive names like CR 21-0 and CR 21-1, and some of them aren't marked at all.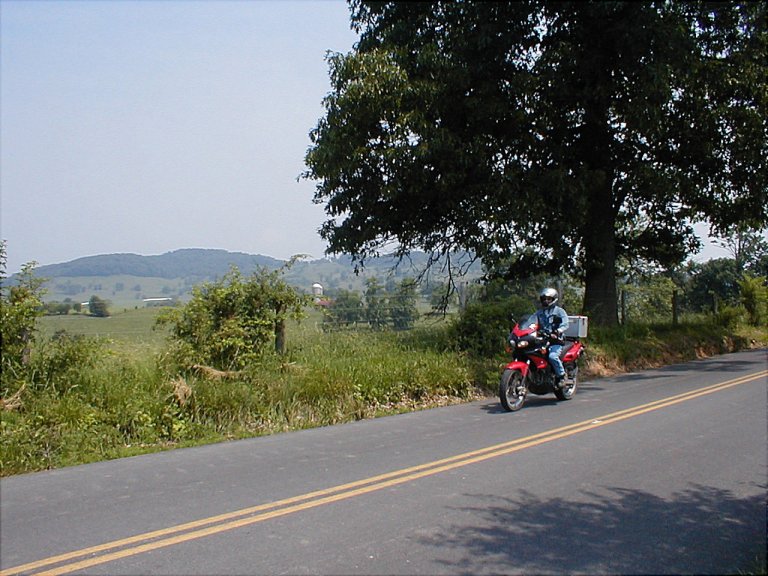 South of Ronceverte, SR 219 and SR 63 angle in towards each other on an intersecting path. There are a couple of super twisty local roads that run between 219 and 63 before they meet; I make a sort of rectangle out of them. Head south on 219 and turn left on Horseshoe Bend road. Believe me, this road is aptly named. It starts off with a few super steep switchback-like turns – not a good section in which to falter. At the end of Horseshoe, turn left onto SR 63. SR 63 is a very nice run itself, and not too far from the spot where it intersects 219 are the Organ Cave caverns. These caverns are open for touring; their main claim to fame is that the caverns were a secret location where gunpowder was made by the Confederates during the Civil War.  Head north on 63 to Coffin Road (not sure about that name) and turn left. Coffin is a nice little run that starts with a nice tight climb and descent and then straightens out to run along a pretty stretch of the Greenbrier River back to 219. My rectangle route...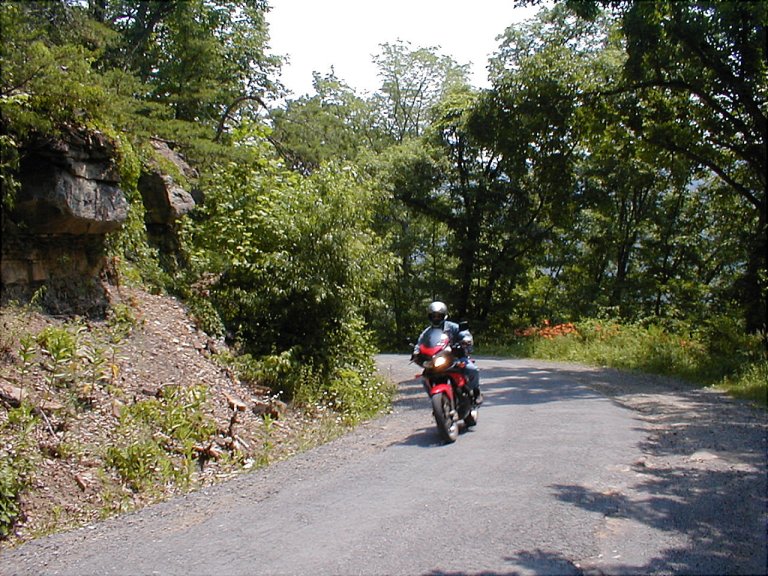 CR 60-14 turns south off of SR 60 a bit west of White Sulpher Springs. It starts off running through the Greenbrier State Forest, fairly twisty but nice pavement. The further you continue the narrower it gets, and then it turns to gravel. This becomes dual-sport topo-map country. We had no trouble getting back out, after a lot of climbs and descents, twists and turns - but we emerged far from where I had expected. Looking at the maps, I don't see how we could have emerged where we did. I still haven't figured that one out…..